Oscar Degnan: Kinesiology and physical education grad recognized as outstanding future professional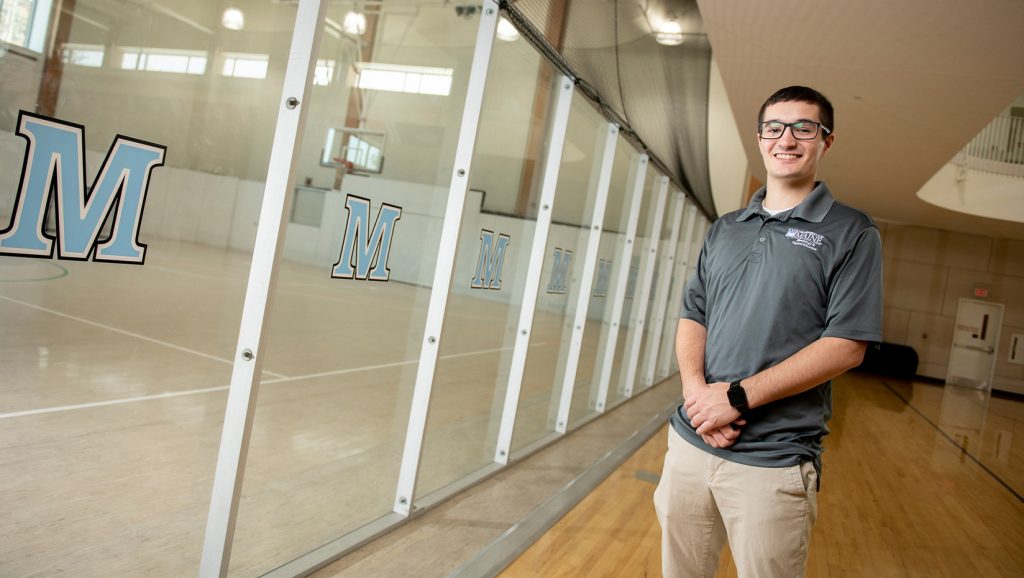 Oscar "Ozzy" Degnan of Bangor remembers the shock and excitement he felt when he received the email informing him that he had been selected by the Society for Health and Physical Educators (SHAPE) as an outstanding future professional.
Degnan, who graduated from the University of Maine in December 2018 with a degree in kinesiology and physical education, will represent the United States' Eastern District (stretching from Maine to Maryland) at this year's SHAPE America National Convention.
"I'm very honored," he says. "I know not many people get selected to go from UMaine, so it's an extremely humbling experience."
Degnan is the third UMaine student in the past 40 years to be recognized as an outstanding future professional by SHAPE America.
"We're all thrilled for Ozzy and know he's going to do a fantastic job representing UMaine at the national conference," says Chris Nightingale, assistant professor of physical education and athletic training, and program coordinator for the teaching and coaching concentration.
Degnan attended the Maine Association for Health, Physical Education, Recreation and Dance (MAHPERD) conference all four years of his undergraduate career. The state association put his name forward to the Eastern District, which selected him to attend the national conference.
"I've learned a ton from attending the MAHPERD conference, so I'm beyond excited to get this opportunity to learn from professional educators at SHAPE America," he says.
The KPE program, Degnan says, did a great job getting him ready for a career in physical education. He did field placements at local schools, and hs student teaching took place at Old Town Elementary and Orono Middle and High schools. Among his favorite classes was KPE 265: Outdoor and Adventure Activities, where students learn to manage outdoor education experiences, such as snowshoeing, skiing, ice fishing and hiking.
"All of my professors and advisers throughout my undergrad were extremely supportive and motivating," Degnan says. "They pushed me every day to be better, and to actually want to be better. The entire department wants to put each student in the right position to succeed, and I feel that they do an amazing job with that."
In his spare time, Degnan enjoys playing basketball and racquetball, as well as swimming, skiing and bowling.
Since graduating he has been substitute teaching at schools in Orono and Old Town. He also coached boys' freshman basketball at Hampden Academy.
Degnan liked his undergraduate experience so much that he has applied for graduate school at UMaine, in the educational leadership program.
"UMaine is truly spectacular. The campus is beautiful, the professors are great, the rec center is unbelievable, and the library is top notch," he says.
Degnan will attend the SHAPE America National Convention and Expo, April 9–13 in Tampa, Florida.