"I have learned from UMaine to be respectful to everyone I meet. Keeping this in mind, I chose to live in New Zealand because of the mutual respect that is given to the local Moari people." Logan Early
EES students are able to take courses relevant to their academic interests, along with being able to discover themselves and gain invaluable life experiences. Unique interdisciplinary programs will inspire you with a new vision of what is possible and will transform how you look at yourself, your community, and your world. Be sure to visit the Office of International Programs for help selecting, applying, and preparing for your study abroad experience.
Follow this link for a list of programs that align well with the EES curriculum. Check back frequently for updates to this list.
Beyond the Classroom
EES Alumna, Emma Houston, backpacked in Chile where she learned about the recent impacts of development and rich local biodiversity of the upper Pascua River watershed from Lago Quetru to Lago O'Higgins. Check out the video to find out more.
Emma created this video to sum up her amazing experience while in the spring snows in the Aviles Valley. She was also able to make an appearance on the Round River Conservation Studies website. Check the blog post here and learn more about the organization's impact.
Tanzania
Sarah Hammond traveled to Tanzania to experience a unique study abroad course that focused heavily on sustainability, being aware of environmental consciences and supporting the roots of local communities. The  GIVE Volunteers program teaches its volunteers to invest in community-based tourism, which establishes long term sustainable benefits for local communities. The idea of supporting your neighbor was encompassed through the community-based initiatives and still resonates with Sarah, even now after the program ended. On her particular trip, she was in a group of 36 other volunteers.
They traveled to Zanzibar, one of the two larger islands off the coast of Tanzania, where they worked with the community of Kairo to install offices for the teachers, painted a classroom, and taught English to the children and adults.
After Zanzibar, she traveled to Arusha and volunteered with a women's co-op to build chicken coups. Then Sarah went on a coffee tour, where she was able to see coffee plants and watch the process of making instant coffee straight from the bean. Lake Manyara National Park and Tarangire National Park were their next stops, where they learned about the terrible impacts of poaching.
After the safari, 18 people including Sarah stayed to climb Mount Kilimanjaro, the tallest point in Africa. Sarah reported that it was easily one of the most challenging things she has ever done, and to remember that she was 19,341 feet in the air is a surreal feeling. She credits the support and guidance of
Green Paw Adventures
and their outstanding team of guides, porters, and everyone in-between for her adventure. 
Iceland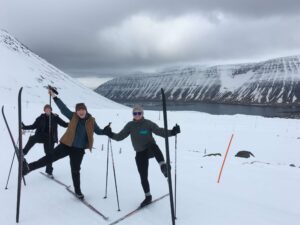 EES Alumna Kathleen Brown's courses focused on natural anthropogenic drivers of climate change, climate modeling, Arctic ecosystem science, and social and environmental research ethics. She also investigated the ecological impact of invasive flatfish on Iceland's native community at the University of Iceland's Research Centre in the Westfjords.
Burkina Faso
Abby Damon interned with Initiative: Eau, an American non-governmental organization a program that focused on improving water safety and sanitation in developing urban areas. Damon worked in West Africa in the Fada N'Gourma, Burkina Faso branch with their research team. 
Ireland
Julia Iannuzzi spent a semester at the University College Cork (UCC) in Cork, Ireland. UCC is known as one of the world's most sustainable universities. While at the university she joined the Environmental Society and participated in the global climate strike.
Julia also took a course about Sustainable Living, the Environment and Human Health, and Environmental Economic Geography.
EES students can take advantage of courses at other institutions for a variety of reasons. From simply saving money at a local community college to unique field courses, there are opportunities to gain new perspectives and experiences by studying away.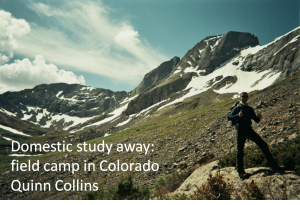 Quinn Collins participated in the Earth Corps three-week domestic study away field course at the University of Colorado working for the Rocky Mountain Field Institute (RMFI). This non-profit specializes in outdoor conservation and restoration of Southern Colorado, for him, they worked in the Sangre de Cristo Mountains. During his course, he attended lectures, lead and participated in discussions, climbed mountains, and constructed trail work in an effort to leave a positive impact on the environment. He expresses his experience as, "truly outstanding at how it influences all of the participants, myself included, to leave and lead positive restoration efforts in our communities and country. "