Aquaculture Ambassadors from CCAR Find a New Home in Utah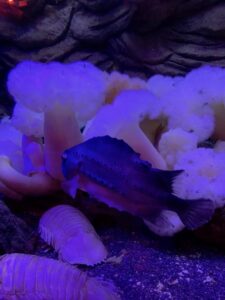 The pandemic brought a halt to travel in 2020, but it didn't stop 20 of our littlest lumpfish from relocating to Utah this past July. These lucky lumps traveled overnight from our facility in Franklin, Maine to the Loveland Living Planet Aquarium in Draper, Utah, located just on the outskirts of Salt Lake City. 
Loveland Living Planet Aquarium is an AZA accredited, 501(c)(3) nonprofit organization with a mission to inspire people to explore, discover, and learn about Earth's diverse ecosystems. It is home to more than 650 aquatic animal species, representing the vast range of aquatic life on our planet.
Just like visitors coming to Maine in 2020, these lovely lumps entered quarantine upon arrival in Utah. About a month later they emerged from isolation, happy and healthy, and were introduced to their new home in the aquarium's Deep Sea Lab, a habitat that showcases the depths of the world's oceans. They've been on display for several months now, loving life with their new tank mates, sea anemones and giant isopods, and are doing their part to educate the public about the benefits of lumpfish aquaculture.
These fish were hatched and reared cooperatively in 2019 by members of the US Lumpfish Consortium.