CCAR Makes a Splash at the Maine Science Festival!
This past Friday 550 of Maine's 7th and 8th graders convened at the Cross Insurance Center in Bangor for the 5th annual Maine Science Festival's Friday Field Trip Day.  Some traveled from as far away as Eastport and Presque Isle to join in on the festivities.  CCAR hosted an interactive table showcasing sustainable aquaculture.  Our touch tank was brimming with critters from the coast of Maine for all to enjoy.  American Unagi and Maine Coast Sea Vegetables, two fantastic local businesses that support sustainable aquaculture, joined us for the event.
American Unagi's freshwater eels were a big hit with the kids.  The most common question of the day was, "Are they electric?" to which American Unagi's eel aquaculture technician Kathleen Marciano replied, "Not these eels."  But if the participants really wanted to learn more about electricity, they simply had to visit GE Power's activity a couple of tables over.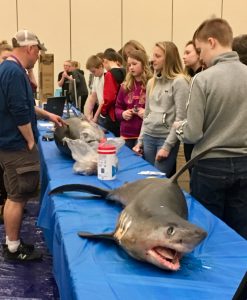 Maine Coast Sea Vegetables provided samples of a variety of their products for festivalgoers to try.  The Kelp Krunch Bars™ were a crowd pleaser for sure!
In addition to our table of touch and taste, students had the opportunity to explore a wide variety of activities that included engineering demonstrations provided by Cianbro, computer science education from Project>Login, and the opportunity to get up close and personal with a tuna and shark hosted by the University of Maine's School of Marine Sciences.