CCAR hosts graduate student from Mexico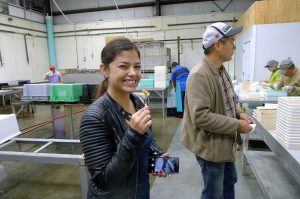 During the past month we have had the privilege of hosting a student from the Center of Scientific Research and Superior Education (CICESE) http://eng.cicese.edu.mx/, located in Baja California, Mexico.  Diana Maria Cuesta Gomez originally hails from Bogota, Columbia and is attending CICESE on a scholarship, which includes a one month academic stay at another institution.  Diana is working on a Ph.D. thesis in Aquaculture, studying formulated diets for the purple sea urchin (Strongylocentrotus purpuratus), in order to improve gonad index and quality.  She learned about our similar work with the green sea urchin from a pamphlet we left behind at an aquaculture meeting in San Diego.
While she was here Diana stayed in the CCAR bunkhouse and learned all about the sea urchin fishery in Maine, as well as our other aquaculture projects.  Diana spent a day with some sea urchin harvesters, visited a processing  plant in Portland, and used testing equipment at the University of Maine's Food Science labs to analyze color and texture of sea urchin roe.  During our time with Diana we are happy to say  we learned as much from her as she did from us!  We wish Diana all the best as she finishes her program.