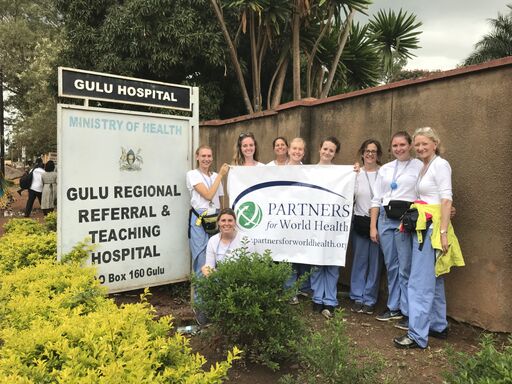 Past UMaine Projects for Peace
2020 and 2021 projects will be completed in 2022 due to the pandemic
2019: "Fostering Peace Through Access to New Educational Programs" (Sierra Leone). Stephen Kaplan, Colleen DeMaris, Alex Reppond and Abby Bernier.
2018: "South Sudanese Refugee Project" (Uganda). Tessa Lilley, Ana Eliza Souza Cunha, Camilla Horton, Emma Paradie, Emma Freeman, Ellie Damuck and Taylor Delp
2017: "Healthy Mother, Healthy Baby Project" (Senegal). Anne Fitzpatrick, Johna Doyle, Taylor Delp, Lila Lyons, Caleb Elsemore
2016: "A Platform of Peace through Shared Experiences for the Cancer Community" (USA). Matt Dexter
2015:  "L'eau, le bloc de construction de la paix" (Haiti). Michele Girard, Aoife Ryle
2014:  "Water System Improvements in La Y de La Laguna" (Ecuador). Page Caise, Laura Donovan, Benjamin Pomeroy, Nathan Roscoe, Spencer Traxler
2013:  "The Integral of Bio-Sand/Ceramic Filtration" (Honduras). Daniel Ackerman, Katie Delong, Zachary Diehl, Eliot Gagne, Christopher Hopper, Molly Kirkpatrick, Zachary Mason, Ian McDonnell (Colby College), Kellen McDonnell, Connor Smart, Bryer Sousa, Patrick Stewart, Blaine Tobin, Spencer Warmuth
Fostering Peace In Sierra Leone Through Access to New Educational Programs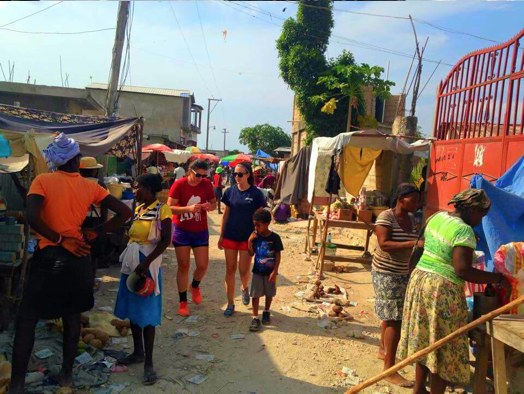 "I've learned so much from working on this project – not just in terms of program development, but also in terms of myself. Traveling to Sierra Leone gave me numerous opportunities to engage with others (teachers, local authorities, university deans, etc) at a professional level, and through that I've discovered how difficult – yet rewarding – it can be to accurately convey your ideas. I've learned that when you're passionate about something, others are able to see that, and your ideas come across through both your words and your emotions. Knowing that, I gained confidence in my ability to speak professionally, which is a skill that I will continue to nourish as I continue my college career." - Stephen Kaplan, 2019
University of Maine and Davis Foundation Projects for Peace
Projects for Peace is an humanitarian initiative inspired by the late philanthropist Kathryn W. Davis.  Since the program's founding in 2007, over 830 projects have been completed in over 100 countries.  The Projects for Peace initiative is designed to encourage creativity, innovation and social entrepreneurship.  
Under the auspices of the Davis United World College Scholars Program, the University of Maine is pleased to announce a call for proposals that are building blocks for a sustainable peace. Any undergraduate or group of undergraduates is eligible to design a project – anywhere in the world – which promotes peace, addresses the root causes of conflict among parties, and has a plan for sustainability. We encourage applicants to use their creativity to design projects and employ innovative techniques for engaging project participants in ways that focus on conflict prevention, resolution, or reconciliation. Through the generosity of Clem and Linda McGillicuddy, the winning UMaine project will be awarded up to $10,000 to implement the project.  
NOW ACCEPTING PROPOSALS FOR SUMMER 2023 
Important Dates: 
Rough Draft Submission (recommended, not required): November 1st, 2023
Final Submission (required): November 30, 2023
Proposals should be submitted to coheninstitute@maine.edu 
If interested, please reach out to Richard Powell at rpowell@maine.edu for more information. 
"The South Sudanese Refugee Project taught me it is not only important to provide healthcare, education and other forms of aid to developing nations, but equally important is to have the capacity to learn from the solidarity the Ugandans show the refugees." - Tessa Lilley, 2018
"We used our Projects for Peace funds to construct a water storage system for a community of 10,000 people in Grand-Goave, Haiti. Our facility provided 400+ gallons of water per day for the community. In addition to providing water, we wanted to provide a place where people could gather, exchange ideas, and meet. Our experience with Projects for Peace was fantastic because it allowed us to get involved with the community on a grassroots level and understand how our project would impact surrounding areas." Michelle Girard '15