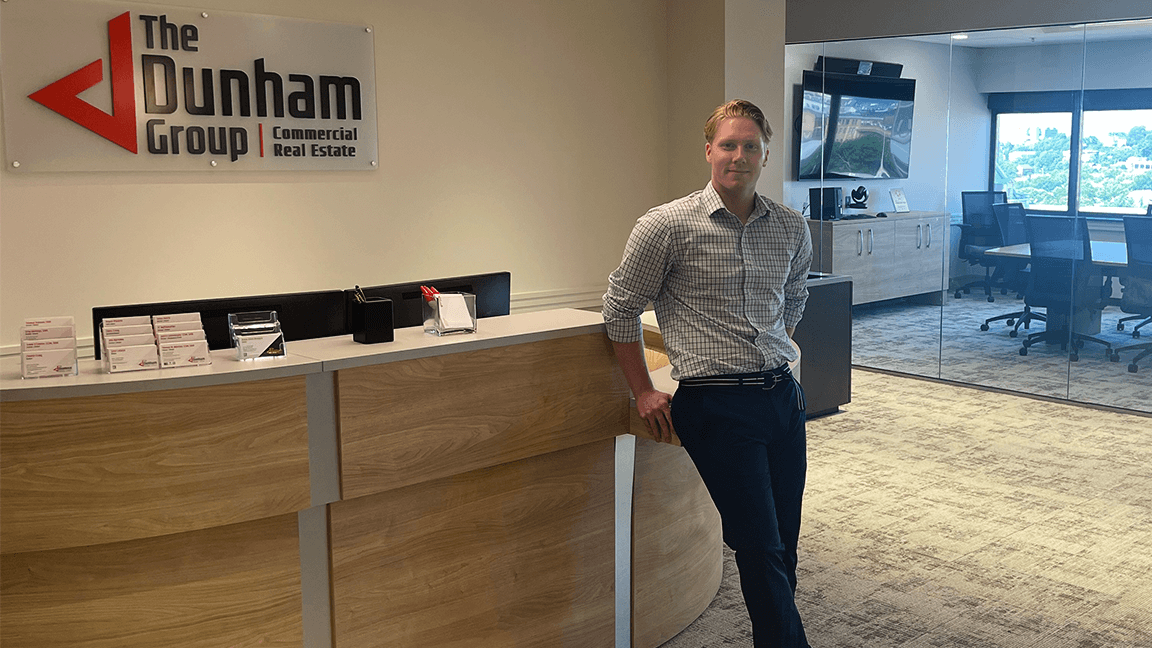 Internship Story: Jake Dubay at The Dunham Group
Jake Dubay from Old Town, Maine, has long been interested in real estate. He attended the annual Maine Real Estate and Development Association (MEREDA) conference to learn more about the industry, securing an internship in the process.
Why did you choose to intern at The Dunham Group?
I chose The Dunham Group after traveling to Portland and speaking with several firms at the annual MEREDA conference in January. The folks at The Dunham Group were all very receptive to my presence at the event. Through conversations I had with several of the partners at the firm, they saw me as a potential part of the company's future. They genuinely wanted to develop me so that I can help foster success in the group after graduation. 
What are your internship tasks?
To put it simply, I assist with deal flow. The brokers I work with delegate tasks to me that help me learn the process and boost their efficiency. My tasks include walking through properties with clients, reviewing legal documents, underwriting deals, market analysis, prospecting, and cold calling.
What do you like most about your internship?
I love the entrepreneurial nature of what I'm doing. Every day requires something different depending on the stage a deal is in, and no two deals have the same exact variables. The creativity and problem-solving skills required for each situation make the whole process gratifying. I thoroughly enjoy creating new connections with bankers, lawyers, landlords, tenants, entrepreneurs, investors, developers, and other brokers.
What are the biggest challenges you face as an intern?
Cold-calling property owners or lawyer representatives on behalf of a client. It can be challenging to win someone's trust over the phone or to clearly articulate how they can benefit from working with you since you don't have many details about their position or circumstances before calling.
What things are you learning during your internship that you couldn't have learned in the classroom?
Essentially, everything. My background in finance and economics certainly is supplemental in understanding debt origination, investment analysis, and the underlying variables of Maine's economy. Real estate professionals come from a wide variety of different undergraduate and graduate degrees. So most of the job-specific functions require tangible experience in order to advance your understanding of the industry as a whole.
How will your internship experience help you as you move forward in your career?
My experience has been invaluable. Learning the brokerage process from recognized leaders within the industry has been so beneficial for my professional development. Also, I'll be able to foster the connections I've made thus far into my future as a working professional.
Any advice to share with other MBS students considering an internship?
Have definite goals in mind for why you want the internship. How will it strengthen your skillset, help your career progression, achieve your long-term personal and career goals, et cetera? Figure out how you can be an asset to the people you want to work with, specifically how they will benefit from having you around and developing you. Showcase your strengths, physically get in front of people, and take action to stand out from other candidates. You're much more likely to get a foot in the door that way as opposed to passively sending out emails. Have a genuine interest in the people at the company and be a team player. Lastly, be a sponge. Listen, ask questions, be eager to learn, have enthusiasm, and be respectful to everybody you encounter. 
Hometown: Old Town
Majors: Finance & Financial Economics
Minor/Concentration: Leadership
Year of Graduation: 2025
Internship Title: Commercial Real Estate Summer Associate