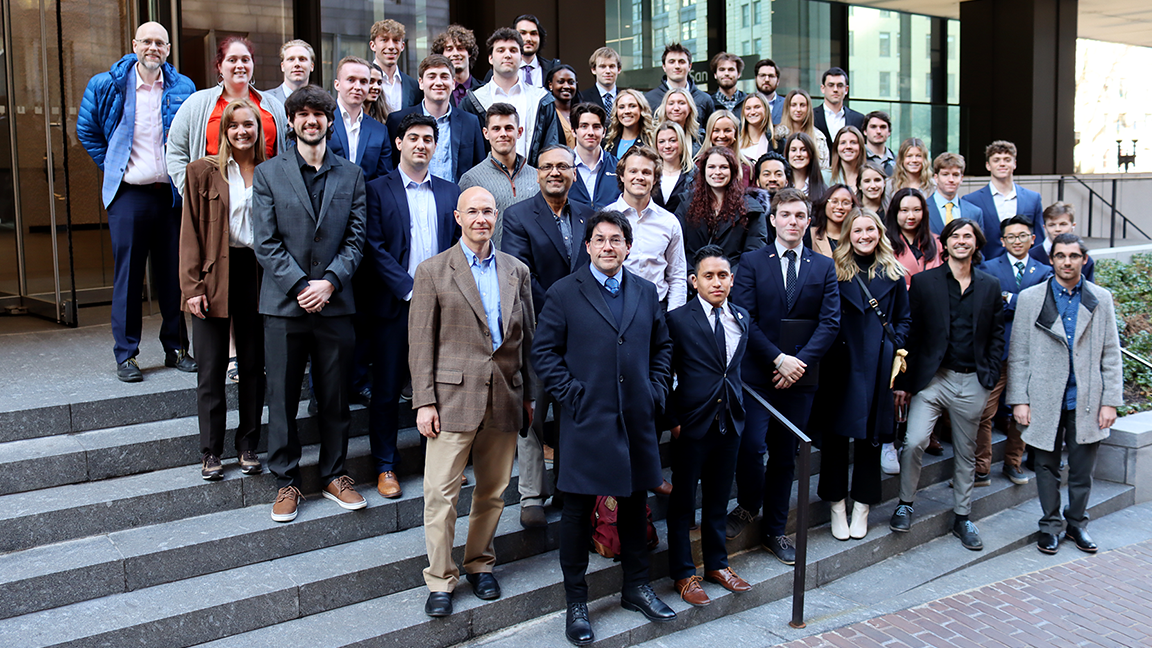 Bear Treks Boston 2023
Business students take an immersive trip to Boston to explore career opportunities
On March 29, 45 undergraduate business students, three faculty, two staff, and one dean boarded a bus bound for Boston for the first-ever Bear Treks Boston trip. "Trips such as Bear Treks provide the students with tangible on-site experience. It is invaluable for their career decision-making process," says Dr. Pank Agrrawal, Professor of Finance. "Our MBS students positively impacted a wide array of advertising, medical, and finance professionals."
Alumni Networking Event
On Wednesday evening, MBS students attended a Boston Executive Club of the University of Maine (BECUM) event at One Beacon Street in the heart of Boston. BECUM was established in 2007 to create an opportunity for professional networking among alums and friends in the Boston area.
"I was thrilled to have the opportunity to connect with Chris Keating," says Jake Dubay, a junior studying finance and financial economics. "We talked about how his athletic career at UMaine helped him confidently transition into his profession. As an athlete, I took many of his values to heart. Seeing how proud and involved these UMaine alumni are was inspiring, no matter what year they graduated."
"The Maine Business School students and faculty brought a refreshing vibrancy to our Boston Executive Club event on March 29," says Elizabeth Erickson, Senior Development of Philanthropy at the University of Maine Foundation. "Alumni were excited to meet and get to know students currently enrolled in the business school with their whole professional lives ahead of them. All the alumni who attended the event were impressed by the students. Students had a keen interest in meeting UMaine grads, an ability to converse with people they had never met, and their enthusiasm for the Maine Business School and the opportunities that program will afford them in the future."
Business Visits
Everyone was up bright and early the following day to head to State Street in Boston's Financial District. The group met with the State Street Global Markets team, including UMaine alum Jason Saucier, Vice President – Equity Sales and Training. Students had the chance to meet current members of the State Street Global Advisors Investments Professional Development Program. Questions revolved around internships, company culture, and teamwork. The visit ended with a tour of the trading floor.
The next stop was Allen & Gerritsen in Boston's Seaport District. Students learned about what it was like to work for an independent integrated advertising agency. Students heard from copywriters, strategists, designers, advertising specialists, and UMaine alum CEO Andrew Graff.
"I especially loved how engaging the advertising firm Allen and Garritsen was," says Nevaeh Longchamps, a junior studying marketing and management. "Andrew Graff was so well-spoken. He explained how he pivoted his strategies for A&G to be a more sustainable company."
After lunch, the bus headed south to Raynham, MA, and the home of DuPuy Synthes/Johnson & Johnson. There they met Mike Kuhn, MBS Alum and Advisory Board Member. He led a presentation on what it's like to put business skills to use in the MedTech industry. Students heard from the current DuPoy Synthes Sales Training Representatives and their varied paths into the program.
"For me and, hopefully, the students, the Bear Treks trip substantiated some of the less intuitive claims we faculty make in the classroom," says Dr. Dmitri Markovitch, Associate Professor of Marketing. Dr. Stefano Tijerina, Lecturer in Management, agrees. "The visits were eye-opening for the students, and the professional feedback was clear and to the point," he says. "The Bear Treks Boston trip was a tremendous opportunity to connect with students and colleagues."