2023 MaineMBA Alumni Awards and Business Forum
The Graduate School of Business at the University of Maine held its annual MaineMBA Alumni Awards and Business Forum event on Thursday, March 30, 2023. 

"We hosted guests from the Portland business community, our alumni, the University of Maine, the University of Southern Maine, and many more," says Dr. Norm O'Reilly, Dean of the Graduate School of Business. "This event celebrated four MaineMBA alums and a business forum with an inspiring keynote speech and a deeply experienced industry panel. This was the Graduate School of Business' first major in-person event, and we were thrilled at the turnout, the ambiance, and the learning."
Nicole Tackett, Head of Strategy and Chief Product Officer of Commercial Payment Solutions at U.S. Bank, gave the keynote address. The 2023 Business Forum Panel was led by Katie Shorey, Director of Engagement at Live + Work in Maine. Panelists included Henry Quinn, Director of Analytics at L.L. Bean; Renee Kelley, Associate Vice President, Office of Strategic Partnerships, Innovation, Resources & Engagement at UMaine; Leo Waterston, Program Director at FocusMaine; and Jennifer Hutchins, Executive Director at Maine Association of Nonprofits. Opening remarks were given by Jeffrey Mills, President/CEO of the University of Maine Foundation, and closing remarks were given by Thomas Peaco, President/CEO of the University of Maine Alumni Association. Special guests Dannel Malloy, Chancellor of the University of Maine System, and Joan Ferrini-Mundy, President of the University of Maine, the University of Maine at Machias, and Vice Chancellor for Research and Innovation for the University of Maine System, were in attendance and gave their remarks.

Our honored alumni are as follows:
Distinguished Alumni Award
Greg Stremlaw, Class of 1995
UMaine MBA
President and CEO of Indy Sports & Entertainment and Eleven Professional Soccer
Greg is leading the $1.3 billion Eleven Park development project in Indianapolis, Indiana, which includes a stadium, commercial and residential spaces, a hotel, and more. Greg has a media background, having previously served as the President of CBC Sports and oversaw all sport platforms, including television, radio, digital, and social media. He also served as the CEO of Curling Canada, Director of Bobsleigh and Luge, and Vice President of Sport Services at Calgary Olympic Development Association. He has received various awards and is involved in multiple leadership positions. Greg has a Bachelor of Commerce, an MBA, an MS Ed in Sport Management, and completed a Harvard Executive Education program.
Outstanding Accounting MBA Alumni
Jane Rankin, CPA, Class of 2016
UMaine MBA with a Concentration in Accounting
Director of Finance, Verrill
Jane earned her Bachelor's Degree in Business Administration, Summa Cum Laude, in Accounting, and her MBA from the University of Maine. She began her career at a regional accounting firm and became a Certified Public Accountant. Jane currently works at Verrill as the Director of Finance. She's an active volunteer and board member of a local non-profit organization. 
U40 Award
Luke Horanski, Class of 2022
UMaine MBA
Investment Banker, Hyde Park Capital


Luke is a respected contributor to investment banking with experience in major M&A transactions. He grew up in a small farm town near Winnipeg, Manitoba, Canada, with a strong work ethic and leadership values. Luke earned an Economics degree and played baseball at Virginia Tech. He started his career as an analyst for a large private equity firm while completing the MBA program at UMaine. Luke now works as an investment banker at Hyde Park Capital in Tampa, Florida, and has led multiple deals recognized for excellence. He is honored to receive the MaineMBA U40 award and plans to continue his career helping individuals with their biggest transactions.
Dean's Award
Nicole Ann Pelletier, Class of 2022
UMaine MBA
Audit Staff, Baker Newman Noyes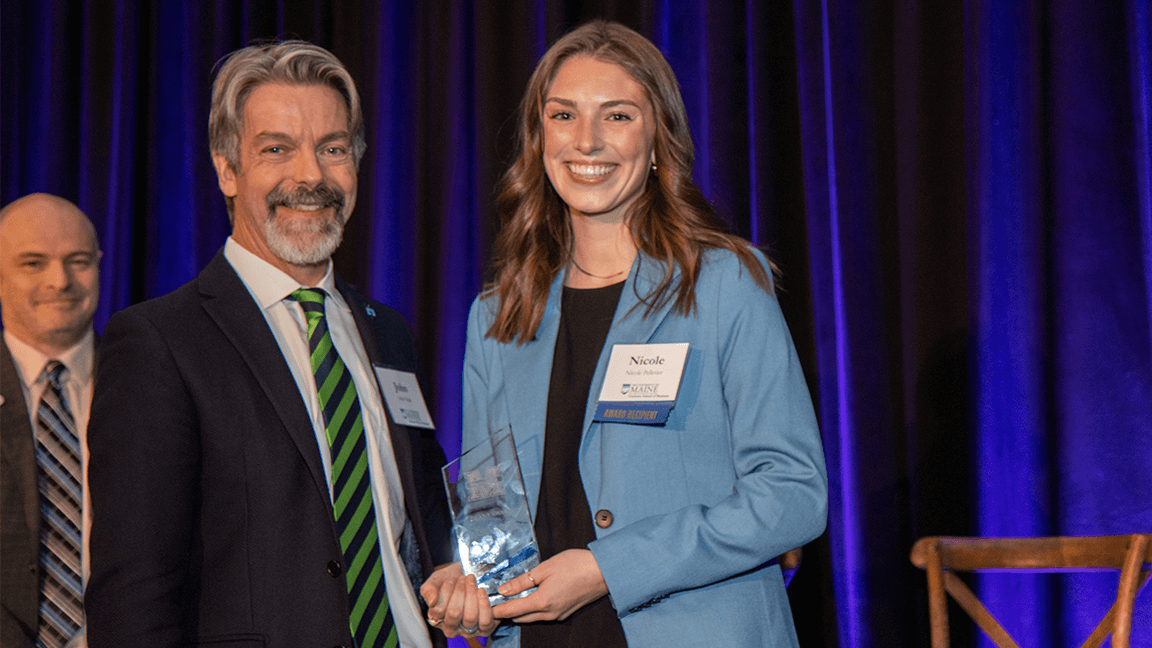 Nicole is an experienced audit staff member at Baker Newman Noyes, primarily serving clients in the healthcare, non-profit, and financial services industries. She graduated from the University of Maine in 2021 with a Bachelor's of Science in Business Administration, majoring in Accounting and Finance. She earned her MBA with a concentration in Business Analytics from UMaine's Graduate School of Business in 2022. In 2021, she was part of a team named the CFA Institute Research Challenge Eastern U.S. Champion. She is currently working toward becoming a Certified Public Accountant.