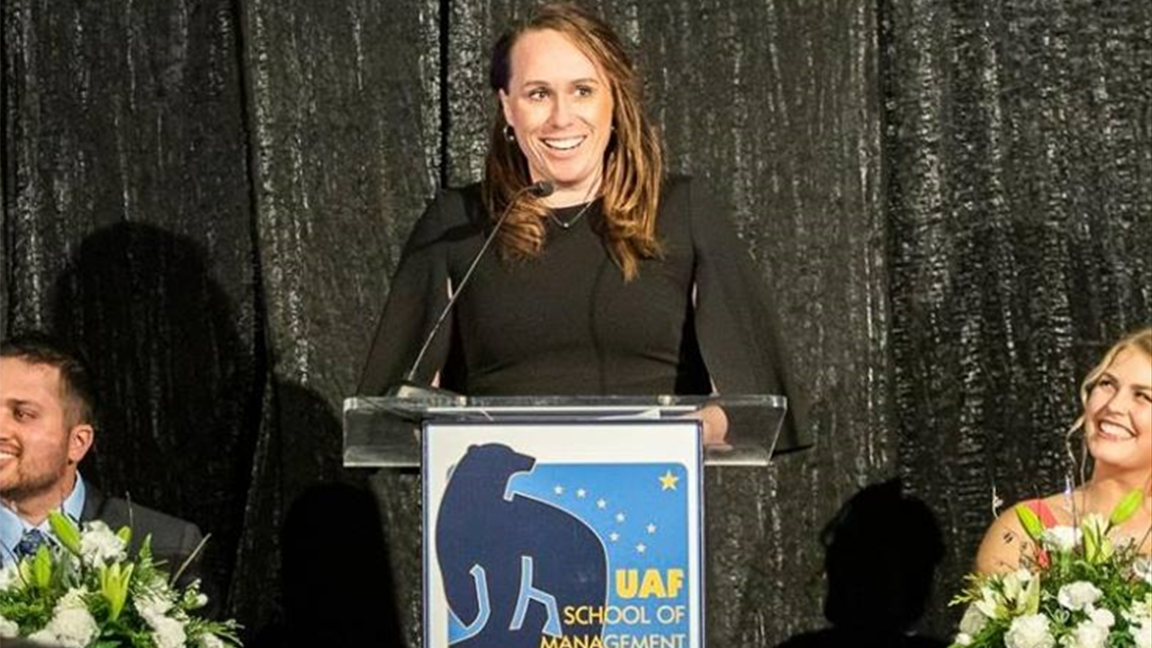 Margaret Keiper joins the Maine Business School
The Maine Business School is excited to welcome Dr. Margaret "Peggy" Keiper as Associate Professor of Sport Management. She also fills the role of MBS Area Coordinator for our Sport Management major.
Dr. Keiper comes to UMaine from the University of Alaska Fairbanks. She was the Director of their Sport and Recreation Business Program and Associate Professor of Business Administration. She also held the role of Interim Director of Athletics through the first three months of 2021. Dr. Keiper also spent time as a faculty member at Northwood University, Central Michigan University, Grand Valley State University, and the University of New Mexico.
"Peggy brings an incredible wealth of experience to MBS and our Sport Management major," says Interim Executive Dean Jason Harkins. "She is a great scholar, has worked in industry, built new and novel ways of teaching Sport Management (including the creation of a MOOC, massively open online course, with over 4,500 students), and engages industry in enriched learning experiences. We are so excited that she is here and know she will thrive!"
Her research focuses on innovative instructional tools and methods, psychometric measures in business, digital marketing automation, and sport marketing. Her career also includes various roles on the business side of the sport industry. Dr. Keiper worked as Director of Business Management in the NBA's G-League for the New Mexico Thunderbirds. She's booked sports events as a marketing and sales manager for the West Michigan Sports Commission and the Albuquerque Convention and Visitors Bureau. She was also an assistant women's basketball coach and player in college.
"I worked full-time through my MBA and Ph.D. programs in the sports industry with the intent of eventually teaching full-time," Dr. Keiper says. Her love of sports started with basketball. She still holds a few scoring/3-point records at the places she played. She began her college coaching career at LSU Eunice in Louisiana (then ranked #11 in the nation) and then at Lynn University in Boca Raton, Florida (her team won the first conference championship in history).
Her basketball career continued in the NBA's Development League in Albuquerque, New Mexico. "Our team ended up relocating, which led to me working in sport tourism for a few years," Dr. Keiper says. She was fortunate enough to help with events like the USA Track and Field Indoor Nationals, Gildan New Mexico Bowl, numerous NCAA Championships, and many other awesome national and international sports events.
"My experience working in sports informs my research, particularly on characteristics impacting firm survival of minor league teams," she says.
Dr. Keiper came to UMaine with a keen interest in helping build the new sport management major at the Maine Business School. "Being at an R1, AACSB-accredited business school located in the beautiful state of Maine initially interested me," she says. "But my campus visit sealed the deal. I was highly impressed with the collegiality and friendly people I met both on campus and in the greater Bangor community."
An avid outdoorswoman, Dr. Keiper enjoys bow hunting. She's a contributor to Bowhunter Magazine.