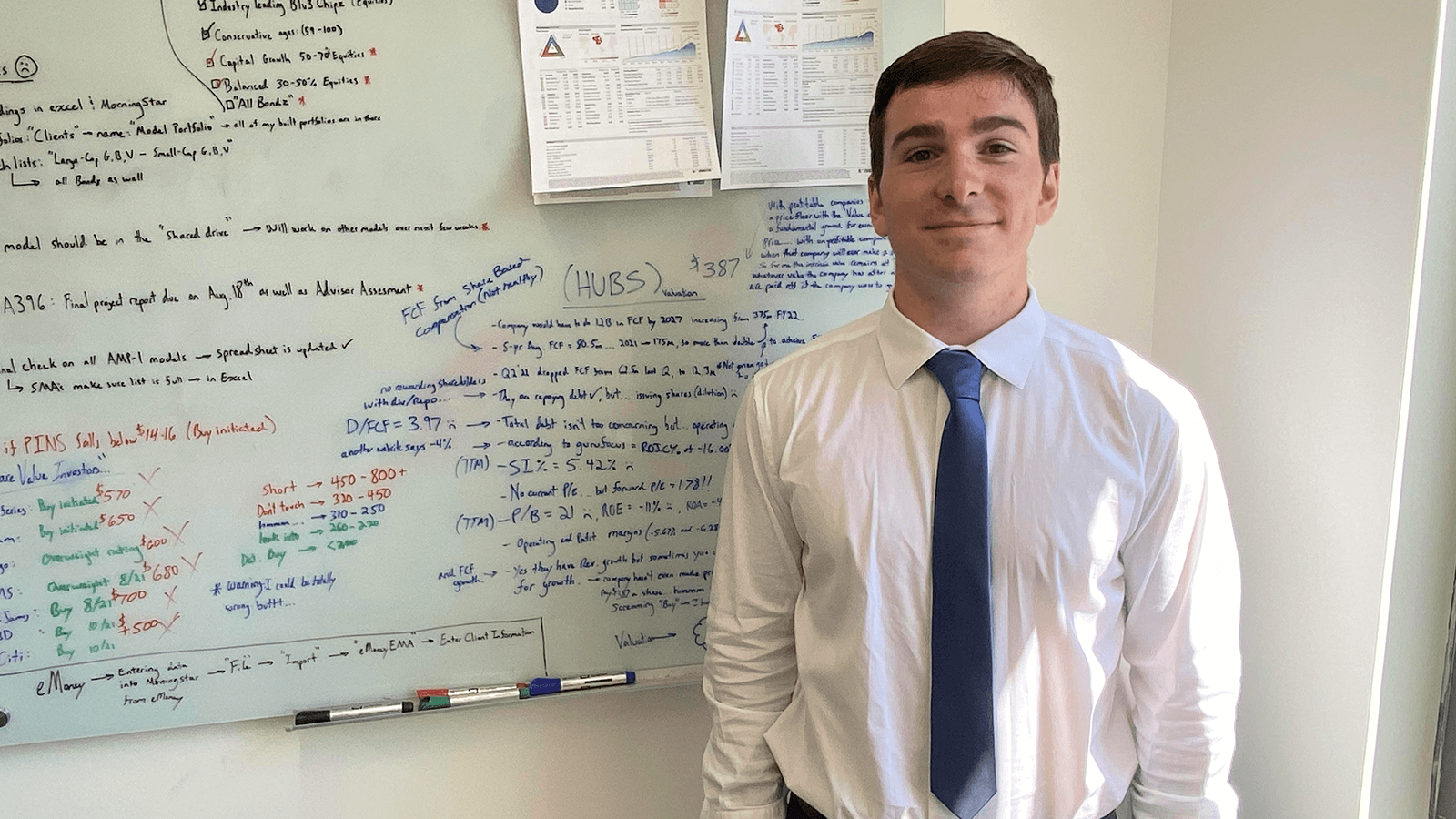 Internship Story: Jackson Graham at Synergy Wealth Partners
Jackson Graham from Pembroke, Massachusetts, found an internship that combined his passion for finance and helping people. He says his internship at Synergy Wealth Partners has been one of the most positive experiences in his life.
How did you hear about the internship at Synergy Wealth Partners?
My parents had a meeting with their financial advisor one day. Jessica Cole, CFP and President of Synergy Wealth Partners, asked them if I had an internship lined up for the summer. After a few interviews, she offered the financial analyst internship position. I was thrilled that I would be helping her out with the wealth management side of her business.
Why did you choose to intern at Synergy Wealth Partners?
I was looking at a bunch of different opportunities last year and didn't know what direction I wanted to go. I knew I had a passion for finance, and I wanted to go somewhere that I thought would have the best place for me to grow. An internship here meant I would work with real clients and cool software like Morningstar Research. My boss Jessica has over 17 years of experience in the financial service industry. I knew she would be a great mentor and show me what it takes to run a wealth management practice.
What were your internship tasks?
There were two parts to my internship. The first was the investment analysis side. The second was meeting and consulting with clients about their financial performances and advising on which direction to go.
The investment analysis side dealt with looking at client portfolios and recommending better investment alternatives to their current holdings. I would make a list of better investments (ETFs, mutual funds, stocks) and do a comparative analysis between the current holdings to see if we should make the switch in the clients' portfolios. I did this for the majority of clients under Jessica's management.
The second aspect included sitting alongside my boss and listening to the discussion about her client's financial position. They talked about which path they wanted to take regarding their goals in life, current net worth, and risk tolerance. We would then make recommendations based on the client's information and give them a financial plan they could follow with action steps to take.
I also added client information into our software, allowing us to make assumptions and predictions about a client's future based on their financial situation.
What did you like most about your internship?
I liked the collaborative environment of working under my boss and learning about the financial services industry. There was never a dull moment, and it was rewarding to apply what I learned in the classroom to real-life situations. Jessica always had a task for me and was a great mentor to follow throughout the summer. Also, one other cool aspect of the internship was using software like Morningstar Research to run investment analyses on equities. My internship was a great overall experience and learning environment.
What were the biggest challenges you faced as an intern?
One of the biggest challenges was familiarizing myself with the financial service industry terminology and jargon. But Jessica did a great job explaining these terms at an elementary level for me. Another minor challenge was that I lived about an hour and 15 minutes away from the office, so traffic was sometimes annoying. But I got to listen to some good podcasts.
What things did you learn during your internship that you couldn't have learned in the classroom?
Much of what I learned in the classroom did roll over to the internship. There were a lot of overlaps with the terms and definitions that gave me a better base of information going into the internship. But I know for a fact that a lot of the tax rules and regulations were something that I needed to brush up on, as well as the employee stock-based compensation packets like RSUs and ESPPs. I know for a fact that I would have never learned the Morningstar platform without this opportunity. And last but not least, I would have never learned anything without my amazing boss Jessica. She has helped her clients reach goals they could have never thought of reaching and has grown her network exponentially. You can't learn that kind of experience in the classroom.
How will this experience help you as you move forward in your career?
This internship has been one of the most positive experiences in my life. I am very interested in the financial services industry and want to combine my love of finance and helping people. I just needed to find an opportunity to apply my skills. Synergy Wealth Partners was, for sure, the best place to get my foot in the door. Like I said before, the amount of experience and knowledge gained from those short three months was invaluable, and I will never forget that.
Any advice to share with other MBA students considering an internship?
Ask yourself…" What do I like to do? What piques my interest? Are there classes I have taken that have left an impression on me?" Because you never work a day in your life when you do something you love. Don't be afraid to explore. Get involved in clubs and apply yourself. You will amaze yourself when you actually try. The one piece of advice I can say not to do is to sit around and waste the days away. Time flies at UMaine, and you have to make each moment count.
Why did you decide to study business at the Maine Business School?
I always knew I was interested in the business world but didn't know which road to take in this industry. I took a tour of the UMaine Business School in 2019 and tried to picture myself walking these halls. And now, four years later, I can say that it was a great decision and that I have had a wonderful experience. I just had a feeling that this would be a great opportunity to grow.
Jackson Graham, Class of 2023
Hometown: Pembroke, Massachusetts
Majors: Finance and Financial Economics
Internship Title: Financial Analyst