3 MBS Students Turn Internships Into Employment
An internship is a wonderful way for students to explore possible career paths. It's always exciting when students turn their summer internships into full-time employment. Three students from the class of 2022 did just that! Keep reading to learn more about Allison, Cameron, and Gabby's internship experience and why they decided to continue to work for three Maine businesses after graduation.
Allison Treat, Bangor Savings Bank
Internship Title: IT Intern
Job Title: Management Trainee
During my internship, I worked full-time as part of Bangor Savings Bank 2021 Summer Internship Program. The program was designed for me to learn, work on information systems data flow diagrams, use my creativity, and develop both personally and professionally. The lead security engineer at BSB was my mentor.
I enjoyed BSB's culture and learned so much about the banking industry. I knew I wanted to work for them post-graduation.
I'd advise current MBS students to challenge themselves by finding an internship that tests their knowledge and helps them gain new skills and a professional network.
Cameron Houde, Cross Insurance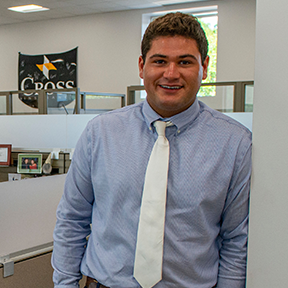 Internship Title: Emerging Risk Manager
Job Title: Benefits Specialist
My summer internship was based at Cross Insurance in Portland, Maine. I had the opportunity to explore some of the different insurance departments, including personal, commercial, surety, and employee benefits. We went to job sites, met carrier representatives, and went to networking events. The program was rich with information and helped me narrow down which department I liked the most.
The people I met at Cross Insurance and the knowledge I grew over my Summer Internship are what prompted me to apply for the position I have now. When my internship ended, I had the opportunity to work as an intern during my last year at UMaine at Cross Insurance in Bangor. I was able to work with great colleagues, become licensed in Life & Health, and grow some more knowledge of the insurance industry. I really enjoyed working in the employee benefits division during my internship, and I'm now lucky to have a full-time position in this department in Portland.
My advice for an MBS student is to find an internship in an industry you're interested in. You'll get more out of the experience. Also, I would say that the people you meet through your internship are important to the development of the rest of your career, network as much as you can, and grow strong, long-lasting relationships with others.
Gabby Benson, Baker Newman Noyes
Internship Title: Audit Intern
Job Title: Audit Staff
I worked as a full-time audit intern, both in the office as well as remotely. My work consisted of assisting in audits for a variety of companies as well as verified business processing validations. My highlight was assisting the Transaction Advisory Department with transaction deals. This is where I found out what I wanted to pursue.
At the end of my internship, Baker Newman Noyes (BNN) offered me a full-time position after graduation. I loved the people, so it was an easy choice. It's important to me to work for a company that values its employees and their growth.
Young professionals have a huge advantage, so I'd tell other MBS undergrads not to limit themselves. Take advantage of your internship and ask all the questions you can. Take what you've been given and develop yourself. Do more than one internship. Look and apply to what interests you. I had three different internships that each taught me different skills. This is the time to find out what you want to do in your career.