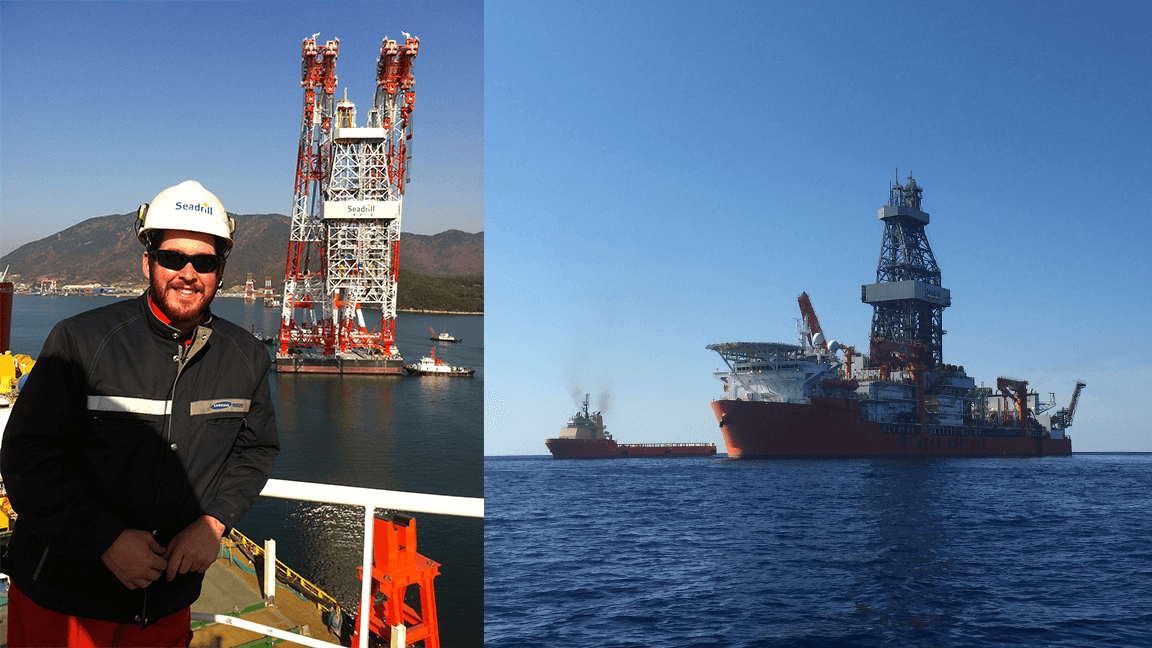 Corey Sampson is earning his MaineMBA at sea
When we say you can earn your MaineMBA from anywhere, we really mean it. Corey Sampson from Durham, Maine, is a perfect example. A 2011 graduate of Maine Maritime Academy and a licensed marine engineer, Corey has spent his career traveling the globe working for offshore drilling contractors. Taking classes from an oil rig in the middle of the ocean obviously has its challenges, but Corey makes it work, and is enjoying the process.
What is your role on the oil rig?
In my job, we drill for oil deep in the ocean. I started my career in the oil field in the engine room, working on main engines, power distribution, switchboards, etc. I then spent six years in the Subsea department working with the well control equipment (Blow Out Preventers) that prevents damage should the well kick or blow out. Last year I made a jump back to the engine room to get sea time for my last license upgrade to Chief Engineer.
What is your schedule like on the oil rig?
I spend three to four weeks stationed on an oil rig in the ocean, most recently off the coast of Guyana in South America. Then I head home for three to four weeks. I'm only taking one class a semester, so I have free time to dedicate to classwork when I'm home. Being offshore is a little more complicated. Everyone onboard the rig works 12-hour shifts, sometimes more. After a shift, you get 12 hours off. I have to budget my time pretty efficiently, but it's doable. The internet can sometimes be a challenge.
Why did you decide to earn your MBA?
My wife and I live by a rule in our house that we try to give our future self a gift. For example, when I'm at work, my wife will make the kids lunches the night before, so she doesn't have to worry about it in the morning. I don't know what the future holds, but I know getting an MBA will make me more valuable in whatever I end up doing. I wanted to give my future self a gift.
Why did you decide to earn your MBA at UMaine?
I know a couple of guys that left offshore and went to MBA programs in Boston. I had been running grad school through my head for a while, but I couldn't commit full time. During my search, I saw the graduate certificate program at the UMaine Graduate School of Business and thought that it was a perfect springboard for me with low risk. I was accepted and asked if I wanted to enroll in the actual MBA program. The more I thought of it, the more I liked the idea of building relationships with people in Maine with whom I may do business with in the future.
How do you participate in classes halfway around the world?
It's really no different from doing online classes anywhere else, except for the internet issues. I'm taking my time and enjoying the process. I want to get the most out of the program. It's interesting and I enjoy it, so it doesn't seem like work to me.
What have you enjoyed most about the program so far?
My first class with Dr. Patti Miles. We discussed issues with the supply chain during the pandemic, which opened up conversations about ports, containerships, and other logistical problems. What's not to like about cranes, ships, and making money? I could talk about this topic all day; it's fascinating.
Where do you see yourself in five years?
After I finish my MBA, I'll consider being done working offshore. I have a couple of little girls that I want to watch grow up. I had a goal of working 20 years out here, and I'll be nearly there in five years.
Part of why I wanted to get a graduate degree was that when the time came to leave offshore drilling, I was prepared to make that transition. That said, I don't have a particular career in mind. There's a handful of things I'd be happy and content to do. Ideally, I'd like to combine my MBA with my maritime and engineering experience as a manager, business partner, or investor. I've also kicked around the idea of buying a business.