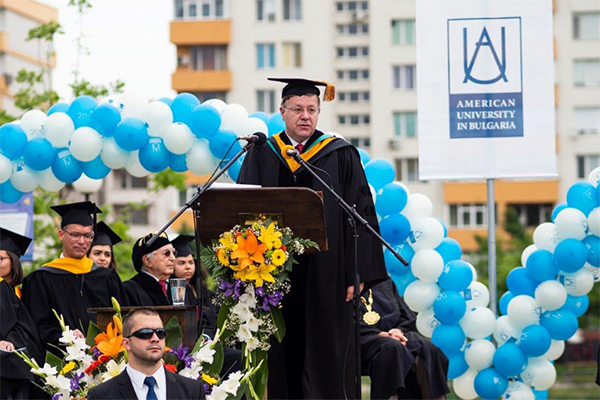 Manev completes tenure as chair of the American University in Bulgaria Board of Trustees
Maine Business School professor of management and Nicolas M. Salgo Professor Ivan Manev has stepped down after serving five years as chair of American University in Bulgaria (AUBG) Board of Trustees.
"I have been privileged to be a part of this initiative to bring U.S. liberal education to Eastern Europe, and promote the values of freedom, diversity, respect and integrity," says Manev. "It has been fascinating to engage in the governance and administration of an independent educational institution."
Manev joined the board as a trustee in 2012 and began his chairmanship two years later. During his tenure, the university stabilized enrollment and expanded its academic programs, four of which are now ranked first in Bulgaria.
MBS professor John Mahon also is a board member.
AUBG is a private, residential liberal arts university with campuses in Blagoevgrad and Sofia, Bulgaria. It was founded in 1991 through a partnership of the United States Agency for International Development, the Open Society Institute, the University of Maine and the City of Blagoevgrad. Several dozen AUBG students and graduates have come to UMaine for graduate study or on exchange programs.
"My hat is off to the remarkable group of faculty, staff and supporters who are making the dream of an American university in Bulgaria possible through their incredible energy, hard work and commitment," says Manev. "It has been a true honor working with them and supporting their efforts."