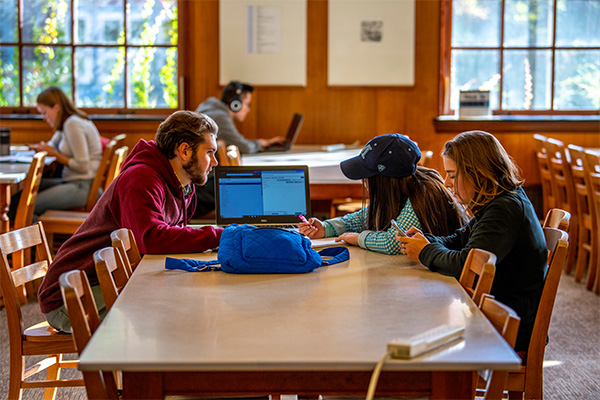 Students research, implement management information systems for Maine businesses
MBA students in BUA 605 led by professor Nory Jones are helping connect Maine businesses to their customers.
The class, Creating and Capturing Value in the Digital Economy, is designed to help graduate students understand the role and importance of effective management information systems (MIS).
"This course represents an integration of concepts and principles in management information systems," says Jones. "Because the internet offers new ways of conducting business, this course presents students with concepts and information-based strategies for capturing and creating value in the information-based economy."
In addition to weekly seminars in e-commerce, digital marketing and enterprise systems, the students complete a semester-long MIS consulting project with Maine companies.
Last fall, students formed teams and consulted with different Maine small businesses to address the companies' digital needs. MBA student Isiah Brown's team worked with MoMunch Granola in Gorham.
"The project was split into two pieces," Brown says. "The first piece was to meet with your client, perform market research, analyze the company and research technologies that would benefit them. Once you figured out the best technology, you worked with the client and the rest of your consulting team to implement it."
MoMunch Granola, a whole grain granola snack producer, was just one of the diverse businesses that participated in the consultation. Others included Yoga DownEast, Till Farm Soaps, Treasures Gallery and Studio, Rockland Foodservice Inc., Rock Harbor Pub and Brewery, Berry Vines, and Promised Land Farm and Store.
The students quickly learned the most crucial step of the consultation was understanding the needs of the client.
"In the beginning, we had a few conference calls with (MoMunch) to figure out what they were looking for throughout the project," says Brown. "Our client's main goal was to make the transition over to an online selling platform. MoMunch had a solid presence in the local farmers markets, but really wanted to try to sell more granola through their website. Additionally, MoMunch also wanted to increase their online presence, specifically on social media."
The project culminated with each team recommending and implementing a technology for their client, and then training the client to use it. Beyond meeting the specific needs of the business, the project required that the digital tool be user-friendly and affordable.
Brown's team decided that MoMunch would benefit from a suite of products, including Shopify, MailChimp and Google Analytics.
In time, the companies will be able to gauge the success of their implemented technologies, but the students need not wait. The impact of the project was immediate, especially for Brown.
"It was a really cool project that opened my eyes to what challenges small businesses face, particularly with regards to technology and e-commerce."