Trading in GAAP for LARP: MBS accounting faculty pens second novel
David Barrett, lecturer of accounting at the Maine Business School, has released his second fantasy novel, More Fun and Games.
The tale, which follows the adventures of a group of friends who have been transported into their live-action role playing game, is the continuation of the young adult series' first installment, It's All Fun and Games.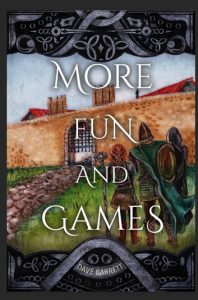 "Portal fantasies have been around for a while," says Barrett. "I think fantasizing about being the one to do heroic deeds in a magical world is something that most geeks do. I just took the extra step and wrote it."
Barrett was inspired to start the series in 2006 after hearing a National Public Radio interview with Chris Baty, who dubbed November "National Novel Writing Month." A year later, Barrett picked up the pen and has since endeavored to write a 50,000-word first draft each November.
And though every year brings a new tale, some are better than others.
"2009's was just awful," says Barrett.
The first book was published by Nerdist.com in 2016 after winning its inaugural Inkshares writing competition. Barrett self-published the second volume and has plans to continue the series.
As a husband and father of three, though, Barrett must work to make time for his writing, but says it's a great challenge and an interesting creative outlet.
"My family has always been very accommodating, and I often get out of laundry and dishes during November," he jokes. "It's really fun to see where the story goes, as I've never actually had a full novel mapped out before starting November."