Lab Members
Susan Brawley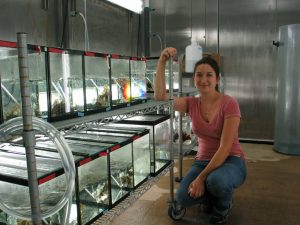 Charlotte Quigley
Ph.D. Graduate Student
Elizabeth McCarthy
Research Assistant
Alexandra Pergerson
Undergraduate Research Assistant
Research prizes won by my graduate students/postdoctoral fellows:
Best Student Poster (Amy Rosemond, 1989, Ecological Society of America)
Irene Manton Prize (Ester Serrão, 1992, British Phycological Society)
Wilce Award for Best Graduate Student Presentation (Rui Li, 1997; Lynn Berndt, 2000;
Jessica Muhlin, 2007; Northeast Algal Society)
George F. Papenfuss Poster Award (Ester Serrão, Gareth Pearson, 1997, International Phycological Society)
3rd Place, Student Poster Competition (Jessica Muhlin, 2007 American Soceity of Limnology and Oceanography)
1st Runner-up, Bold Award (Jessica Muhlin, 2007, Phycological Society of America)
Ph.D. Graduate Student Research Excellence Award (Nicolas Blouin, College of Natural Science, Forestry & Agriculture, 2010)
Past members of the Brawley Lab:
Vanderbilt University:
Daniel Market, M.S., 1988.
Amy D. Rosemond, Ph.D., 1993.
University of Maine
Ester Serrão, Ph.D., 1996.
Rui Li, Ph.D., 1997.
Mary-Lynn Berndt, M.S., 1998.
Richard Gordon, M.S., 2001.
Julie Koester M.S. 2005.
Nicolas Blouin, M.S., 2006.
Jessica Muhlin, Ph.D., 2008.
David Olson, M.S., 2009.
Nicolas Blouin, Ph.D., 2010.
Postdoctoral Fellows:
Gareth Pearson
Vladislav Speransky
Melinda Coleman