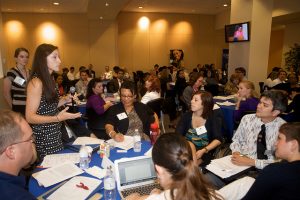 The Maine Autism Institute offers several options for education professionals and support staff to receive autism training from national and state experts and presenters, through our workshops, school-based teams, webinars, and online training.
For 2018-19, we are presenting all new workshops at our Professional Development Series, conducting Maine Autism Leader Training, and offering our 2016-17 PD workshops for online training. This year, for the first time, we are offering three two-hour Webinars as part of our PD Series! You can now hear from autism experts from around the country from your own location. Check out the sessions below and register soon! Explore this page to learn more about these exciting opportunities or visit our PD Calendar for listings.
Graduate Certificate: The University of Maine offers graduate courses leading to a Graduate Certificate in Autism Spectrum Disorders for Educators, Administrators and related service providers seeking advanced education for leadership roles in educational programming for students with ASD.  FMI on this program, visit the Graduate Certificate page.
MAIER 2018-19 Professional Development Series
Check our PD Calendar or click on the individual sessions FMI.
October 4, 2018
Beyond the Birds & the Bees: Sexuality and Relationship Education
for People with Autism and DD  (Part 1 of 2-part series)
Victoria Slocum, Ph.D.
Wells Conference Center, Orono
November 1, 2018
Teaching Emotional Regulation Skills to Children
Terese Dana, M.S., BCBA
Thomas College, Waterville

November 28, 2018

Identifying and Avoiding Pseudoscience and Controversial Methods
Jason Travers, Ph.D., BCBA

WEBINAR

December 5, 2018
Using Research-based Strategies to Teach STEM
Victoria Knight, Ph.D.

WEBINAR

February 7, 2019
Preparing for Transition to Adulthood for Students with Disabilities
Sarah Howorth, Ph.D., BCBA
Jeff's Catering, Brewer
February 20, 2019
Written Expression Needs and Strategies for Students with Disabilities
Sara Flanagan, Ph.D.

WEBINAR

March 14, 2019
Executive Function/Mindfulness: Explored and Applied
Diane Jackson, Ed.D.
Jeff's Catering, Brewer
April 11, 2019
Creating a Toolbox: Sexuality and Relationship Education
for People with Autism and DD (Part 2 of 2-part series)
Victoria Slocum, Ph.D.
Wells Conference Center, Orono
May 23, 2019
Social Detective, Superflex, and Friends Take on Social-Emotional Learning
Nancy Clements, MA, CCC-SLP
Thomas College, Waterville
 
 
 
 
Register online at our secure registration.  Step by Step instructions for registering. 
Registration closes one week prior to each event, so register early! Late registrations will be considered if space is available.
In-person sessions run from 9 am to 3:30 pm with check-in starting at 8:30am. Cost is $35/person unless otherwise noted.
Webinars run from 3:30 pm to 5:30 pm and cost $15/webinar. Registered participants will receive instructions for joining the webinar prior to the session.
Contact hours are awarded upon completion of the workshop. CEUs are available with a $20 processing fee. Refunds are not provided, but substitutions are recommended if you need to cancel your registration. 
2016-17 Professional Development Series is available for Viewing Online

Did you miss out on our 2016-17 Professional Development Workshops?  All nine of our workshops are now available to view online for free. This Archived viewing option allows you to watch each selected workshop at a time convenient with your schedule.  Register online at our secure registration site. Please note when you register for the Archived session, you must contact Donna at MAIER (donna.doherty@maine.edu) to receive the login information and password to access the PD once you have registered for the session.
The Maine Department of Education provides significant support and funding for the activities and outreach of the Maine Autism Institute for Education and Research. Special thanks to Jan Breton, Director of Special Services Birth-20, Maine Department of Education, for her ongoing support for this project. To learn more about this unique partnership, see the "About Us" tab above.