THINGS RE: Stuff
THINGS  RE: Stuff, an exhibition of ceramic sculpture by Gary Greenberg, to open in the Lord Hall Gallery on September 30.
Orono, Maine — The Lord Hall Gallery at the University of Maine presents an exhibition of humorous and politically charged ceramic sculpture by internationally known artist, Gary Greenberg.
THINGS  RE: Stuff, runs from September 30 through November 11 in the Lord Hall Gallery.  An artist's reception will be held from 5:30 – 7:00 pm on Friday, September 30.  Greenberg will give a public presentation on his work and creative process, Thursday, Sept 29th at 6 pm in 100 Lord Hall.  All events are free and open to the public.
Visualizing Home and Homelessness
The Department of Art presents Visualizing Home and Homelessness at the Lord Hall Galleries, from 9 October through 13 November. Please join us at a reception for the exhibition on Friday evening, 16 October, 5.30 – 7.00!
Large Scale Color Reduction Woodcut Workshop with Amy Guadagnoli

The Large Scale Color Reduction Woodcut Workshop with Amy Guadagnoli will be held in the newly renovated Stewart Hall, Wyeth Arts Center Print Studio, on the University of Maine, Orono campus. In this five-day intensive workshop, participants will learn to plan, carve and print a large scale (24″ x 30″) multicolor woodblock print. Hand carving tools will be utilized to cut the images into the blocks and impressions will be printed without the use of a press. Participants will have the option of staying an extra day for the July 11th open studio to complete project printing. Recommended for age 16 through professional.
Workshop Cost: $660.00 (includes 5 days instruction, all materials, and July 11 open studio project completion hours)
Dates:
July 6-10, 2015: workshop hours: 9:00 am – 12:00 pm and 1:00 pm – 6:00 pm.
July 11: open studio to complete projects 9:00 am – 3:00 pm
CEU Information: Four CEU credits available. Application will be available at the end of the workshop. An additional $10 fee will be required for application.
Workshop contact: susan.groce@umit.maine.edu
Registration:
The registration fee does not provide for meals or snacks. Please plan to either bring your meals or eat at an on-campus or off campus dining facility.
CAMPUS HOUSING: The University of Maine offers dormitory housing. If you indicate a need for on-campus housing on the registration link, you will receive an email from Theresa McMannus with details. If you do not choose housing on the registration link but would like on-campus housing during the week of the workshop, please call Theresa McMannus at 207.581.4095 (M-F 8AM-4:30PM). Housing rates for an adult single with linens is $69.00 per night plus tax. You can also get an on-campus, through the line meal plan, which includes breakfast, lunch and dinner for $29.85 plus tax per day.
Registration link: http://umaine.edu/conferences/conference-registrations-2/
James Linehan: New Old Paintings 2015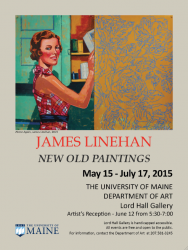 ArtWorks! Spring 2015
The Department of Art is now accepting applications for the after school ArtWorks! program.
As it has for more than 30 years, UMaine's Art Education Program will offer the program for students in grades K-8. ArtWorks! provides children an opportunity to explore the world of art through hands-on experiences with a variety of visual media, the history of art, and the viewing of art works.
The Spring ArtWorks! session will run five consecutive weeks with classes held 3:30-5 p.m. Fridays in Lord Hall on the UMaine campus. Classes begin March 20th and continue through April 17th.
The classes are organized by grade level and are taught by art education majors, who are preparing to become art teachers. The program is supervised by Laurie E. Hicks, professor of art.
Participants will have the opportunity to work with diverse media as they explore the ways in which experiences with art help encourage creative expression, manipulative skills as well as ways of seeing and understanding the visual world. This semester, students will consider and make art as a form of storytelling.
A $25.00 fee covers the cost of materials. The program is offered on a first come, first serve basis. Applications are available through the Department of Art and are due no later than February 25.
For more information or an application, contact Hicks at 581-3247 or laurie.hicks@umit.maine.edu. Lord Hall is wheelchair accessible.
Faculty Exhibition w/ Alan Stubbs 2015
FEATURED
FACULTY / 2015
AN EXHIBITION OF NEW WORK BY DEPARTMENT OF ART FACULTY
ILLUSIONS AND REALITY
AN EXHIBITION IN MEMORY OF ALAN STUBBS
February 6 – March 13, 2015
Reception: Friday, Feb. 6, 5:30-7:00
THE LORD HALL GALLERY
University of Maine
The Lord Hall Gallery is wheelchair accessible.
Monday-Friday 9:00-4:00
Department of Art / 207. 581-3245
Albers & Heirs Exhibition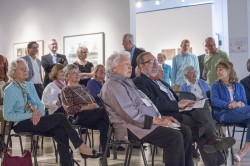 Albers & Heirs, an exhibition of the works of Josef Albers, Neil Welliver, and Jane Davis Doggett, will be at the Lord Hall Galleries from 16 June – 18 July.  Curated by Osvaldo Monzon, the exhibit marks a significant occasion for the university in underscoring the importance of the Bauhaus school via Black Mountain College and Yale University to current arts education here at UMaine and across North America.  Through Albers' teaching at Black Mountain College, Modernism became the main-spring driver of Arts education just at the moment when universities across globe began to include the Arts as part of their offerings.  Albers' book, the Interaction of Color, represented here by several prints, continues to serve as a core text in foundational Color Theory and Practice courses central to in all education programmes.  Gallery Hours: M-F from 9:00am – 4:30pm
Dr. David Pariser delivers the inaugural Wyeth Family Heritage Lecture!
The Department of Art thanks Dr. David Pariser, Professor of Art Education at Concordia University, Montreal, Quebec, for his presentation, The Juvenile Work of World-Class Artists, as the inaugural Wyeth Family Heritage Lecture!  Thanks to all those who participated and helped make it such a successful event!   See it documented here at: David Pariser, The Juvenile Work of World-Class Artists
DARKNESS
Tom Hall, Nina Jerome, Christopher Peary
Lord Hall Gallery
Department of Art
February 7 – March 21, 2014
Gallery Hours: M-F from 9:00 – 4:30pm
Opening Reception: Friday, February 21, 5:30-7:00
Public Invited