New Exhibition – Nina Elder: HOLD
The Department of Art's Lord Hall Gallery proudly presents Nina Elder: HOLD. The exhibition runs from August 21 – October 13, 2023. An exhibition reception will be held on Friday September 1st from 5-7pm. Elder will present an artist talk on September 5th in the IMRC Center Room 104 at 7pm. Elder is an artist and researcher. More information about her can be found on her website: www.ninaelder.com.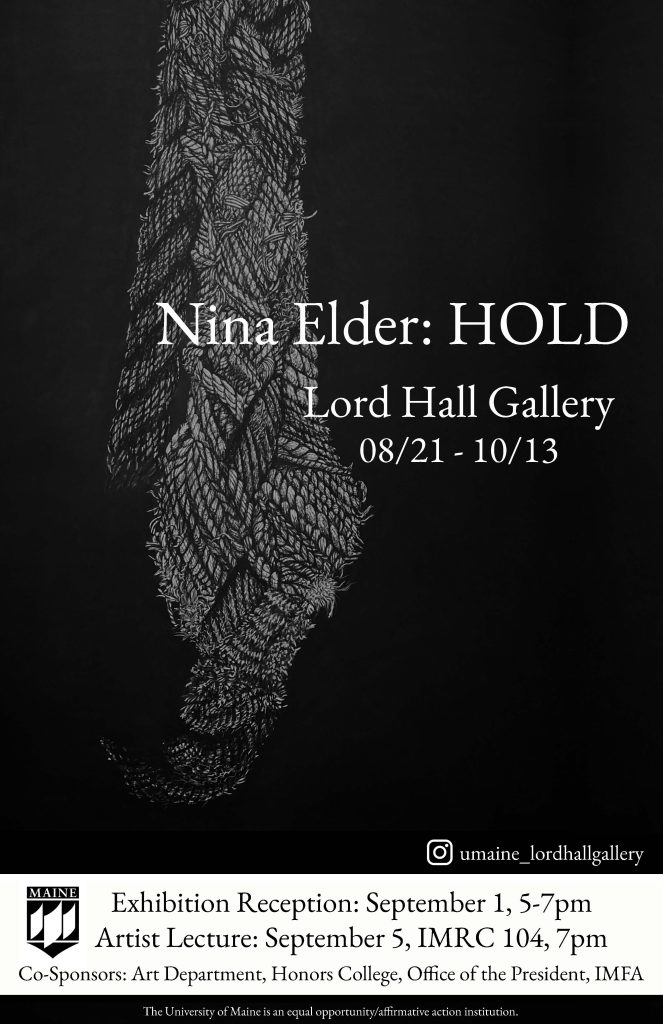 Hold means many things: to support, to embrace, to detain, to stop, to remain secure. A hold can be a measure of capacity, a fortress, a wrestling move, a method of belief. In this exhibition, artist Nina Elder explores the various implications of holding. Comprising three bodies of work – Fray, Uplift, and Overburden – this multimedia exhibition brings attention to what we hold as well as what holds us. Uplift drawings were created using marine motor lubricant and industrial pulp mill waste, materials that point to certain non-recreational realities in Maine. These drawings abstract what is uplifted and are meditations on the kinds of invisible emotional lifting we all do. Overburden is a video which documents Nina's attempt to care for and carry away slag, a by-product of copper extraction. She uses hand-sewn devices, accentuating both her strength and her softness, to uplift and dignify the pulverized, leached, melted, dumped, and forgotten rocks. Bonds and Breaks depict knotted ropes, mended anchor lines, and fraying nets. As metaphors of living through climate devastation and social upheaval, these drawings revel in the complexities of dependency and brokenness. They question what tethers humanity during periods of extreme change and how we might exist with what remains.
Nina Elder's visit, exhibition and lecture are co-sponsored by the Department of Art, the IMFA Program, the Honors College, and the Cultural Affairs Fund through the Office of the President. All events are free, accessible and open to the public.
Please join us! Lord Hall Gallery is open Monday-Friday from 9am-4pm.
Contact: Diana Baumbach, diana.baumbach@maine.edu.