2023 Faculty Exhibition Opens Feb. 3!
Lord Hall Gallery is pleased to announce the 2023 Faculty Exhibition, running from February 3-March 17. A public reception will take place on February 10 from 5:30-7:00pm.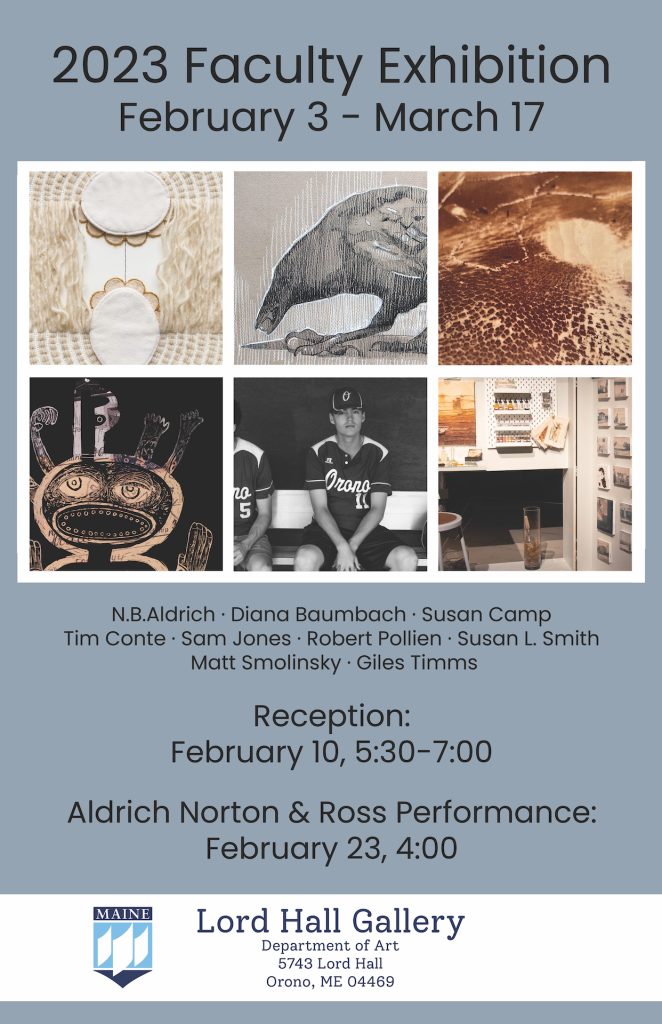 The exhibition includes faculty from UMaine's Department of Art and the IMFA program: N.B.Aldrich, Diana Baumbach, Susan Camp, Tim Conte, Sam Jones, Robert Pollien, Susan L. Smith, Matt Smolinsky and Giles Timms. A diverse range of artwork will be on view including painting, site-specific installation, social practice, animation and more.
The trio Aldrich Norton & Ross will perform live in the Gallery on February 23rd at 4:00pm.
If you are interested in a class visit, outreach activities or have any questions please contact Diana Baumbach, Gallery Director (diana.baumbach@maine.edu).
The Gallery is located in Lord Hall and is open Monday-Friday from 9:00am-4:00pm.
Events are free, accessible and open to the public. All are welcome.