Dr. Paul "Jim" Roscoe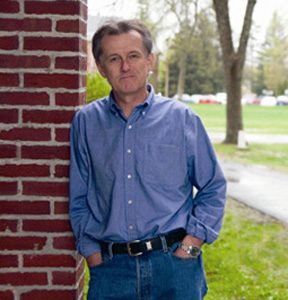 Professor of Anthropology
Cooperating Professor, Climate Change Institute
Cooperating Professor, School of Policy & International Affairs
Ph.D., University of Rochester, 1983
M.A., Manchester University, 1977
M.Sc. Manchester University, 1973
B.Sc., Manchester University, 1971
Professional Interests:
My particular research interests are the anthropology of war, cultural ecology, and political evolution, though I confess to being a closet generalist. My area interests are contact-era Polynesia and Melanesia; I have conducted over two years fieldwork amongst the Yangoru Boiken of the East Sepik, Papua New Guinea and have made a brief research trip to the Mountain Arapesh. My current research projects are: The hunters and gatherers of New Guinea; The anthropology of war in Sepik and Highland New Guinea; and The emergence of political complexity in New Guinea. Recently, I have been researching the human dimensions of climate change. I am particularly interested in how anthropological research can improve the models of human systems currently being used in predicting, mitigating, and adaptating to climate change.
Representative Publications:
2017, The Anthropology of War and Violence. In Ethnology, Ethnography and Cultural Anthropology, Encyclopedia of Life Support Systems (EOLSS). Paolo Barbaro, ed. Developed under the Auspices of the UNESCO, Eolss Publishers, Oxford, UK. Online at http://www.eolss.net.
2017, The Emergence of Sociopolitical Complexity: The Evidence from Contact-era New Guinea. In Feast, Famine, or Fighting: Multiple Pathways to Social Complexity, Richard J. Chacon and Rubén G. Mendoza, eds. Pp.197-222. New York and Philadelphia: Springer.
2017, The Fortunes of Foragers in Colonial and Post-Colonial New Guinea. In Hunter-Gatherers in a Changing World, Victoria Reyes Garcia and Aili Pyhälä, eds. Pp.3-20. Cham, Switzerland: Springer.
2017, Trading-off Food and Military Security in Contact-Era New Guinea. In The Give and Take of Sustainability: Anthropological Perspectives on Tradeoffs, Michelle Hegmon, ed. Pp.84-108. New York, Cambridge University Press.
2016, Method, Measurement, and Management in IPCC Climate Modeling. Human Ecology 44:655–664.
2016, War and the Food Quest in Small-Scale Societies: Settlement Pattern Formation in Contact-Era New Guinea. In The Archaeology of Food and Warfare: Food Insecurity in Prehistory, Amber M. Vanderwarker and Gregory D. Wilson, eds. Pp.13-39. New York and Philadelphia: Springer.
2015, Ethnographic Gifts: Some Cautions on the Use of Ethnographic Analogies from Contemporary Cultural Anthropology. In Fremdheit – Perspektiven auf das Andere, Tobias L. Kienlin, ed. Pp.61-77. Köln: Kölner Beiträge zu Archäologie und Kulturwissenschaften.
2014, with David M. Carballo and Gary M. Feinman. Cooperation and Collective Action in the Cultural Evolution of Complex Societies. Journal of Archaeological Method and Theory 21:98–133. DOI 10.1007/s10816-012-9147-2.
2014, The End of War in Papua New Guinea: 'Crime' and 'Tribal Warfare' in Post-colonial States. Anthropologica 56:327-339.
2014, A Changing Climate for Anthropological and Archaeological Research? Improving the Climate Change Models. American Anthropologist 116:535-548.
2014, Foragers and War in Contact-era New Guinea. In Violence and Warfare among Hunter-Gatherers, Mark W. Allen and Terry L. Jones, eds. Pp.223-240. Walnut Creek, CA: Left Coast Press.
2013 War, Collective Action, and the 'Evolution' of Polities. Cultural and Evolutionary Dynamics of Cooperation, David Carballo, ed. Pp.57-82. Boulder, CO: Colorado University Press.
2012 The Contact-era Economics of the Polynesian Outlier Communities. In Polynesian Outliers; The State of the Art. Richard Feinberg and Richard Scaglion, eds. Pp.91-108. Ethnology Monographs, No.21. Pittsburgh: University of Pittsburgh Press.
2012 Social Signaling, Conflict Management, and the Construction of Peace. In War, Peace, and Human Nature: The Convergence of Evolutionary and Cultural Views, Douglas P. Fry, ed. Pp.475-494. Oxford: Oxford University Press.
2012 "Before Elites: The Political Capacities of Big-Men." In Before Elites: Alternatives to Hierarchical Systems in Modelling Social Formations, Vol.1, Tobias L. Kienlein and Andreas Zimmerman, eds. Pp.41-54. Universitätsforschungen zur prähistorischen Archäologie, Volume 215. Bonn: Rudolp Habelt. Article pdf
2011″Dead Birds: The 'Theater' of War among the Dugum Dani." American Anthropologist 113 56-70. Article pdf
2011 "The Abelam 'Invasion' and the Rise of Ilahita Revisted." In Echoes of the Tambaran, David Lipset and Paul Roscoe, eds. The Australian National University, pp.25-43. Article pdf
2010 "War, Community, and Environment in the Levantine Neolithic." Neo-Lithics 1(10): 66-67.
2009 with Ulrike Claas, "A Journey up the Sepik River in 1887." Journal of Pacific History 44:333-343
2009 "On the 'Pacification' of the European Neolithic: Ethnographic Analogy and the Neglect of History." World Archaeology 41:578-588.
2009 "Social signaling and the Organization of Small-scale Society: The Case of Contact-era New Guinea". Journal of Archaeological Method and Theory 16:69-116.
2009 with Ulrike Claas, "Hot Air and the Colonialist 'Other'." Journal of the Royal Anthropological Institute. 15:131-150
2008 "Settlement Fortification in Village and 'Tribal' Society: Evidence from Contact-era New Guinea." Journal of Anthropological Archaeology 27:507-519.
2007 "Intelligence, Coalitional Killing, and the Antecedents of War." American Anthropologist 109:485-495.
2006 with Laurie Bragge and Ulrike Claas, "On the Edge of Empire: Military Brokerage in the Sepik Tribal Zone." American Ethnologist 33:100-113.
2006 "Fish, Game, and the Foundations of Complexity in Forager Society: The Evidence from New Guinea." Cross-Cultural Research: The Journal of Comparative Social Science. 40:29-46.
2004 with Borut Telban, "The People of the Lower Arafundi: Tropical Foragers of the New Guinea Rainforest." Ethnology 43:93-115.
2003 "Margaret Mead, Reo Fortune, and Mountain Arapesh Warfare." American Anthropologist, 105:581-591.
2002 "The Hunters and Gatherers of New Guinea." Current Anthropology 43:153-162.
2000 "New Guinea Leadership as Ethnographic Analogy." Journal of Archaeological Method and Theory 7(2):79-126.
2000 "Costs, Benefits, Typologies, and Power: The Evolution of Political Hierarchy." In Michael Diehl (ed.), Hierarchies in Action: Cui Bono?. Pp.113-133. Center for Archaeological Research, University of Southern Illinois, Carbondale.
1996 "War and Society in Sepik New Guinea." The Journal of the Royal Anthropological Institute 2:645-666.
1995 "Familiar Partners? The Mountain Arapesh and the Westermarck Effect." The Journal of Anthropological Research 51:347-362.
Contact:
Telephone: 207.581.1896
Fax: 207.581.1823
Email: paul.roscoe@maine.edu
Department of Anthropology
University of Maine
5773 S. Stevens Hall
Orono, Maine 04469-5773
---
Additional Links
Anthropology Home
Climate Change Institute
School of Policy & International Affairs (SPIA)