Heart and Soul Student Award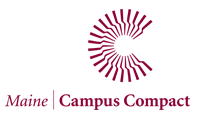 Maine Campus Compact's (MCC) Heart and Soul Student Award recognizes up to six undergraduate college students for exemplary civic engagement. These students are inspiring and engaging leaders addressing pressing community needs.
GOALS
● Celebrate students who organize others for positive community impact.
● Recognize students who work to institutionalize their community projects.
QUALIFICATIONS
● Nominee is currently enrolled as an undergraduate student at an MCC member institution. (UMaine is a member instutition.)
NOMINATION GUIDELINES
● A campus may nominate up to two students. The President's office will receive all nominations and determine which will be submitted to MCC.
● The students must be graduating in 2022 or later.
● Each nomination must include a letter of nomination including student name and current contact information as well as detailing the student's work.
● Upon nomination, the students will be notified and sent an application that must be completed and returned to Maine Campus Compact by March 14, 2022.
● Students must demonstrate:
– An innovative approach to building or enhancing campus-based efforts to address community issues and needs;
– Use of diverse strategies of engagement (service, service-learning, policy work, advocacy, etc);
– Demonstrated ability to lead, inspire and engage other students and/or members of the institution;
– Efforts to sustain their engagement by developing strategies to build their work into the institution's structure;
– A positive impact on the community.
TIMELINE
● March 14, 2022 – Nominee Applications Due
● April 12, 2022 – Award Winners Announced
● April 28, 2022 – MCC 20th Annual Awards Ceremony (Video Release)
SUBMISSION – Please submit nominations materials by February 11, 2022 to:
Lisa Morin
Bodwell Center for Service & Volunteerism
Lisa.morin@maine.edu
(207) 581-4194