Donald Harward Faculty Award for Service-Learning Excellence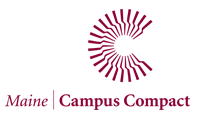 Maine Campus Compact's (MCC) Donald Harward Faculty Award for Service-Learning Excellence honors up to three faculty members who have made public service an integral part of their teaching. This award is named for Donald W. Harward, valued founder of Maine Campus Compact, and former board member of National and Maine Campus Compacts.
GOALS
● Recognize faculty who integrate community or public service into curriculum.
● Celebrate faculty who work to institutionalize service-learning.
QUALIFICATIONS
● Each nominee must be a current faculty member at an MCC member institution. (UMaine is a member institution.)
NOMINATION GUIDELINES
● Each campus may nominate up to three faculty members. The President's office will receive all nominations and determine which will be submitted to MCC.
● A completed nomination essay must be submitted, no more than 1 page in length and summarizing the faculty member's work which qualifies them for nomination.
● Upon nomination, the faculty members will be notified and sent an application form that must be completed and returned to Maine Campus Compact by March 14, 2022.
● A faculty member must demonstrate:
–  An innovative approach to building or enhancing campus-based efforts to address community issues;
–  Commitment to advocating for service-learning and/or community action on campus and beyond;
–  Clear evidence of student reflection and community benefit; and
–  Reciprocity with community partners.
TIMELINE
● March 14, 2022 – Nominee Applications Due
● April 12, 2022 – Award Winners Announced
● April 28, 2022 – MCC 20th Annual Awards Ceremony (Video Release)
SUBMISSION – Please submit nominations materials by February 11, 2022 to:
Lisa Morin
Bodwell Center for Service & Volunteerism
Lisa.morin@maine.edu
(207) 581-4194