Community Partner of the Year Award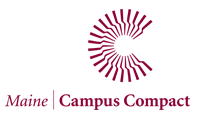 Maine Campus Compact's (MCC) Community Partner of the Year Award recognizes an exceptional community partner organization and its staff for their exemplary partnership with an MCC member institution. Through their reciprocal partnership, students learn about challenges in their community and are empowered to tackle them while the partner(s) receive valuable services and resources. These community partners are co-educators for students; they serve as a laboratory for community-based research; and they provide a venue in which students perform community service and deepen their knowledge of and connection with the communities in which they work and live. Through their work with faculty and campus staff, the community partner helps students become well-informed, engaged, and productive members of society, who are better prepared to provide leadership and service to support their communities.
QUALIFICATIONS
● Community partner organization is defined as a nonprofit agency, school, government organization or other community-based organization serving the community (not a student organization or campus department).
● Nominee must currently partner with an MCC member institution.
NOMINATION GUIDELINES
● Each campus may nominate one community partner. The President's office will receive all nominations and determine which one will be submitted to MCC.
● Nomination must include the name of the community partner, a contact person, and current address, phone and email, as well as:
● A completed nomination essay must be submitted, no more than 2 pages in length and include the following:
– A description of the campus/community partnership;
– How the community partner has helped to enrich student learning;
– How the community partner has positively influenced the community;
– How the community partner has exceeded expectations; and
– A description of the community partner's innovative approach to building or enhancing campus-based efforts to address community issues.
● Each nomination must also include a letter of recommendation detailing the positive impact of the community partner's work.
TIMELINE
● April 12, 2022 – Award Winners Announced
● April 28, 2022 – MCC 20th Annual Awards Ceremony (Video Release)
SUBMISSION – Please submit nominations materials by February 11, 2022 to:
Lisa Morin
Bodwell Center for Service & Volunteerism
Lisa.morin@maine.edu
(207) 581-4194