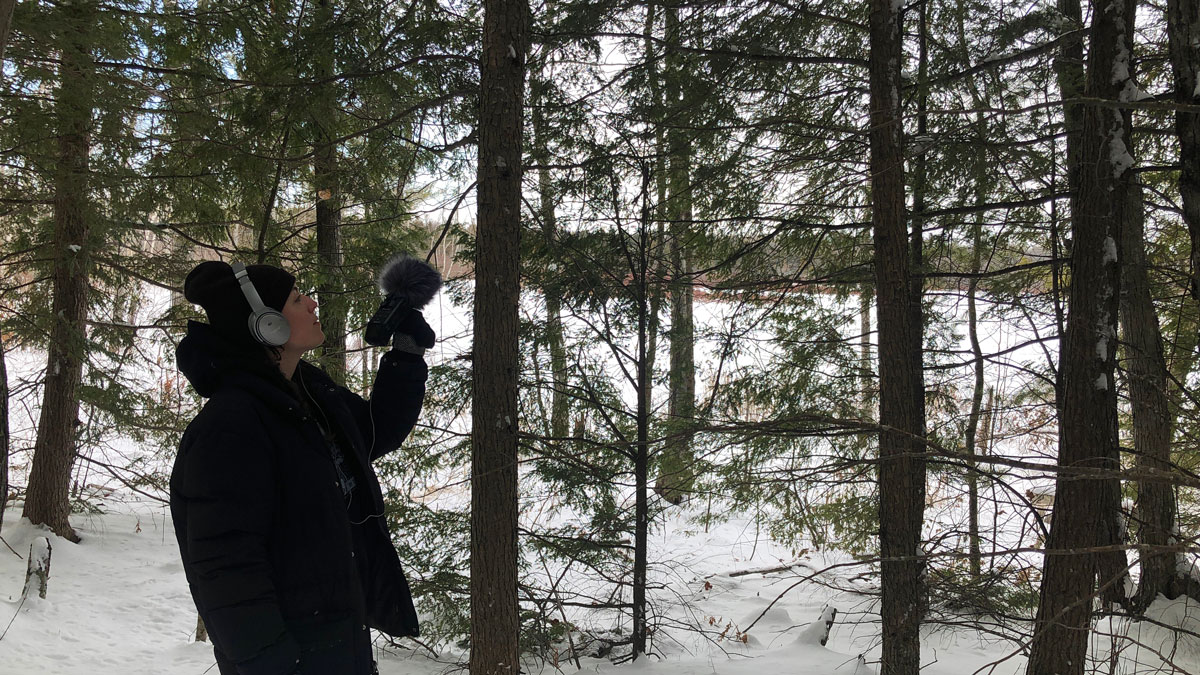 UMSS22 Student Profile: Jillian Trujillo
Growing up in a small town in California, Jillian Trujillo watched as it became larger and busier—and with that came more human-made noise. Trujillo noted that eventually there was no time of day that she could find silence.
Trujillo is a senior art history major and Center for Undergraduate Research (CUGR) fellowship recipient at the University of Maine. As a part of her fellowship, she created an interdisciplinary, virtual art installation, titled "Sounds of Maine." The installation explores the connections between nature, sound and artmaking through a series of drawings and sound recordings from four specific locations around the state. Her project mentor is Justin Wolff, a professor of art history and chair of the Department of Art at UMaine.
"Maine has endless beautiful spots that one can find and be in silence—which is very special," she says. "My hope is that at the very least, this project helps people realize how important it is to protect what we have and to stop for a moment and really look at the way we live."
Trujillo selected four spots devoid of human sounds and made recordings of nature, such as trees bending and cracking or snow falling. In the past, she has combined art and sound, but now for the first time she is collecting her own recordings.
Receiving a CUGR fellowship award gave her the opportunity to conduct research, but the idea to combine artmaking and her concern over climate change emerged during one of her classes.
"I had a professor last semester, Aaron Putnam, who teaches climate science, among other classes." Putnam is the George H. Denton Associate Professor at the School of Earth and Climate Sciences. "He really instilled in me, and I'm sure other students, that no matter what your major is, everyone has the ability to help in the fight against climate change."
This ignited her interest in interdisciplinary research. "I'm aware that my research doesn't do anything to directly help battle climate change, but this CUGR project has really propelled my interest in wanting to pursue combining our incredibly pressing issue of climate change with the workings of the art world," Trujillo says.
The CUGR fellowship experience has helped Trujillo narrow down her career path by helping her find and solidify what is important to her. She has come to realize that awareness and solutions to pressing issues, like climate change, can be pursued in any field—including art.
Contact: research@maine.edu