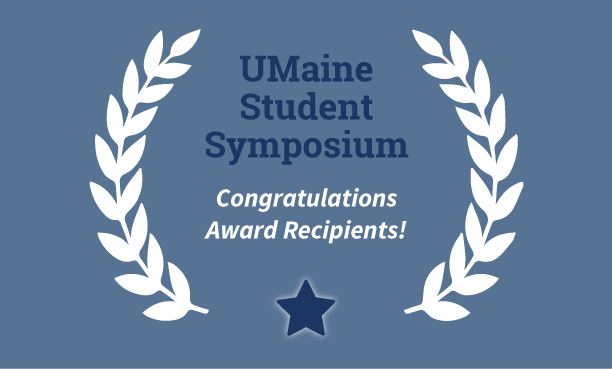 2022 UMaine Student Symposium announces award winners
Undergraduate and Graduate Researchers Awarded at UMSS22
More than 1,000 student researchers, co-authors, faculty and community members attended the 2022 UMaine Student Symposium, held at the New Balance Field House and Memorial Gym on Friday, April 15, 2022. 
The seventh annual symposium provided an opportunity for the public to interact with student researchers and scholars as they viewed posters and exhibits presented by UMaine students.
Over 350 projects were submitted to the annual event, which was held in a hybrid format. Students submitted virtual presentations to be reviewed by judges, and had the option to present at the in-person event. The free public event was organized by the Office of the Vice President for Research and Dean of the Graduate School, the Center for Undergraduate Research (CUGR), Student Government and the Graduate Student Government as part of Maine Impact Week.
In addition to awards for virtual presentations, the symposium also featured special awards sponsored by UMaine research centers as well as People's Choice Day of Event Awards. Congratulations to all the winners for your excellent work!
Special Awards
Dr. Susan J. Hunter Presidential Research Impact Award – Zachary Doherty (undergraduate), "Taste and Odor Degradation in Water by Nanobubble-facilitated Ultrasonication," advised by Onur Apul, Sean Sibley (graduate), "Family Nurse Practitioner Student Perceptions of Simulation Based Education," advised by Kelley Strout
Dean of Graduate School Undergraduate Mentoring Award –  Caitlin Wiafe-Kwakye
Provost's Innovative and Creative Teaching Award –  Martha P. Gladstone
Student Innovation Commercialization Awards –  Jacob Snow, Md Ikramul Hasan, Richa Arya
UMSS22 Virtual Presentation Undergraduate Category Awards
Allied Health: Meg Lander, "Efficacy of the FIFA 11+ Injury Prevention Program in Maine High School Soccer," advised by Christopher Nightingale
Arts: Kimberly Hunt, "Sergei Rachmaninoff's Interpretive Architecture," advised by Phillip Silver
Biomedical Sciences: Katie Southworth, "DMC9 Prophage Characterization and Impact on Group B Streptococcus Virulence," advised by Melody Neely
Business: Nicholas Johnson, "Measuring China's Footprint in the United States," advised by Stefano Tijerina
Education: Nicole LaPlant, "Creating a Healthy Rural Ecosystem for Community Vitality: Developing Rural Business Research," advised by Catherine Biddle
Engineering and Information Sciences: Mackenzie Ladd, "Effect of Interface Contact Conditions on the Electrical Resistance of 3D-Printed Conductive Filaments," advised by Brett Ellis
Interdisciplinary Research: Ainslie Allen, "Detecting Shared Touch Surface Contamination with a Deep Learning-Enhanced Smartphone and Nanopatterned Material System," advised by Caitlin Howell
Natural Sciences: Emily Holt, "Measuring Firn Thickness and Volume Change Using GPR Profiles Across the Juneau Icefield," advised by Seth Campbell
Physical and Mathematical Sciences: Jinyoung Park, "Isolation and Analysis of Glycosaminoglycans (GAGs) Using TEAB Auxiliary," advised by Matthew Brichacek
Social Sciences and Humanities: Leah Savage, "Objectifying the Classroom: An examination of self-objectification, appearance comparisons, and their effects on cognitive resources within video-class environments," advised by Amelia Couture-Bue
UMSS22 Virtual Presentation Graduate Category Awards
Allied Health: Lauren Jellison, "Firefighter Cancer Risk: A Qualitative Study of the Current Perceptions and Practices Surrounding Cancer Prevention in the Fire Service in Maine," advised by Patricia Poirier
Arts: Stephanie Winslow, "Andante et Scherzo," advised by Elizabeth Downing
Biomedical Sciences: Caitlin Wiafe-Kwakye, "Investigating the Impact of Prophages on Bacterial Fitness of Streptococcus agalactiae," advised by Melody Neely
Business: Thomas Erick, "NIL Legislation and Sponsorship of D1 NCAA Athletes," advised by Norm O'Reilly
Education: Anne Fensie, "The Study of Adult Learners in Distance Education: A Scoping Review of the Literature," advised by Elizabeth Allan
Engineering and Information Sciences: Nicholas Soucy, "CEU-Net: Ensemble Semantic Segmentation of Hyperspectral Images Using Clustering," advised by Salimeh Yasaei Sekeh
Interdisciplinary Research: Rachel Church, "Understanding Sense of Place in Maine Through Community Cookbooks," advised by Susan Smith
Natural Sciences: Avery Lamb, "Using Paleolimnological Tools to Evaluate the Links Between Climate Change and CyanoHABs in Maine Lakes," advised by Jasmine Saros
Social Sciences and Humanities: Amy Halpin, "Now or Later? Decision-Making Preferences in Community-Dwelling Older Adults," advised by Rebecca MacAulay
UMSS22 People's Choice Awards
Amanda Sandberg, "Evaluating Ca2+ Related Drugs for Inhibition of JC Polyomavirus Infection," advised by Melissa Maginnis
Jordan Miner, "Role of the HU177 Cryptic Collagen Epitope in Differentially Controlling Breast Tumor Cell Behavior," advised by Peter Brooks
Sarah Hanscome, "Simulation-Based Learning in Nursing Education," advised by Deborah Eremita