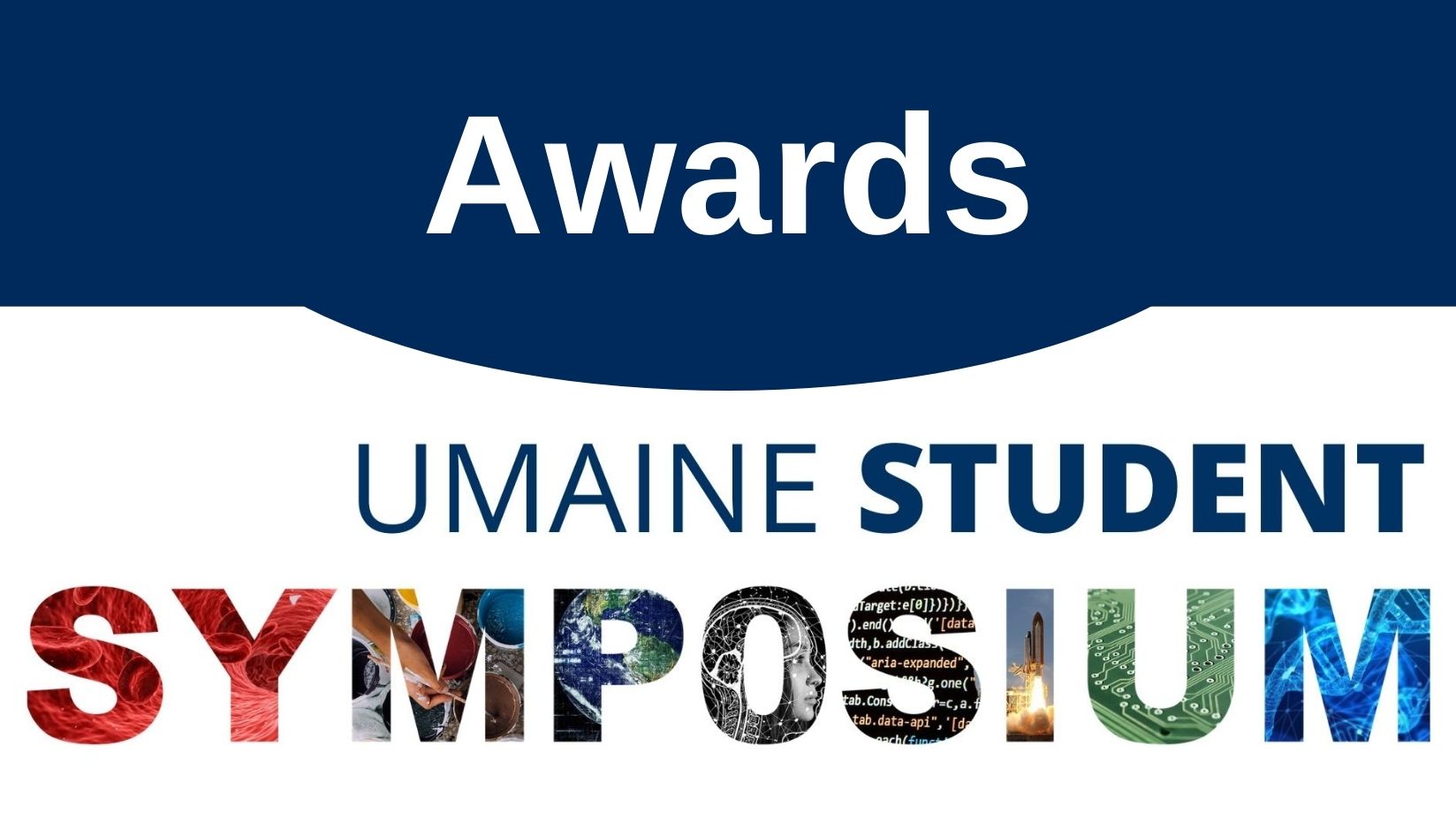 2020 UMaine Student Symposium announces award winners
In a virtual platform, 270 students showcased 131 research and creative works at the 2020 UMaine Student Symposium held on October 2.
The fifth annual symposium provided an opportunity for the public to view student research and scholarly work – all online due to COVID-19.
The free public event was organized by the Office of the Vice President for Research and Dean of the Graduate School, the Center for Undergraduate Research (CUGR), Student Government, and the Graduate Student Government as part of Maine Impact Week.
Nearly 85 volunteer judges scored projects in 10 categories encompassing all fields of study at UMaine. The top students were awarded at the close of the virtual ceremony.
Special award
Dr. Susan J. Hunter Presidential Research Impact Award: Daniel P. Regan (graduate), "Optimizing Liquid-Gated Membranes for Bioaerosol Capture and Release," advised by Caitlin Howell; Teagan LaPiere (undergraduate), "Understanding Veteran Suicides: Differences in Combat Deployed and non-Combat Deployed Risk of Suicide," advised by Mollie Ruben
Graduate winners
Allied health: Rachel Coleman, "Volunteer Participation of Older Adults: A Comparison Between Volunteers in the Retired and Senior Volunteer Program and American Time Use Survey," advised by Jennifer Crittenden
Arts: Rachel Church, "When I live at Home Again: Changing Domesticity," advised by Susan Smith
Biomedical Sciences: Ashley Soucy, "Rab27a in Exosome Function in Perivascular Adipose Tissue," advised by Lucy Liaw
Biomedical Sciences: Avery Bond, "JC Polyomavirus Infectivity is Reduced by Inhibition of Calcium Signaling Pathways," advised by Melissa Maginnis
Engineering and Information Sciences: Daniel P Regan, "Optimizing Liquid-Gated Membranes for Bioaerosol Capture and Release," advised by Caitlin Howell
Interdisciplinary Research: Meredith Lewis, "Methodology for the Use of Unmanned Aerial Vehicles in Colonial Waterbird Population Studies," advised by Cynthia Loftin
Natural Sciences: Nicole Ramberg-Pihl, "Northern Crayfish Have a Larger Impact on Macroinvertebrate Community Composition and Basal Resources than Endangered Juvenile Atlantic salmon," advised by Hamish Greig and Steve Coghlan
Physical Sciences: Elnaz Jamalzade, "Catalytic Carbon-Carbon Bond Coupling for Producing Bio Jet Fuel from Mixed Organic Acids," advised by Thomas J. Schwartz
Social Sciences: Angelica Boeve, "Does Sleep Contribute to Dual-Task Gait Disturbances Beyond Executive Attention in Older Adults?," advised by Rebecca MacAulay
Undergraduate winners
Allied Health: Sophia Palangas, "Assessing Health Related Quality of Life, Language Impairment, and Psychosocial Factors in Post-stroke Aphasia," advised by Christopher Grindrod
Arts: Olivia Bradstreet, "Paper, Pulp, and Practice: Investigating Connections Through Process Art," advised by Ronald Nadeau
Biomedical Sciences: Remi Geohegan, "Impacts of ERK Activation on JC polyomavirus Infection," advised by Melissa Maginnis
Business: Samuel Varga, "On the Accuracy of IPO Underpricing in Different Sectors of the Stock Market," advised by Grant Miles
Education and Human Development: Emmaline Richardson, "The Co-Parent Co-Op," advised by Daniel Puhlman
Engineering and Information Sciences: Basel White, "The Applications of Edge Detection to the Tissue Segmentation of Greyscale Mammograms," advised by Andre Khalil
Interdisciplinary Research: David Plouff, "Thermal Expansion and Residual Strain Effects in AIN Thin Film Sensor Materials," advised by Robert Lad
Natural Sciences: Claudia Desjardins, "Retroviral Strain Diversity and Spatial Distribution in Wild Turkeys to Assess Agricultural Spillover," advised by Pauline Kamath
Physical Sciences: Abram Karam, "Second-Order Derivatives of Nonsmooth Functions with Applications in Engineering," advised by Peter Stechlinski
Social Sciences: Teagan LaPiere, "Understanding Veteran Suicides: Difference in Combat Deployed and non-Combat Deployed Risk of Suicide," advised by Mollie Ruben
Attendees of the symposium, including students, faculty, staff, judges, sponsors and the general public are invited to take a short survey about the event. Feedback is important to symposium organizers and will be used to improve future events. Enter your email address at the end of the survey for a chance to win a prize. Your email will not be associated with your responses. The survey is online.