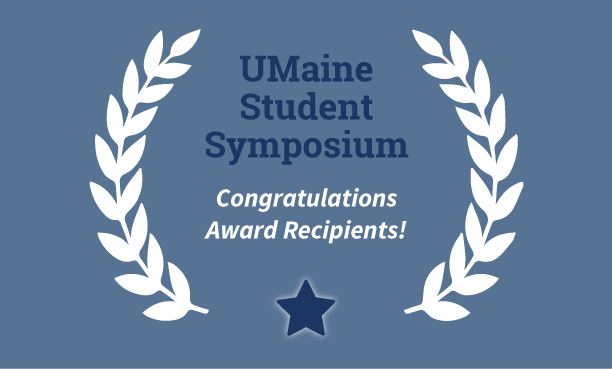 2019 UMaine Student Symposium (UMSS) Award Recipients
More than 1,200 students showcased nearly 400 research and creative works at the 2019 UMaine Student Symposium held at the Cross Insurance Center in Bangor on April 10.
The fourth annual symposium provided an opportunity for the public to interact with student researchers and scholars as they viewed posters and exhibits and listened to oral presentations.
The free public event was organized by the Office of the Vice President for Research and Dean of the Graduate School, the Center for Undergraduate Research, Student Government, and the Graduate Student Government as part of Maine Impact Week.
Almost 220 volunteer judges scored projects in nine categories encompassing all fields of study at UMaine. The top students were awarded at the close of the ceremony. Other special awards sponsored by various research centers also were presented at the event
Graduate winners
Allied health: Kaitlin Robinson, Effect of Simulation in Nursing Education on Senior BSN Students' Self-Confidence Level and Preparedness for Practice, advised by Patricia Poirier
Arts: Rachel Church, Anna Martin and Arturo Camacho, #youronlinebaggage — A Socially Engaged, Graduate Art Endeavor, advised by Susan Smith
Biomedical Sciences: Jeanne DuShane, JCPyV-induced activation of the MAPK cascade is required for viral transcription, advised by Melissa Maginnis
Education and Human Development: Naomi Caywood, The Effects of Diverse Aged Enrollment on Community School Literacy Rates in Rural Zambia: Case Study on Impact Network International Schools, Eastern Province Zambia, advised by Kristin Vekasi
Engineering and Information Sciences: Thomas Leighton, Development of an Electrical Interface for Lateral Field Excited Sensor, advised by Nuri Emanetoglu
Interdisciplinary Collaboratives: Jennifer Smith-Mayo, Rafa Tasnim and Joseph Mohan, A Framework of Past, Present and Future Cultural Responses to Water Stress in Three Distinct Regions, advised by Jacquelyn Gill
Natural Sciences: Kyle Capistrant-Fossa, Unexpected Reproductive Traits of Grateloupia Turuturu Revealed by its Resistance to Bleach Based Biosecurity Protocols, advised by Susan Brawley
Physical Sciences: Morton Greenslit, Synthesis and Characterization of Piezoelectric AlN Thin Films Using Plasma-Assisted Electron-Beam Evaporation, advised by Robert Lad
Social Sciences: Melissa Jankowski, Interpersonal and Achievement-Related Stress Moderate the Risk for Suicidality in First-Year College Students, advised by Cynthia Erdley
Undergraduate winners
Allied Health: Tessa Lindsley, Samantha King, Kathleen Thibodeau and Taylor Durepo, What Strategies can be Implemented to Increase Workplace Satisfaction and Decrease Emotional Exhaustion thus Decrease Nurse Turnover Rates, advised by Patricia Poirier
Arts: Sarah Seitz, Data Queen, advised by Jon Ippolito
Biomedical Sciences: Anna-Maria Dagher, Exploring the Dynamic Relationship between Candida Albicans, Pseudomonas Aeruginosa and Fluconazole for Improved Candidiasis Treatment, advised by Robert Wheeler
Biomedical Sciences: Francesca Armstrong, Characterizing a Deadly Viral Infection in the Brain by Utilizing an Innovative and Unique Approach, advised by Melissa Maginnis
Education and Human Development: Hadley White, Addressing the World Language Teacher Shortage: How Can the Franco-American Centre Support French Programs Under Pressure in Maine, advised by Susan Pinette
Engineering and Information Sciences: Isabelle Grant, Chloe Lilly and Alex Danner, Fitness-based Optical Diagnostic Patch for the Observation of Cardiovascular Disease-risk Patients, advised by Karissa Tilbury
Interdisciplinary Collaboratives: Nicole McGrath and Daniel Woodhouse, Examining Muscle Contraction and Angular Acceleration to Detect Balance Perturbation, advised by Vincent Caccese, Babak Hejrati, Marie Hayes, and Ali Abedi
Natural Sciences: Leala Machesney, Effects of Commercial Nutrient Solutions on Growth of Lemon Basil (Ocimum basilicum var. citriodora 'Mrs. Burns'), advised by Bryan Peterson and Stephanie Burnett
Physical Sciences: Gwyneth Roberts, Quantifying Tidally Driven Transport in the Jordan River Estuary, advised by Lauren Ross
Social Sciences: Thilee Yost, Hmong Americans and Mainstream Politics in St. Paul, MN, advised by Amy Fried