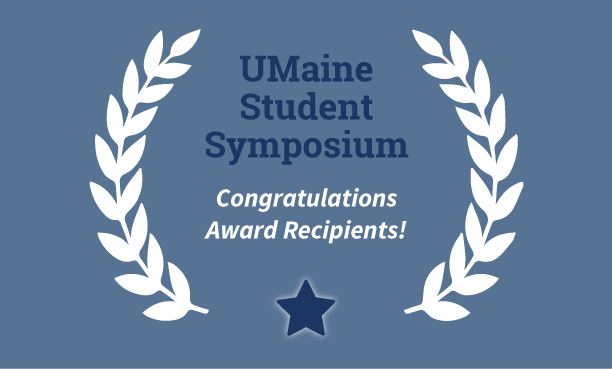 2015 UMaine Student Symposium (UMSS) Award Recipients
The UMaine Student Symposium (UMSS) was open to any undergraduate at the university and featured presentations from 229 students in the form of 92 posters, 16 oral presentations or performances, and 13 exhibits.  Several presentations included multiple student group projects. Awards were given to the top scoring presentations from each of the three presentation styles. 1st place winners were awarded $200.00, 2nd place winners were awarded $150.00, and 3rd place winners were awarded $100.00. CUGR is proud to announce the 2015 Showcase winning projects.
Exhibits:
1st Place:

S

amuel Gates, SCIS, Multi-Tag Radio Frequency Indication for use in Indoor Positional Tracking Systems, advised by Nicholas Giudice
Oral Presentations:
1st Place:
Danielle Walczak, Honors College, Forward, Not Back: Young people's search for farming and community in Maine, advised by Melissa Ladenheim
2ndPlace:
Vincent Digiovanni, Chemistry, Chemical degradation and functionalization of Acarbose for the creation and study of novel alpha amylase inhibitors related to the Acarviostatin family of natural products, advised by Matthew Brichacek
Posters:
1stPlace: Eliza Kane, Earth Science, The Geochemistry and Historical Ecology of a Burnt Mississippian House at the Lawrenz Gun Club Site in the Central Illinois River Valley, advised by Alice Kelley
2ndPlace
Kai Hermansen, Abbie Gray, Evan Nadeau, Viktoria Staples, Roger Brasslett, School of Nursing, Exercise Education at Brewer High School Health Class, advised by Elizabeth Bicknell
3rdPlace
Jacob Posik, Cameron Marcotte, Jacob Hatch, Harold Trey Stewart III, Adam Thibodeau, Robert Glover, Political Science, Confronting The Challenges of Studentification in Residential Orono Neighborhoods
The Center for Undergraduate Research is a member of the national Council on Undergraduate Research.