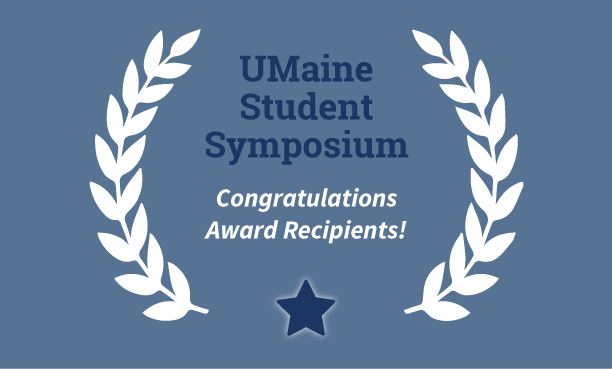 2014 UMaine Student Symposium (UMSS) Award Recipients
The UMaine Student Symposium (UMSS) was open to any undergraduate at the university and featured presentations from 149 students in the form of 77 posters, 21 oral presentations or performances, and 10 exhibits.  Several presentations included multiple student group projects. Awards were given to the top scoring presentations from each of the three presentation styles. 1st place winners were awarded $200.00, 2nd place winners were awarded $150.00, and 3rd place winners were awarded $100.00. CUGR is proud to announce the 2014 Showcase winning projects.
Exhibits:
1st Prize: Curtis-Bray, Nicole (electrical and computer engineering), Remote Excitation of the Resonant Transverse Shear Mode in AT-cut quartz,advised by John Vetelino
Oral Presentations:
1st Prize:
Martin, Paige (Molecular and Biomedical Sciences), Exosome-Mediated Drug Delivery for Treatment of Brain Cancer,advised by Carol Kim
2nd Prize: 
Gilbert, Christine (Honors), Sustainability Inconvenient Discourse,advised by Mark Haggerty
Posters:
1st Prize: Hatch, Samuel & Blackwood, Emily (Anthropology), Native American Plant Use: Pollen Analysis of Shell Middens, advised by Brian Robinson
2nd Prize:Truong, Chi (Chemical and Biological Engineering),Separation of Sodium Acetate from Maine hardwood extract via Electrodialysis, advised by Joseph Geneco
3rd Prize: Chenevert, Elizabeth & Flanders, Rebekah & Thornton, Lindsay & Paradis-Reynolds, Sylvia (Nursing), Radon Detect To Protect, advised by Elizabeth Bicknell
Check out student project synopsis videos:  https://www.youtube.com/channel/UCGLazUFVTtrk9SzFkvI39JA
The Center for Undergraduate Research is a member of the national Council on Undergraduate Research.