MSYM 2022 Was a great success! Please stay tuned for information about MSYM 2023. The tentative dates to hold are July 9-14 and July 16-21, 2023. We will update this page when we make a final choice about our dates and format!
---
In Summer, 2022, we celebrated 50 Years of MYSM!!
---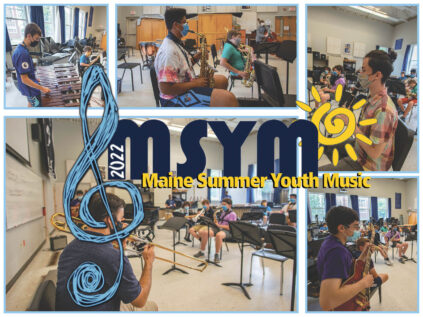 Immerse yourself in music this summer on the beautiful UMaine campus!
Maine Summer Youth Music Camp celebrates its fiftieth year with a return to the full residential camp experience for the summer of 2022. A limited number of scholarships are available to qualifying applicants.
For fifty years, MSYM has provided an immersive music experience for hundreds of young campers on the beautiful University of Maine campus, and we welcome you to join us this summer as we commemorate this milestone.
Learn from professionals coming from both the UMaine community and from around the country,  all bringing a wide array of skills and experiences. Activities include performances by faculty, students and others as well as fun recreational activities!
---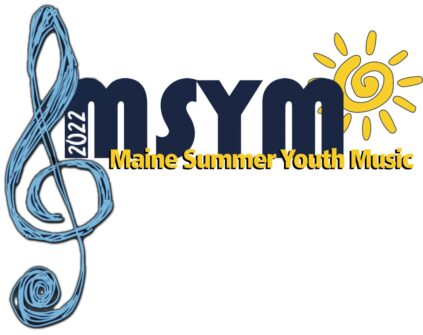 Offerings
MSYM offers large and small ensembles and classes in music areas, including:
Jazz Ensemble
String Ensemble
Concert Band
Symphonic Band
Musical Theatre
Chorus
Basic Camp Information
Each day, MSYM begins at 8:00 am and ends at approximately 8:45 (for junior campers) or 9:15 pm (for senior campers). The day is divided into eight periods: four (4) before noon, three (3) after lunch, and one (1) after dinner, followed each night by an evening performance of some sort.
MSYM is an ensemble-based camp and each ensemble rehearses two periods per day, which allows for students to be in multiple ensembles. Additional music classes are also offered during some of the periods.
Mark Your Calendars for July 10-15, 2022
We will be returning to the full residential camp experience for the summer of 2022:
Junior Camp(Grades 5-8*) and Senior Camp (Grades 8-12*): July 10-15, 2022 (Grades 5-8*)
(* – current grade as of Spring 2022)
Meet our Instructors

MSYM instructors are chosen from UMaine faculty and respected musicians and teachers from across Maine. This year's MSYM instructors include:
Tiffany Hitz, Concert Bands
Becky Mallory, Jazz Band
Anatole Wieck and Sacha Zaburdaeva, String Orchestra
Jeremy Milton, Chorus
Molly Abrams, Musical Theatre
Christopher White and Philip Edelman, Bands
Fran Vogt, Chrous
Dan Barrett, Jazz Band and Jazz Combo
 Questions?
Contact Christopher White via Email or Tel: 207.581.4703
UMaine School of Performing Arts
5788 Class of 1944 Hall, Orono, ME 04469-5788