Get ready for MSYM 2024! This year's camp will take place July 14-19, 2024, with Junior and Senior camps taking place concurrently. Registration for this summer is now open!
In Summer 2022, we celebrated 50 Years of MSYM!!
---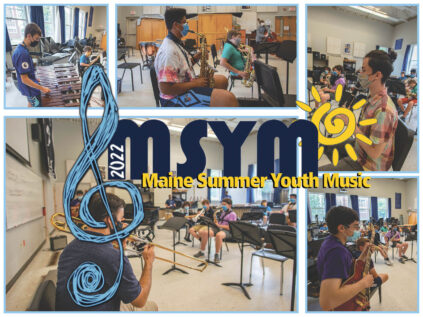 …so why not join us to kick off the next half-century with even more music, friendship and fun?
You'll make beautiful music, sure, but the memories you make will be even more beautiful.
Immerse yourself in music this summer on the beautiful UMaine campus!
Maine Summer Youth Music Camp is gearing up to celebrate its fifty-first year of residential music camp excitement! A limited number of scholarships are available to qualifying applicants.
For over half a century, MSYM has provided an immersive music experience for hundreds of young campers on the beautiful University of Maine campus, and we welcome you to join us this summer as we make beautiful music together once again.
Learn from professionals coming from both the UMaine community and from around the country,  all bringing a wide array of skills and experiences. Activities include performances by faculty, students and others as well as fun recreational activities!
---
Offerings
MSYM offers large and small ensembles and classes in music areas, including:
Jazz Ensemble
String Ensemble
Concert Band
Symphonic Band
Musical Theatre
Chorus
Meet our Instructors

MSYM instructors are drawn from University of Maine faculty and staff, as well as from the wealth of respected musicians and teachers to be found all across Maine.
This year's impressive list of talented MSYM instructors will be revealed soon! 
Basic Camp Information
Each day, MSYM begins at 8:00 am and ends at approximately 8:45 (for junior campers) or 9:15 pm (for senior campers). The day is divided into eight periods: four (4) before noon, three (3) after lunch, and one (1) after dinner, followed each night by an evening performance of some sort.
MSYM is an ensemble-based camp and each ensemble rehearses two periods per day, which allows for students to be in multiple ensembles. Additional music classes are also offered during some of the periods.
Check out this example of what a student's daily schedule might look like at MSYM:
Mark Your Calendars for July 14-19, 2024
We will be returning to the full residential camp experience for the summer of 2023:
Junior Camp (Grades 5-8*) and Senior Camp (Grades 8-12*) will take place concurrently, with students in age group pods
(* – current grade as of Spring 2024; students in eighth grade may choose either camp)
Final performances are all scheduled for July 14. They will take place as follows:
Junior Camp Musical Theater and Jazz – 1 pm
Senior Camp Musical Theater and Jazz – 3 pm
Junior Camp Choir, Strings and Concert Band – 5 pm
Senior Camp Choir, Strings and Concert Band – 7 pm
 Questions?
Contact Christopher White via Email or Tel: 207.581.4703
UMaine School of Performing Arts
5788 Class of 1944 Hall, Orono, ME 04469-5788