September Readers' Theatre: Travis Baker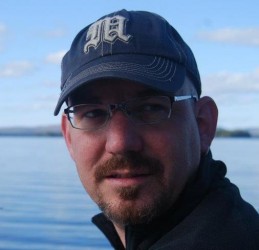 UMaine Theatre Division to partner with local playwright in reading of his work
This month, young actors and artists in the University of Maine's School of Performing Arts will collaborate with playwright Travis G. Baker in readings of his works.  The performance will be complete with commentary and insight from the author himself.
Baker began writing for the theatre in 1991 when he got into the Edward Albee Young Playwrights Workshop at the University of Houston.  At his mentors urging, he moved to New York City in 1994 in pursuit of fame and fortune.  Despite working with such giants of the stage as Horton Foote, John Guare, Adrienne Kennedy and Arthur Miller, things didn't quite work out as planned.  There were great highs and tragic lows and the slow and painful growth of a playwright along the way.  Ten years later he would move to Orono, Maine having given up theatre and the dream.
It was here that he wrote the award winning, box-office record setting One Blue Tarp.  Named the Best of Maine in the 2013 Clauder New England Playwrights Competition. This tale of a man, his tarp and the town that tried to take it away from him premiered at the Penobscot Theatre Company in 2014.  It not  only delighted and honored the local theatre audience but rekindled his passion for the stage and has led to a return to the fictional town of Clara, Maine with this seasons debut of Hair Frenzy, a story of big dreams and bad hair, in February at PTC.  The process and themes of what led to the creation of these two works will be the focus of the evening as explored through scenes from both One Blue Tarp and Hair Frenzy as well as the four New York plays recently collected under the title The Cold God of Violence My Love.
The performance is slated for September 23, 2015 at 7:30pm in Minsky Recital Hall at the University of Maine.  As students perform, Baker aims to add commentary on the themes, characters and context from which these works originated while exploring the twenty-four year journey of trying to master a terribly difficult craft.
Because of the nature of some of the scenes, this performance is suitable for mature audiences only.
Contact: Ben McNaboe, 207.581.4721