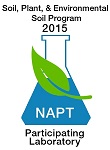 Maine Agricultural and Forest Experiment Station (MAFES)
The MAFES Analytical Laboratory and Maine Soil Testing Service is located in Deering Hall on the University of Maine campus. (driving direction)
We are available Monday through Friday between 8 and 5. We provide analytical services at reasonable prices to the public and to researchers.
We analyze soil, plant tissue, compost, manure, irrigation water, wood ash, fertilizers, organic residuals and other materials for nutrient content, organic matter, lead and other trace elements.
Welcome to our NEW website and home page. Updates were necessary to meet with System-wide web standards. If you type in our old web address, you will automatically be forwarded to our new one for the next year. Other than the home page, all of the additional documents and support information are the same as before. You may still order soil sampling kits here as before, though the order page has a slightly different appearance. The tests that we offer and our commitment to quality service remain unchanged.
It has been a hot and dry growing season, which puts severe stress on plant growth and productivity. Sometimes a hidden nutrient deficiency can become a substantial problem under these conditions. Late summer and fall are good times to sample your soil to determine potential causes of any problems you may have experienced during the season.
During the fall, we recommend you ask for the basic Standard Soil Test. Plant-available nitrogen (nitrate) measured during the season is much more meaningful than a measurement in spring or fall. The Comprehensive Soil Test, which includes measured nitrate, can still be useful for late summer and fall crops. The High Tunnel soil testing package should be run for those growers planning on late fall and winter production. In all cases we will provide recommendations to adjust soil pH, organic matter, and nutrient levels to the OPTIMUM range for plant growth and best yield, whatever your crop production system.
Soil Biological Health can be checked at any time, by asking for the Soil Biology Test. This add-on test measures the microbial biomass in your soil. Dry soil is rewet and incubated for 24 hours. Dormant microbes reactivate in the moist soil, providing a burst of concentrated respiration which is measured by the amount of carbon dioxide released. Interpretation and recommendations to improve and maintain Soil Health are provided with the report.