Spring 2017
Happy Spring to all our customers. Thank You for yet another record sample year in 2016.
In early spring, for outside growing, we recommend you ask for the basic Standard Soil Test. We will provide recommendations to adjust soil pH, organic matter, and nutrient levels to the OPTIMUM range for plant growth and best yield. Plant-available nitrogen (nitrate) measured during the season is much more meaningful than a measurement in spring or in the late fall. The Comprehensive Soil Test, which includes nitrate, is best run after Memorial Day, when the soil has warmed and normal biological activity has resumed.
We have already run nearly 100 samples from High Tunnels over the winter and they continue to flood in this spring. In addition to a routine soil test, our High Tunnel Package includes a direct check on nitrate level, nutrient salt buildup, and includes enhanced recommendations to support higher productivity and yield. Be sure to sample the entire bed depth in your tunnel, from the surface to 6 or 8 inches, since nutrient salts tend to accumulate in the top 1 to 2 inches.
Soil Biological Health can be checked at any time, by asking for the Soil Biology Test. This add-on test measures the microbial biomass in your soil. Dry soil is rewet and incubated for 24 hours. Dormant microbes reactivate in the moist soil, providing a burst of concentrated respiration which is measured by the amount of carbon dioxide released. The Soil Biology test has been improved (and recalibrated) to better simulate normal outside soil conditions
For more information click on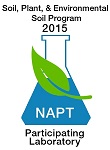 Maine Agricultural and Forest Experiment Station (MAFES)
The MAFES Analytical Laboratory and Maine Soil Testing Service is located in Deering Hall on the University of Maine campus. (driving direction)
We are available Monday through Friday between 8 and 5. We provide analytical services at reasonable prices to the public and to researchers.
We analyze soil, plant tissue, compost, manure, irrigation water, wood ash, fertilizers, organic residuals and other materials for nutrient content, organic matter, lead and other trace elements.