2018 Price Increases
A steady increase in sample numbers has allowed us to delay any price increases for 10 years or more on most of our services. However, the increase in business has not kept pace with increases in the cost of supplies, equipment, and wages. So for the first time in 10 years we are forced to increase our prices to keep pace with our cost of operation. Prices for most of our services are increasing 20 % on average (see price list) and will be fully implemented by August 6, 2018. We hope this does not cause a significant burden on you, our loyal customers. Seasonal and volume discounts for some services will be available. As always, Thank You for your patronage. We hope you will continue to find our testing services an excellent value.
For more information click on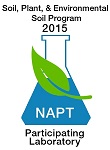 Maine Agricultural and Forest Experiment Station (MAFES)
The MAFES Analytical Laboratory and Maine Soil Testing Service is located in Deering Hall on the University of Maine campus. (driving direction)
We are available Monday through Friday between 8 and 5. We provide analytical services at reasonable prices to the public and to researchers.
We analyze soil, plant tissue, compost, manure, irrigation water, wood ash, fertilizers, organic residuals and other materials for nutrient content, organic matter, lead and other trace elements.