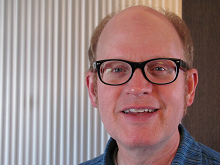 Contact Information
Office: 207 Winslow Hall
Phone: 207.581.3307
E-mail: todd.gabe@maine.edu
Education:
Ph.D., Agricultural Economics, Ohio State University
M.S., Applied Economics, University of Minnesota
Research areas: Regional and Community Economic Development, Public Finance
Teaching: Professor Todd Gabe teaches numerous economics courses, including Principles of Microeconomics  (ECO120), Applied Economic Data Analysis (ECO266), Economics of Sports (ECO285), and Regional Economics – Policy & Practice (ECO426).  
Networks: Google Scholar; RePEC
Research Program
Todd Gabe is a Professor of Economics at the University of Maine, where he teaches and conducts research on a broad range of topics related to state and local economic development. Gabe is an expert in the analysis of occupations and industries, with a focus on the importance of human capital and the knowledge and creative economies to regions large and small. Professor Gabe has graduate degrees from The Ohio State University and the University of Minnesota, and he went to college at Furman University.
Dr. Gabe has published articles in the Journal of Economic Geography, Journal of Regional Science, Regional Studies and Urban Studies, among other outlets, and has completed dozens of technical reports and economic impact studies.
By improving understanding of regional economies and public policy issues, Dr. Gabe's regional economics research program generates significant broader impacts. Gabe was awarded the University of Maine Presidential Public Service Award in 2004; and the College of Natural Sciences, Forestry and Agriculture Outstanding Public Service Award in 2005.