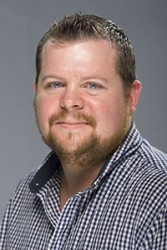 Qualifications
Ph.D.,              Economics                                  University of Glamorgan
PGDIP/ MS     Economics                                   Exeter University
B.S., Hons      Business and Economics          University of Glamorgan
Bio
Dr Crawley is a regional economist who's research broadly splits into two areas, regional economic policy analysis and economic modeling.  In regional policy Dr Crawley have sought to analyze and critique regional development strategies across different nations. As an economic modeler he specializes in Input Output (IO) and Econometric IO as well as forecast and indicator models. In 2018 Dr Crawley founded the Maine Regional Economic Forecast Lab that focuses on developing and monitoring new indicators for the states economy.
Regional Economic Forecast Lab
Research Interests
Regional Economic Development, Economic Impact, Economic Modeling, Labor Market Dynamics
Recent Peer Reviewed Journal Papers
Crawley, A., Munday, M., Delbridge, R. (2020) Selling the Region: The Problems of a Multi_Agency Approach in Promoting Regional Economies.
Regional Science Policy and Practice
Crawley, A., Hallowell, A. (2020) Smart Specialization: Insights from the North American Periphery. Regional Studies
Crawley, A., Welch, S. (2020) Do High Levels of US Employment Reduce Labor Matching Efficiency? Applied Economic Letters
Crawley, A., Munday, M., Roberts, A (2019) How serious is a devolved data deficit? A Welsh perspective. Local Economy
Daley, A., Crawley, A., Rahman, M., Demosthenes, J., Lyons, E (2019) How Well is Maine Doing? Comparing Well-Being Across Maine Counties. Maine Policy Review
Crawley, A., Munday, M. (2017) Priority sectors in city regions? Some issues from a study of the Cardiff Capital Region. Local Economy 32 (6), 576–589
Isenhour, C, Crawley, A., Berry, B. and Bonnet, J. (2017) Maine's Culture of Reuse and Its Potential to Advance Environmental and Economic Policy Objective. Maine Policy Review 26(1):36-46.
Beynon, M., Crawley, A. Munday, M. (2016) A new Index of Economic Rurality using constellation graphs and factor analysis, Environment and Planning B,
Crawley, A., (2014) The Relationship Between Commuting Time and Workers' Utility, Applied Economic Letters, DOI:10.1080/13504851.2014.922663
Crawley, A., (2014) Estimation vs Calibration a Theoretical Exploration for Econometric IO and CGE analysis, Working Paper Series University of Illinois, REAL 354
Crawley, A., Beynon, M., Munday, M. (2013) Making Location Quotients More Relevant as a Policy Aid in Regional Spatial Analysis, Urban Studies  Vol 50 (16)
Crawley, A., Pickernell, D. (2012) An Appraisal of the European Cluster Observatory, European Urban and Regional Studies Vol  19, no 1.
Crawley, A., and Hill, S (2011) Agglomeration Economics in a Small Open European Economy, Journal of Economic Studies Vol. 38 No. 6
Crawley, A., and Hill, S (2010) Coal and the Environment: An Economic Trade-Off. Regional Studies: Regional Responses and Global Shifts ISBN No. 1 897721 36 0
Crawley, A., and Hill, S (2006) The Spatial Geography of South Wales Manufacturing Industry. Regional Studies: Global Regions ISBN No. 1 897721 30
Working Papers
Crawley, A., Welch, S., Yung, J. (2020) Improving Estimates of Job Matching Efficiency with Measures of Underemployment. 
Crawley, A., Hallowell, A., Figueroa-Armijos, A. (2020) Labor Market Conditions and Female Entrepreneurship: The Rural-Urban Divide
Crawley, A., Hewings, G.  (2019) Enhancing our understanding of a regional economy: The complementarity  of CGE and EIO Models
Crawley, A., Welch, S (2020) Forecasting US recessions from Labor Market Tightness a dynamic probit approach
Teaching
ECO -121 Introduction to Macroeconomics
ECO -220 Freakonomics
ECO -290 Introduction to Growth and Development
ECO 427/527 Regional Economics: Modeling
ECO 511 Macroeconomic Theory