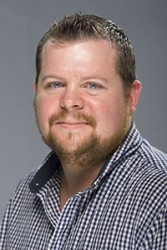 Qualifications
Ph.D.,              Economics                                  University of Glamorgan
PGDIP             Economics                                  Exeter University
B.A., Hons      Business and Economics         University of Glamorgan
Bio
I grew up in the British Isles having lived in both Ireland and England before settling in Wales. I received my Bachelors degree with Honours in Business and Economics from the University of Glamorgan where I first gained an interest in regional economic development. I moved to Exeter University to complete my graduate work in economics before returning to Wales to complete my Ph.D. in economics. My doctoral research focused on developing new methods for the analysis of industrial agglomerations. After lecturing in economics at the University of the West of England I took up a postdoctoral position at Cardiff University. Before coming to UMaine I was a Marie Curie research fellow working at the University of Illinois Urbana-Champaign building and constructing econometric regional impact models.
Research Interests
Regional Economic Development, Economic Impact, Economic Modelling
My research interests are broadly in two areas regional economic policy analysis and economic modelling.  In regional policy I have sought to analysis and critique regional development policy implemented from all levels of government. I have conducted research on foreign direct investment attraction by regions as well as on skills and small business and entrepreneurship. I have developed new methods and techniques for the analysis of regional economic phenomenon from rurality, connectivity and skills.  These techniques have used innovative sometimes-interdisciplinary approaches to tackle problems of spatial identification and the enumeration of complex spatial economic interactions. I have worked with policy makers and other practitioners in bringing to bear academic rigor to real world problems evidenced in a large number of economic impact reports. These activities have been in Europe but in the US and Australia.
My research interests in economic modeling have been in the construction of Input Output (IO), Econometric IO, Computable General Equilibrium (CGE) and forecasting tools. I have built both static and dynamic models for the UK region of Wales to analysis regional economic impacts. I have also built and maintained the (WOLF) model, a long run forecast tool capable of providing sectorial level forecasting in terms of output and employment.
Future work seeks to build an Econometric IO forecast model for Maine.
Recent Peer Reviewed Journal Papers
Beynon, M., Crawley, A. Munday, M (2015) Measuring and understanding the differences between urban and rural areas, Environment and Planning B
Crawley, A., (2014) The Relationship Between Commuting Time and Workers' Utility, Applied Economic Letters, DOI:10.1080/13504851.2014.922663
Crawley, A., Beynon, M., Munday, M. (2013) Making Location Quotients More Relevant as a Policy Aid in Regional Spatial Analysis, Urban Studies  Vol 50 (16)
Crawley, A., Pickernell, D. (2012) An Appraisal of the European Cluster Observatory, European Urban and Regional Studies Vol  19, no
Teaching
ECO -121 Introduction to Macroeconomics