Dr. Hahmann receives NSF Grant to develop development of novel state-of-the-art tool for tracking PFAS
The emergence of toxic per- and poly-fluoroalkyl substances, or PFAS, in water supplies, farms and the environment is a growing problem nationwide. Despite many researchers and government agencies investigating these "forever chemicals," there is no tool for combining all of their findings and providing a more comprehensive view of the problem.
University of Maine computer scientist Torsten Hahmann is spearheading the development of an interactive digital tool that will allow users to explore and analyze data on sites and sources of PFAS contamination throughout the U.S. This software will help investigators and the general public track existing PFAS hotspots, which in turn can help them identify where to test for new ones and better understand how they travel through the natural and manmade environment.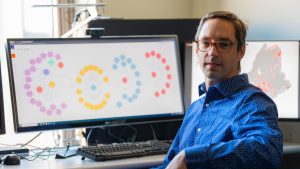 "There is a ton of data out there and plenty of people are testing, but nobody knows how it all fits together," Hahmann says. "We are building connections among different pools of data."
The National Science Foundation awarded $1.5 million for the project, one of 18 nationwide it recently funded with a combined $26.7 million through its Building the Prototype Open Knowledge Network (Proto-OKN) program.