Bee Hive Monitoring Using Radar Techniques
Bee Hive Monitoring Using Radar Techniques (2014 – 2021)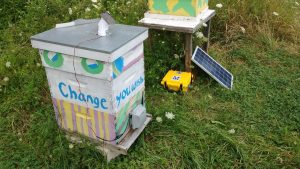 One out every three bites of food eaten by an average  American exists is due bees pollinating plants. Since the mid-2000s, bee colonies have been suffering population losses that range from 40% to 60% annually. This research aims to develop bee hive monitoring tools to help beekeepers with keeping their colonies healthy, and provide early warning when something goes wrong.
This research has been funded by the National Science Foundation (via the REU Site: Sensor Science and Engineering), the Maine Agricultural Center, Maine Technology Institute and the University of Maine System Research Reinvestment Fund.
Faculty: Nuri Emanetoglu (ECE), Francis Drummond (SBE), Herbert Aumann
Undergraduate students: Travis Russell, Berkay Payal, Ana Eliza Souza Cunha, Jason Rose, Caleb Taylor, Maxwell McFarlane, Evan McCoy
Bangor Highschool STEM Academy: Catherine Ahola, Jack Prior, Isaac Sewell
Publications
"Janus: A Combined Radar and Vibration Sensor for Beehive Monitoring", Herbert M. Aumann, Margery L. Aumann, Nuri W. Emanetoglu, IEEE Sensors Letters, DOI: 10.1109/LSENS.2021.3056870, vol. 5, no. 3, p.1500204, March 2021
"A Novel Non-invasive Radar to Monitor Honey Bee Colony Health," A.E. Souza Cunha, J. Rose, H. Aumann, N. Emanetoglu, F.A. Drummond, Computers and Electronics in Agriculture, vol.170, 105241, DOI: 10.1016/j.compag.2020.105241, Mar. 2020
"Doppler radar microphone with logarithmic square-law detector", H. Aumann, N. Emanetoglu, Electronics Letters, vol. 52, pp. 1061-63, June 2016
"Effect of Axial Rotation on Mutual Coupling Between Helical Antennas in a Doppler Radar", H. Aumann, N. W. Emanetoglu, of the 2017 IEEE Intl. Symp. on Antennas and Propagation and North American Radio Science Meeting, San Diego, CA, DOI: 10.1109/APUSNCURSINRSM.2017.8073180, July 2017
"An Index for Assessing the Foraging Activities of Honeybees with a Doppler Sensor", H. Aumann, B. Payal, N. W. Emanetoglu, F. Drummond, 2017 IEEE Sensor Applications Conference, DOI: 10.1109/SAS.2017.7894090, Mar. 2017
"The Radar Microphone: A New Way of Monitoring Honey Bee Sounds", H.M. Aumann, Nuri W. Emanetoglu, 2016 IEEE Sensors, DOI: 10.1109/ICSENS.2016.7808865, Oct. 2016
"Comparison of a Small Parabolic Reflector for Use with an Acoustic and a Radar Microphone", H.M. Aumann, T. Russell, N.W. Emanetoglu, Proceedings of the 2015 IEEE International Symposium on Antennas and Propagation and North American Radio Science Meeting, Vancouver, BC, CA, pp. 2199-2200, DOI: 10.1109/APS.2015.7305488, July 2015
Awards
Ana Eliza Souza Cunha and Berkay Payal shared the first Dr. Susan J. Hunter Presidential Research Impact Award for undergraduate students in April 2018, awarded at the 2018 Student Symposium
Click on the audio below to listen to the audio frequency output of a Doppler radar when bees are flying in and out of a hive!