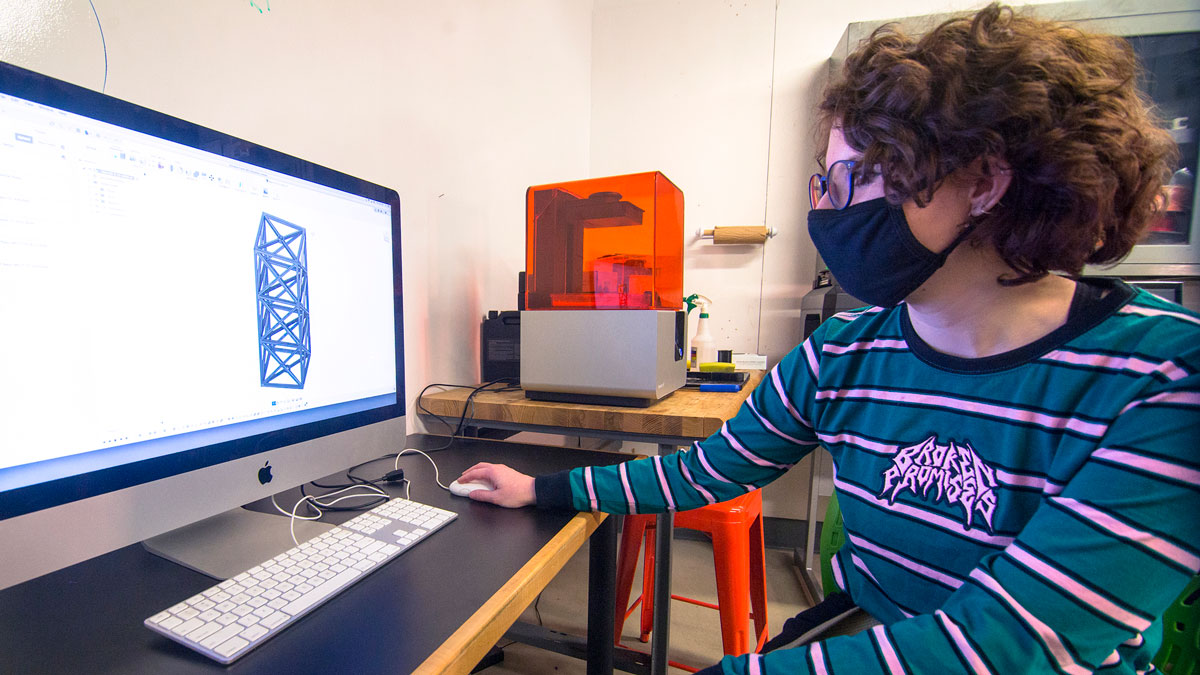 The IMRC Center expands support for research innovation
Since transitioning to a unit under the Coordinating Operating Research Entities (CORE) in 2020, the Innovative Media Research and Commercialization Center or IMRC Center, has embraced new opportunities to support research initiatives, academic curricula, and external commercial projects with access to resources and services. The 2021-22 academic year has seen a 100% increase in IMRC Center lab and resource access by undergraduate and graduate students, as well as faculty, staff, and community members.
Drivers for this growth in usage include:
Streamlined pathways to both assisted and self-service activities.
New contact-free training opportunities.
Expanded hours of access to resources.
Increased integration with undergraduate and graduate coursework.
New pathways to facility usage for Center for Undergraduate Research (CUGR) fellowships.
Expanded opportunities for Coordinated Operating Research Entities voucher recipients.
IMRC Center's event space usage has also grown by approximately 50%, providing increasing support for various campus-based activities, including student organization meetings use, academic capstones, critiques, theses presentations, student and departmental exhibitions, event series, and new coordination with the Center for Student Involvement.
Upcoming events include a symposium for the Institute of Arts in Medicine, the Intermedia Master of Fine Arts Program Visiting Artist Lecture Series, and the Middle Atlantic Planetarium Society Conference.
In addition to growing the facility usage, IMRC Center has also developed new opportunities to support research. For example, students in the first cohort of UMaine's Experiential Learning Innovation Central program used physical computing to propose a smart climate control system for buildings. The course is led by professor of electrical and computer engineering Ali Abedi, IMRC Center operations manager Drew Hooke, and IMRC Center project manager Sean Taylor. The student team included Noah Lambert, an incoming first-year student in computer engineering. Lambert went on to win a CUGR fellowship to continue the team's research and will begin gathering data for the project at the IMRC Center this spring.
Another research highlight is the SunRule sundial prototypes printed in the IMRC Center Prototyping Labs. This project was undertaken in collaboration with the Department of Art Sculpture Studio, the Advanced Structures and Composites Center, the Maine Innovation Research and Technology Accelerator, the Office of Innovation and Economic Development, and the Town of Orono. The SunRule team developed both a handheld design that could be used by students in K-12 math classes, and an interactive mathematical sculpture suitable for parks and museums. The SunRule sundial will be installed soon in Webster Park in Orono.
Contact: research@maine.edu