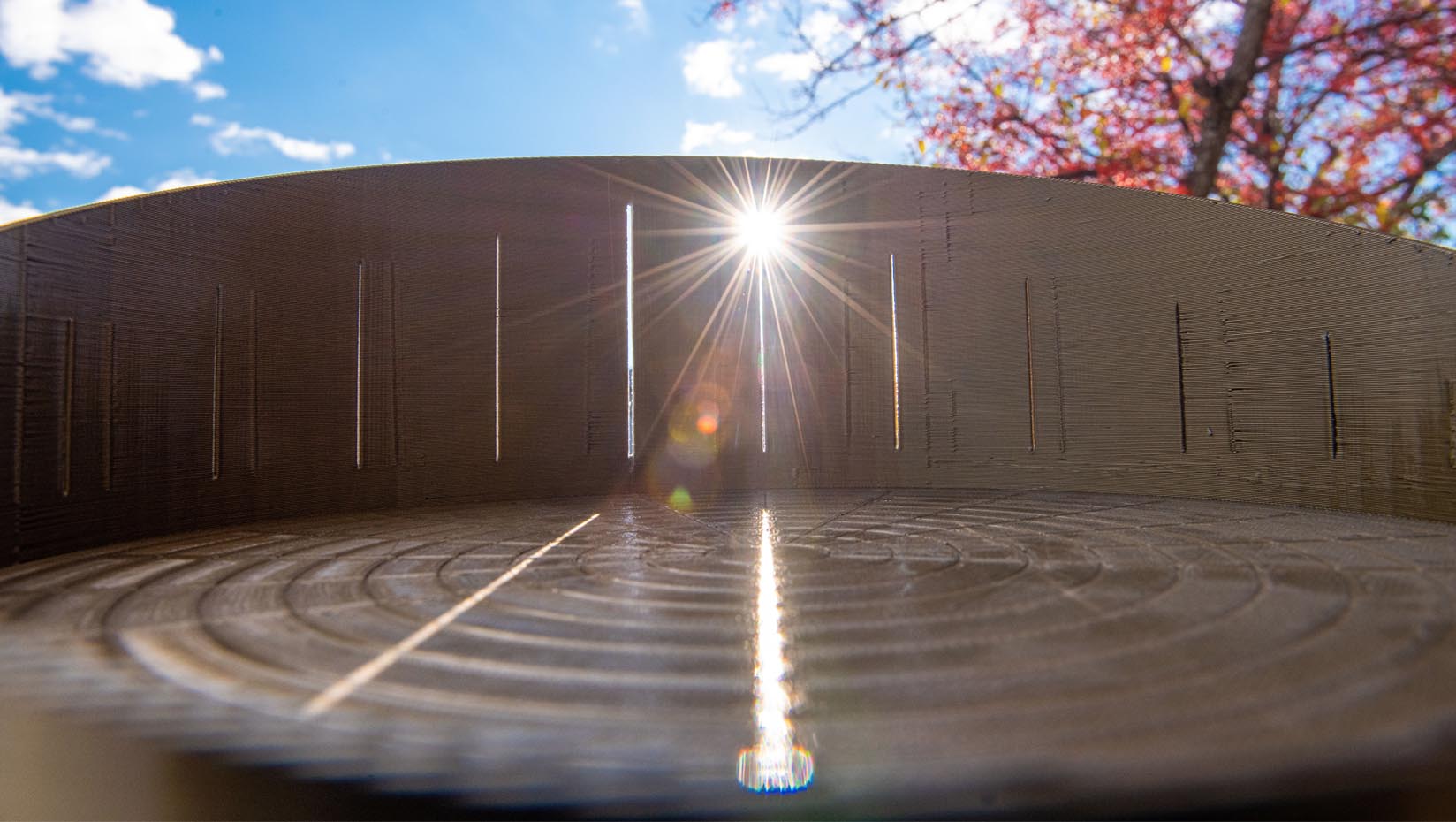 Orono's Webster Park will be first installation site for interactive sculpture created by UMaine math education professors
An interactive sculpture that harnesses the rays of the sun to help users explore multiplication and division will be installed in Orono's Webster Park, the product of a unique partnership between the University of Maine and the town of Orono.
It will be the first public installation of the SunRule, which was invented by UMaine assistant professor of mathematics education and instructional technology Justin Dimmel and associate professor of mathematics education Eric Pandiscio. The prototype sculpture was designed and built by UMaine associate professor of art Greg Ondo and sculpture studio technician Sam Hoey. Recent UMaine graduate Emma Reedman '21 also was a member of the development team.
The SunRule sculpture concept evolved through UMaine's MIRTA accelerator, a program designed to advance research along the path to commercialization, turning lab innovations into real-world products and services with public benefit.
"We entered MIRTA with a handheld device that functions in much the same way and, through customer discovery feedback, we pivoted to develop the interactive sculpture that can be installed in parks, schools and museums to complement the handheld device," says Dimmel. "The program provided the support, structure and goals to take our preliminary idea in an exciting new direction. What we landed on is not only functional as a teaching tool, but beautiful, and we're glad to be able to share it first with the community of Orono."
The opportunity to install the first sculpture in Orono developed through the SunRule team's relationship with Orono's economic development director Mitch Stone, who served as an external adviser during the MIRTA program.
"The SunRule represents innovative, educational public art that will be a great addition to Webster Park," says Stone. "The Orono townspeople will have an opportunity to explore math through a different lens and to help UMaine researchers test this technology in the real world."
The SunRule presents multiplication and division in a new way and in a new environment, bringing learners outside and allowing them to visualize, using a scaling model, how these foundational mathematical concepts work. Sun shining through a series of slits in a ring that surrounds a circular bronze plate reflects onto a grid on the plate's face. The angle of the plate can be adjusted by users, allowing them to manipulate the beam of light to multiply by different numbers.
"It represents multiplication as a continuous, stretching concept, which differs from the way it is traditionally taught," says Pandiscio. "This representation provides a strong foundation for linking multiplication to ideas of ratio, scaling and slope, which become critical concepts as students progress through school grades. It also offers an opportunity for hands-on outdoor learning, a benefit we were keenly aware of as we worked on the SunRule during the pandemic."
The installation was approved by Orono's Town Council on Monday evening and will be installed in stages, with the 30-inch base of the sculpture placed this fall and the 24-inch bronze plate expected to be added in spring 2022. UMaine is donating the sculpture to the town.
"We're thrilled to partner with the town of Orono to install the first SunRule in the university's home community," says UMaine assistant vice president of innovation and economic development and MIRTA program director Renee Kelly. "Bringing UMaine research to life for the benefit of Maine people is a key goal of MIRTA, and the SunRule installation in Webster Park offers both a learning opportunity for Orono residents and visitors and a living demonstration of the concept that the team can share with other prospective partners. It's a significant development milestone, and we share the team's excitement and celebrate their hard work."
Contact: Ashley Forbes, ashley.forbes@maine.edu, 207.581.1429