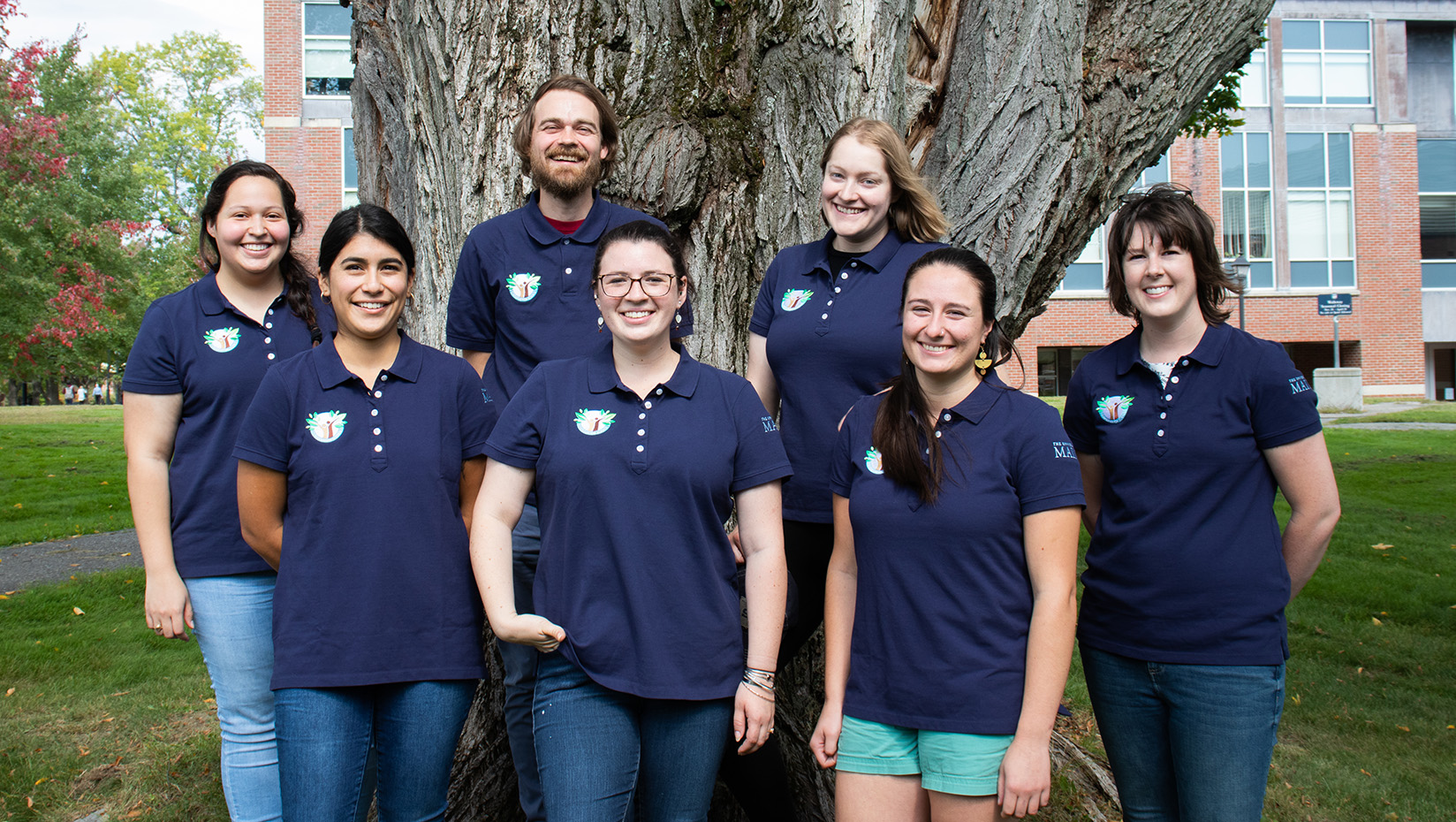 New program aims to prepare the next generation of conservation leaders
A unique traineeship program designed to produce interdisciplinary environmental conservation leaders now offers Master's and Ph.D. degree opportunities to address the challenges presented by global and local changes in environmental, social, economic and climatic conditions.
The National Science Foundation Research Traineeship (NRT) Program has awarded the University of Maine "NRT: Enhancing Conservation Science and Practice" program with a five-year, $2.9 million grant to train graduate students in research-based curricula to pursue a range of STEM careers in all workforce sectors associated with conservation efforts.
The first cohort of seven graduate students started this fall semester, with two more to begin in the spring. Students participate in a variety of courses and have the opportunity to collaborate with a diverse group of peers, mentors, faculty and conservation partners as they pursue their research and coursework.
The unique access to conservation partners was a major draw for Neil Clayton, from Ashland, Oregon, whose focus in the program is habitat conservation.
"If you want to be empowered to make a difference and understand the complexity of conservation from a holistic perspective, this program is for you," says Clayton.
Asha DiMatteo-LePape, from Guilford, Vermont, says the program provides the tools and support to gain practical skills for real-world conservation collaboration and implementation as she focuses on the study of moose conservation and management.
Students develop an interdisciplinary approach for research and collaborate on projects with others in different disciplines. They apply the integrated knowledge and discovery into solutions for sustainable practices.
Lydia Horne, from Holden, Maine, was drawn to the program because of its focus on transdisciplinary teamwork that integrates social and biophysical sciences. She studies how Maine's coastal tourism industry experiences and thinks about climate change impacts – and how these impact how they plan and react.
The ultimate goal to achieve from this program for Valeria Briones, from San Rafael, California, is to gain experience conducting her own research and become prepared for a career leading research projects in the future. Her program focus is in remote sensing and spatial analysis – studying phenological trends and how they impact Maine's $6.2 billion recreation and tourism industry.
"[The NRT: Enhancing Conservation Science and Practice program] will give me experience with how research is conducted within academic, private and government organizations – which often aim to answer similar scientific questions using different approaches," says Briones.
The program is led by Sandra De Urioste-Stone, associate professor of nature-based tourism, and involves faculty with expertise in several fields including communication, conservation biology, community psychology, ecosystem modeling, economics, forestry, tourism, governance, and public policy.
"This is such an exciting program that allows for collaboration among faculty, students and conservation partners to work across disciplines, to solve emergent conservation problems in Maine," says De Urioste-Stone. "Our program focuses on providing students both technical and practical skills that will enhance graduate students' ability to work in multiple settings, and not just academia. We are thrilled to have welcomed our first cohort this fall, and to all the joint learning that is occurring in and outside the classroom as we work with our partners."
---
The University of Maine has also been awarded a second NRT award for the One Health and the Environment initiative. The National Science Foundation Research Traineeship (NRT) – "Convergence of Social and Biophysical Sciences to Optimize Training in One Health" program begins in September 2020.
Media Contact: Christel Peters, christel.peters@maine.edu, 207.581.3571
Related Story