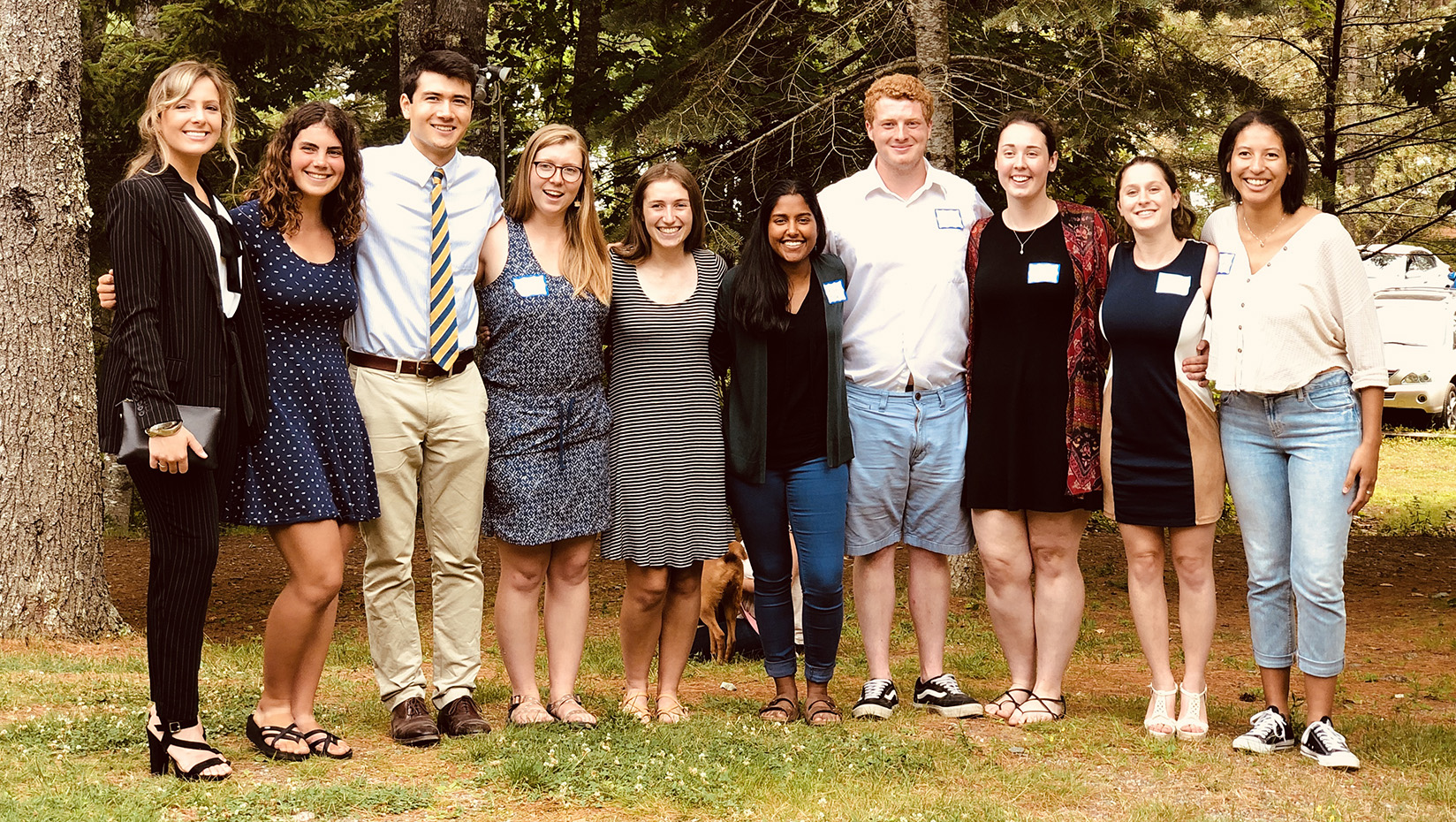 ARI interns dive into hands-on learning with aquaculture industry leaders
A collaborative program between the Aquaculture Research Institute (ARI) at the University of Maine and aquaculture industry partners supported 13 undergraduate interns in a wide range of hands-on research and work experiences this summer.
Aquaculture research covers broad topic areas, such as fish health, product development, impacts of ocean acidification, species husbandry and science communication strategies. Students looking for careers in aquaculture farming or with regulatory entities, such as NOAA or the Department of Marine Resources, benefit from experiential internships like the ARI Summer Aquaculture Internship Program.
"Aquaculture isn't all just farming fish," says Emily Tarr, a marine science major from Holden. She worked to design outreach materials and educational content for the Aquaculture Research Center in Orono. The goal is to create an interactive space to attract more visitors and educate people about the University's aquaculture resources and research.
Tarr credits her internship for the professional connections she made and the opportunity to learn about other aspects of aquaculture from her peers.
The interns were mentored by nonprofit and industry leaders to gain hands-on experience in workplaces across Maine. The paid positions lasted 12 weeks and included an educational workshop and an opportunity to present their summer research findings at the Darling Marine Center's Sea Fellows Poster Symposium.
Industry partners in the 2019 summer internship program included Mook Sea Farm, University of Maine Aquatic Animal Health Lab, Hurricane Island Center for Science and Leadership, American Unagi, Maine Department of Marine Resources, Kennebec River Biosciences, Pemaquid Mussel Farm, Maine Aquaculture Innovation Center and the Aquaculture Research Center.
Projects ranged from studying seaweeds' capacity as a buffer from ocean acidification, the use of eel waste as crop fertilizer, sea lice effects on Atlantic salmon, and harmful algal blooms in Downeast Maine.
The 2020 ARI summer internship program will begin accepting applications in December 2019. For more information on industry collaborations and internship applications please contact M. Scarlett Tudor, mary.tudor@maine.edu.
Related story