Older adults could hold the key to unlocking the ability to regulate sad mood
As people age, it is common to see a degree of decreased physical and cognitive abilities. One ability that improves with age: managing negative emotions.
According to Emily Haigh, an assistant professor of psychology at the University of Maine, studies show older adults have an enhanced ability to manage their emotions as they age. She says older adults spend more time focused on positive stimuli as a protective means of dealing with negative mood.
Her project, "Emotion Regulation in Adulthood and Aging: Reactivity and Recovery to Negative Mood," aims to find how older adults respond to stress and sadness – and if this could unlock important clues for others at different stages of life.
Impacting mental health
With support from the Summer Faculty Research Funds, a grant offered by the Office of the Vice President for Research and Dean of the Graduate School, Haigh conducted her investigation with participation from the local retirement community.
"I am pleased to see the research conducted by Professor Haigh and her team of students, where the findings have significant ramifications in understanding and supporting older adults to manage their emotions as they age," said Dr. Kody Varahramyan, Vice President for Research and Dean of the Graduate School.
She says she was impressed by the community's willingness to volunteer for the project.
"They serve an important role in helping us improve mental health," said Haigh. "We can have an important impact on folks that are struggling with mental health issues."
UMaine student researchers benefit from experience
Haigh is the director of the Maine Mood Disorders Lab, which provides undergraduate and graduate students the experience of conducting research under her supervision. Students have the opportunity to participate in this research project, present their findings at symposiums and become co-authors on published works.
This research has important implications for all stages of adulthood. Lessons learned from the older adults could lead to successful strategies for others who struggle with negative moods.
The group of older adult volunteers participated in clinical interviews, completed questionnaires asking about emotions and quality of life stressors, and were tested by means of a mood induction – they listened to sad music while researchers tracked their physiological (heartrate, sweat production, etc) and cognitive response to sad mood.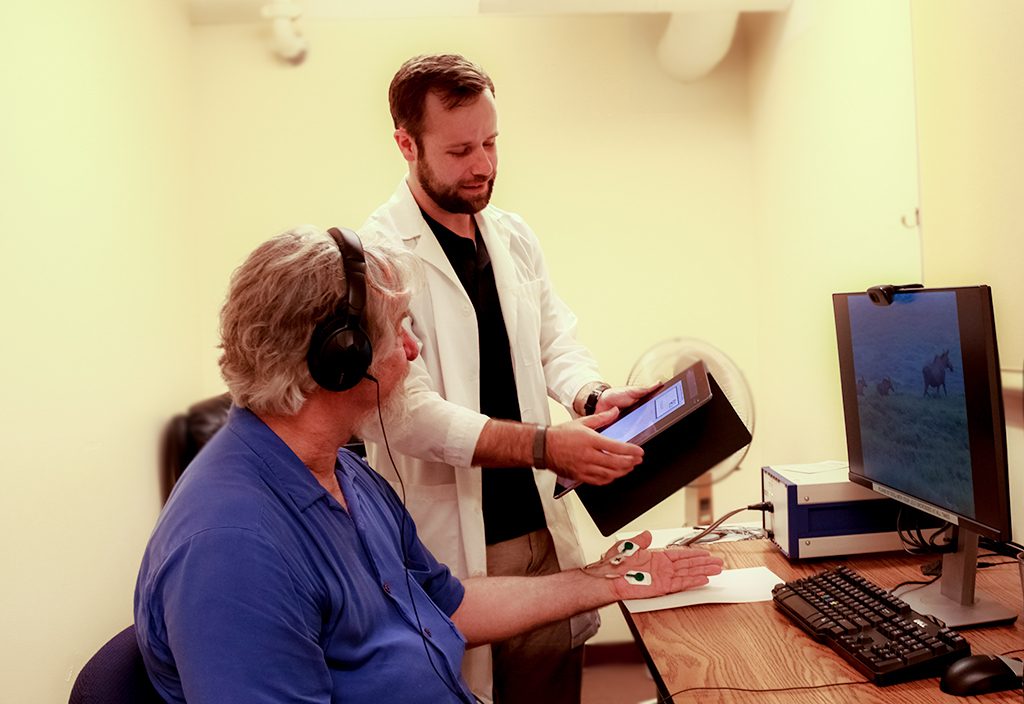 Aging research has a global impact – with local relevance
According to Maine's State Plan on Aging, Maine's population has the highest median age in the United States. As the population continues to age in increasing numbers, the cost of treating mental illness is a concern. According to Haigh, older adults with depression incur 50 percent higher healthcare costs than their non-depressed counterparts.
Haigh hopes this relevant research will lead to increased awareness about mental health. She wants people to know that being unhappy in older adulthood is not the norm.
"Being unhappy and old is not synonymous," said Haigh. "In fact, older adults are actually doing really well in this regard – so if you aren't, that should be an even bigger motivator to go and pursue some treatment."
---
Media Contact: Christel Peters, 207.581.3571
Services are offered at the Psychological Services Center for anyone – including the public — seeking treatment for negative mood. They provide evidence-based treatment on a sliding scale fee. No one is turned away for lack of funds.
Haigh and her research work are also supported by the UMaine Graduate School of Biomedical Science and Engineering and the Maine Center on Aging.