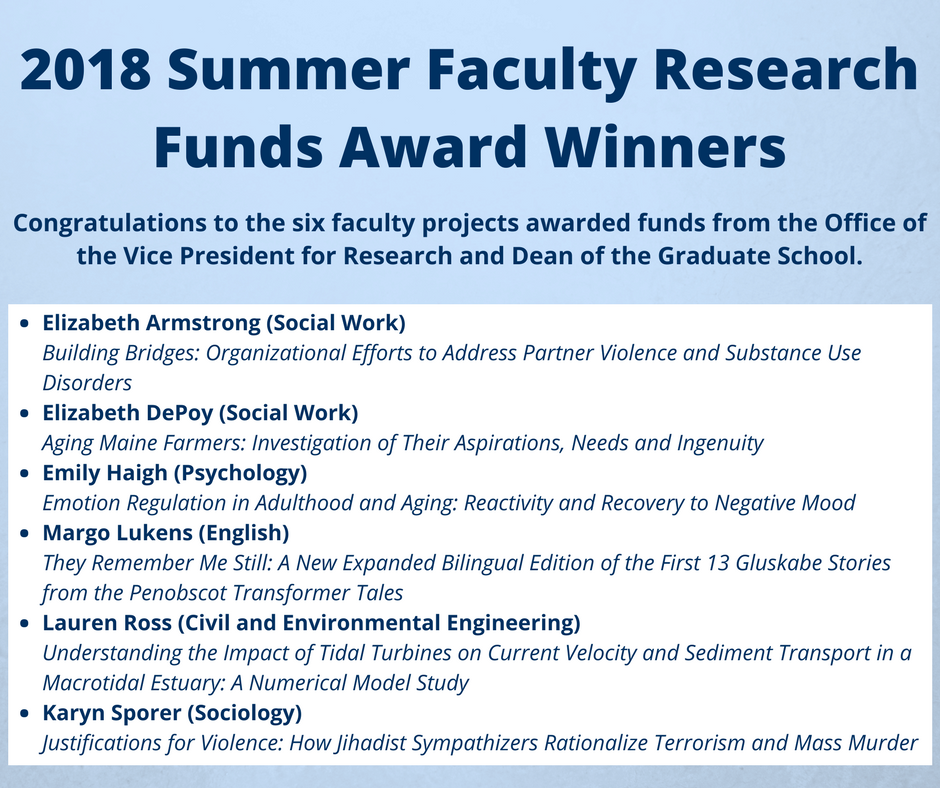 Six Faculty Awarded 2018 Summer Faculty Research Funds
The Office of the Vice President for Research and Dean of the Graduate School has announced six winners of the 2018 Summer Faculty Research Funds program. These faculty members represent a broad range of disciplines with a variety of research topics.
"I am pleased to see that we have a distinguished group of our faculty with projects from different disciplines getting supported through this funding mechanism. Moreover, these projects will provide great learning opportunities to our students, not to mention the significant socioeconomic benefits that will result from their realization."

Dr. Kody Varahramyan, UMaine Vice President for Research and Dean of the Graduate School.
The six researchers will work on specific projects throughout the summer and updates on their progress will be included in future posts.
Elizabeth Armstrong (Social Work)
Building Bridges: Organizational Efforts to Address Partner Violence and Substance Use Disorders
"Partner violence and substance use co-occur extensively at the individual level but few organizations address both. My research focuses on identifying the characteristics and practices that allow some organizations to address both issues together with the goal of enhancing the capacity of all partner violence and substance use organizations to work productively on both issues."
Elizabeth DePoy (Social Work)
Aging Maine Farmers: Investigation of Their Aspirations, Needs and Ingenuity
"As both an academic and disabled, older owner/operator of a horse farm, my research examines a major passion of my own, the ingenuity, experiences and unmet needs of aging farmers."
Emily Haigh (Psychology)
Emotion Regulation in Adulthood and Aging: Reactivity and Recovery to Negative Mood
"The aim of the Emotion Regulation in Aging "ERA" project is to better understand how older adults monitor, evaluate, and modify their emotional reactions to sad mood."
Margo Lukens (English)
They Remember Me Still: A New Expanded Bilingual Edition of the First 13 Gluskabe Stories from the Penobscot Transformer Tales
"Penobscot language revitalization is challenged by the relative inaccessibility of textual examples of traditional uses of the language. Although several books retell some traditional stories in English, the Penobscot language texts I am working to publish exist only in a century-old journal article and among the collected papers of Frank G. Speck in the archives of the American Philosophical Society. Not only that, but these century-old examples languish in Speck's improvised notation, and need to be updated to the modern Penobscot linguistic notation system."
Lauren Ross (Civil and Environmental Engineering)
Understanding the Impact of Tidal Turbines on Current Velocity and Sediment Transport in a Macrotidal Estuary: A Numerical Model Study
"The goal of this study is to determine the optimal configuration of tidal turbines for energy production in an estuary and to explore how the long-term implementation of the turbines will impact environmental conditions, such as current velocity and sediment transport."
Karyn Sporer (Sociology)
Justifications for Violence: How Jihadist Sympathizers Rationalize Terrorism and Mass Murder
"My project examines Islamic State in Iraq and the Levant (ISIL) sympathizers' tweets before, during, and after an ISIL-led or ISIL-inspired mass casualty event to understand how individuals construct moral narratives that both condone and advocate for the use of extreme violence against civilians outside a war zone."
---
More information about this program can be found on the Grant Development website or by contacting Jason Charland, Director of Grant Development. Be sure to subscribe to our monthly newsletter: IMPACT – UMaine Research to follow the progress of this important research.