Susan J. Hunter
Took Office: July 7, 2014; Left Office: June 30, 2018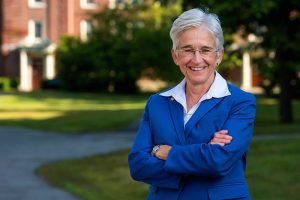 Susan J. Hunter was named the 20th President of the University of Maine on July 7, 2014. On July 1, 2017, she also became President of the University of Maine at Machias, now a regional campus of UMaine.
She began her full-time career at the University of Maine in 1991 as a faculty member in the Department of Biological Sciences. Hunter is a cell biologist whose research focused on structural and functional aspects of bone cell biology. She had grant support from the National Institutes of Health and the National Science Foundation.
For six years, she served as a co-principal investigator of an award-winning, $3 million National Science Foundation grant that placed graduate teaching fellows in K–12 schools as science demonstrators. In addition, Hunter was the original principal investigator of a five-year, $3.3 million NSF ADVANCE grant, helping to fund UMaine's Rising Tide Center, an initiative to transform the university through enhanced opportunities for women faculty members in science, technology, engineering, mathematics and social-behavioral sciences.
Her administrative positions included Chair of the Department of Biological Sciences, Associate Provost and Dean for Undergraduate Education, and five years as the Executive Vice President for Academic Affairs and Provost. Just prior to her appointment as UMaine's first woman president, Hunter served as Vice Chancellor for Academic Affairs for the University of Maine System.
University of Maine achievements under Susan J. Hunter's leadership include advances in enrollment, fundraising, and advocacy and partnerships.
Since 2014, UMaine has recruited its largest incoming classes and the largest number of out-of-state students in the university's history. UMaine has seen a 22 percent increase in private giving to its Annual Fund, with significant increases in all four donor societies.
Upon assuming the presidency, Hunter continued the implementation of UMaine's five-year strategic plan developed during her tenure as Provost. Key elements included ongoing focus on the Signature and Emerging Areas of Excellence, and efforts that led to financial stability with balanced budgets during fiscally challenging years. Also included was an enhanced partnership with the University of Maine Foundation that resulted in restructuring of Advancement operations into a single entity for greater impact and engagement with the donor community.
In the community, President Hunter has served on the boards of directors of the Maine School of Science and Mathematics, the Bangor Symphony and the Maine Mathematics and Science Alliance, and participated in a planning initiative for the Maine Arts Commission Steering Committee, in preparation for a Cultural Strategic Plan for the state of Maine.
Currently, she serves on the boards of Maine & Company, and the Maine Development Foundation, and on the advisory network for the Olympia Snowe Women's Leadership Institute.
In 2016, Hunter was inducted into the Deborah Morton Society at the University of New England. She received the 2017 Wilma Award from the Collins Center for the Arts at the University of Maine for her promotion and enhancement of cultural activities; the 2017 Kenneth M. Curtis Leadership Award from the Maine Development Foundation; and the 2018 Catherine Lebowitz Award for Public Service from the Bangor Region Chamber of Commerce.
Hunter received a bachelor's degree in biology from James Madison University and a Ph.D. in physiology from Pennsylvania State University, and did postdoctoral work at Case Western Reserve University and Pennsylvania State University.
She received an Honorary Doctor of Science from James Madison University in December 2017 and an Honorary Doctor of Public Service from Husson University in May 2018.