Amy Fried
Profe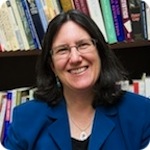 ssor & Department Chair
PhD, University of Minnesota
BA, San Francisco State University
amyfried@maine.edu
207.581.1797
Amy Fried is Professor and Chair of the Department of Political Science at the University of Maine. Fried oversees the Maine Policy Scholar Program at the University of Maine. She formerly served as Associate Dean for Research in the College of Liberal Arts and Sciences.
Prof. Fried's research primarily concerns public opinion, particularly the history and political uses of public opinion in the United States, as well as political ideas and activism.
Fried has published two books, Muffled Echoes: Oliver North and the Politics of Public Opinion(Columbia University Press, 1997) and Pathways to Polling: Crisis, Cooperation, and the Making of Public Opinion Professions (Routledge Press, 2012). Her scholarly work has also appeared in edited volumes and journals.
Reviews of Pathways to Polling include the following:
"Fried weaves together a fascinating history of the early networks of people and networks, government agencies, academics, and news media and polling operations . . . The book's strengths lie in its balanced and considered claims, in its fine scholarship, and its illumination of a fascinating aspect of the democratization of American life in the twentieth century." Ashley Grosse, YouGov, Public Opinion Quarterly
"This book is an excellent study into the historical origins and contemporary situation of the American public opinion system, which also has great merit in comparison with the Japanese situation…I would like to recommend this book to people who have an interest in the social and historical aspects of public opinion polling." Professor Yukio Maeda, University of Tokyo, Journal of the Japan Statistical Society
"[Fried's] account hinges on pollsters' most spectacular fiasco: the 1948 Presidential election, when survey researchers confidently predicted that Thomas E. Dewey would roundly defeat the incumbent Harry S Truman. . . The ensuing nuts-and-bolts narrative is riveting, and also shows how the legitimization of polling fed off the ideological underpinnings of the Progressive era, the advent of big business, the nationalization of media, and notably the mobilization of the academic community." Professor Giancarlo Gasperoni, University of Bologna, Rivista italiana di scienza politica
For her work on Alexis de Tocqueville and social capital, Professor Fried received the John C. Donovan award from the New England Political Science Association.
Fried provides analysis to a wide range of media outlets and writes a biweekly column and an intermittent blog (Pollways) for the Bangor Daily News. In addition, she is co-leader of the Maine chapter of the Scholars Strategy Network, a national group that brings together scholars to address public challenges and their policy implications.
Selected Publications:
Fall 2017 Office Hours:
Tu 2-3, W 9:30-10:30 and by appointment
Fall 2017 Courses:
POS 304-American Political Thought