Amy Fried
John Mitchell Nickerson Profe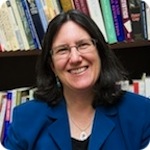 ssor of Political Science & Department Chair
PhD, University of Minnesota
BA, San Francisco State University
amyfried@maine.edu
207.581.1797
Amy Fried is Professor and Chair of the Department of Political Science at the University of Maine. Fried oversees the Maine Policy Scholar Program at the University of Maine. She formerly served as Associate Dean for Research in the College of Liberal Arts and Sciences and as the Policy Advocate in the Rising Tide Center.
Prof. Fried's research primarily concerns public opinion, particularly the history and political uses of public opinion in the United States.
Fried has published two books, Muffled Echoes: Oliver North and the Politics of Public Opinion (Columbia University Press, 1997) and Pathways to Polling: Crisis, Cooperation, and the Making of Public Opinion Professions (Routledge Press, 2012). Her scholarly work has also appeared in many edited volumes and journals. She is currently working on a book on the strategic promotion of distrust in government.
For her work on Alexis de Tocqueville and social capital, Professor Fried received the John C. Donovan award from the New England Political Science Association.
Fried provides analysis to a wide range of media outlets and writes a biweekly column and an intermittent blog (Pollways) for the Bangor Daily News. In addition, she is co-leader of the Maine chapter of the Scholars Strategy Network, a national group that brings together scholars to address public challenges and their policy implications. Prof. Fried won the 2016 Presidential Public Service Award from the University of Maine and in 2015 was named the Outstanding faculty member in Service and Outreach by the College of Liberal Arts and Sciences.
Selected Publications:
Fall 2020 Office Hours:
Fall 2020 Courses:
POS 304-American Political Thought