Engagement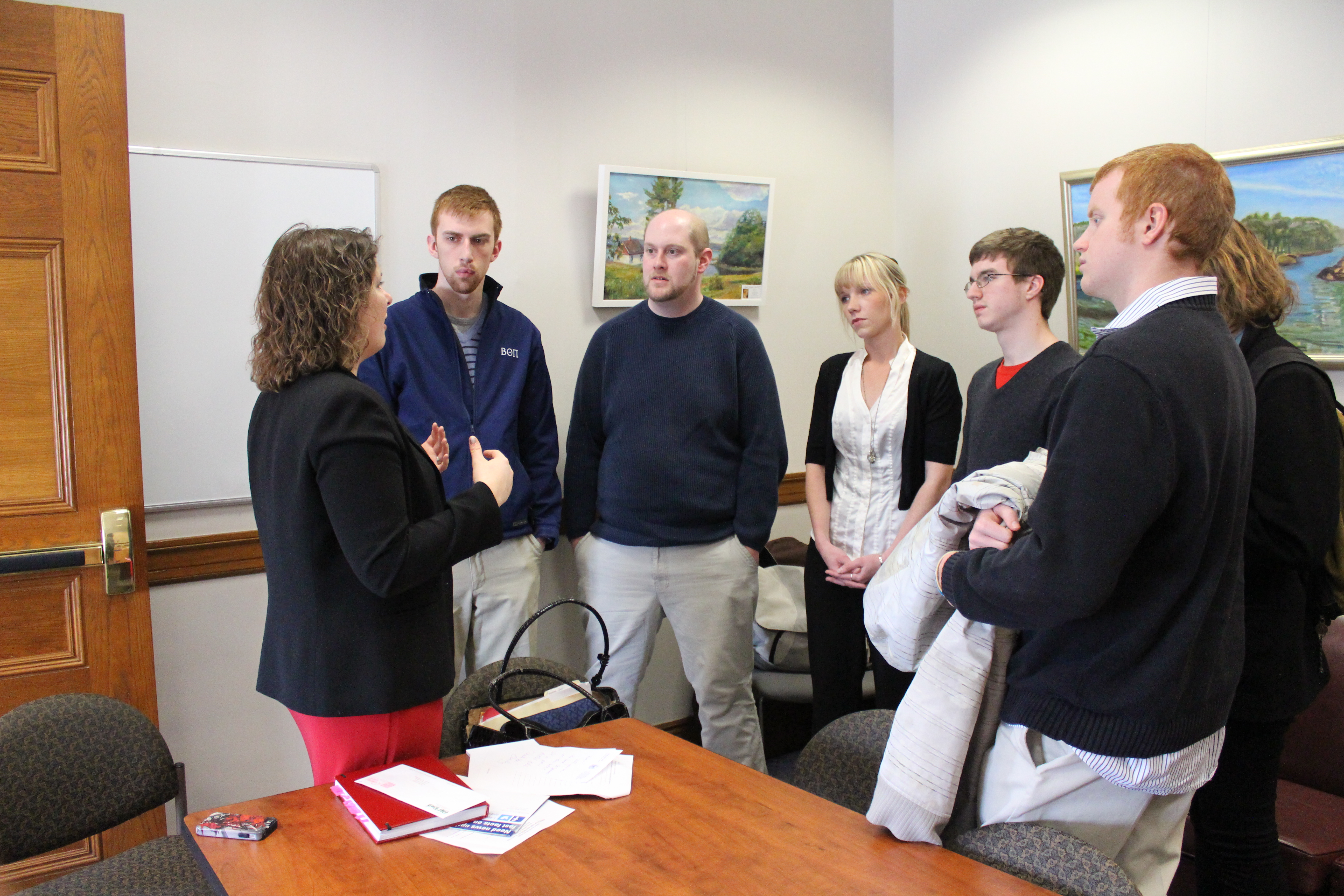 The University of Maine Political Science Department engages with the community in a variety of important ways. The Carnegie Foundation for the Advancement of Teaching defines community engagement as "…collaboration between institutions of higher education and their larger communities (local, regional/state, national, global) for the mutually beneficial exchange of knowledge and resources in a context of partnership and reciprocity." This means that our faculty  and students do not simply study politics from afar, but actively engage with the community to understand and address contemporary challenges.
In addition to our numerous internship opportunities, we offer exciting engaged courses and learning experiences for our students where they can gain valuable research skills and benefit the communities of which they are a part.  In addition, faculty regularly offer their expertise and opinion in local, state, national and international media outlets. Below, you'll find just some of the exciting ways that our faculty and students engage with the community.
POS 487-488: Practicum in Engaged Policy Studies I and II: This innovative and award-winning course sequence, developed by Professor Rob Glover, is a year long opportunity for students to gain vital research skills while collaborating with community partners to address policy problems and challenges. Learn more about some of our recent collaborations. 
The Maine Policy Scholars Program: This competitive program, overseen by Professor Brian Pitman in the Sociology Department, enables a student to examine a Maine public policy issue in depth for a year. Students are given a tuition grant as well as a sizable stipend to help support their research, funded with support from the Maine Community Foundation.
The Cohen Institute for Leadership and Public Service: Directed by  Professor Richard Powell, the Cohen Institute for Leadership and Public Service was developed in conjunction with the University's Blue Sky Plan. The 

mission of the Institute is to reflect upon and honor the rich legacy of one of Maine's most highly respected and influential citizens by advancing Maine's unique tradition of civic leadership. It promotes leadership that is civil, thoughtful, participatory, deliberative, and ethical, and is aimed at solving real-world problems in Maine, the U.S., and around the world in innovative ways. Towards that end, the Institute aims to coordinate the efforts of the variety of units, departments, and centers on campus which aim towards these larger goals. 
Leadership Studies Minor:  This innovative, interdisciplinary minor provides students with in-depth knowledge of leadership theory, ethics, skills, and context-based issues, as well as practical, experiential training applicable to nearly any area of study or social setting. Learn more here.
Contributions to local, state, national and international media: Our faculty regularly contribute to media, offering expertise and commentary in relation to ongoing political issues. Follow us on Facebook for regular updates of such contributions or you can find a list of the ever-growing list of media outlets in which our Political Science faculty have appeared here.