Jesse Clark Posts from US Congress-Korean Assembly National Exchange Program (2)
Hey Black Bears!
Now that I have managed to string together a few minutes of free time, I thought that I should give you an update on 2015 U.S. Congress – Korean National Assembly Exchange Program! It has been a very fun (and busy!) week, and we have seen a lot of what Korea has to offer. But first, what are we doing in a Korean Newspaper? I'll get to that in a bit. The first few days of our time in Korea was spent in Seoul, with a combination of sight seeing and meeting with Korean government officials as well as local experts on North/South Korea tensions. We then hopped on a train to Ulsan, and saw where Hyundai cars and ships are made. It's been a great week!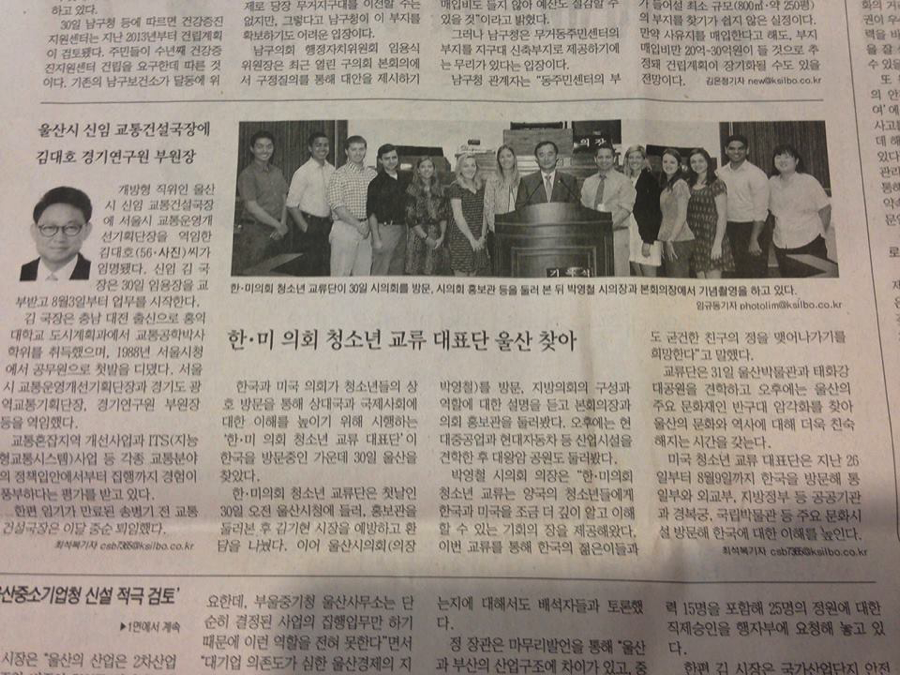 On the very first day, we discovered the best way to fight jet lag; keep busy and stay awake! This epiphany was subsequently followed by the realization that staying awake is much easier said than done. The time in Seoul is 13 hours ahead of the time in Maine; this meant that at 1 pm, our bodies believed that it was 2 am and acted accordingly. Through our packed schedule, and copious amounts of Korean coffee (which I'll address later), we were able to overcome and have fun!
So I'm sure that you are wondering about the Korean coffee. At face value, Koreans drink a lot of coffee; Seoul is littered with Starbucks and Dunkin Donuts, and it is honestly difficult to find a single block without some sort of café. As someone who's been known to drink coffee by the pot, this was very exciting for me. That is, until I found out that they do not drink traditional coffee—they almost exclusively drink Americano! While watered-down espresso didn't appeal to me, I eventually found that it gets the job done when consumed in mass amounts.
During the day, we stayed busy with meetings, including with staffers from the National Assembly, National Assembly Library (similar to the U.S. Library of Congress), U.S. Embassy Seoul, and the Ministry of Foreign Affairs. These meetings taught us through a different perspective than we had seen in the U.S., and used a much different format. In U.S. business and academic culture, presentations tend to be fairly fluid; PowerPoint slideshows serve as and aid to a lecture, and questions are regularly asked by the audience during a presentation. In Korea, it is much different. The presentations are much more rigid, with the presenter reading off of a PowerPoint slideshow, with questions only asked at the very end of a presentation. This was fairly difficult to get used to (especially with more technical topics), but after a while we got used to the predictability.
Our time in Seoul was not only consumed with rigid presentations about U.S.-ROK bilateral relations, trade policy, or the technical specifications of the THAAD Missile Defense System; we had some free time to explore every now and then, and we have taken full advantage of it. The Seoul metro area is a very busy place, and with a population of 25 million people there is always something to do. We spent our free time exploring the palaces, going to shops, and going out to eat at any of Seoul's countless restaurants. While people say that New York has the title of the "city that never sleeps," this title really belongs to Seoul; almost all of the shops are open past midnight, and one can always find some nice kimchi even at 3 am!
After a few days of being in Seoul, we hopped on a train to Ulsan, on the other side of the country. We didn't take a "bullet" train, but we didn't need to; even the regular trains in Korea travel over 200 mph! Coming from a small town in Eastern Maine, I thought this was absolutely incredible. Once we arrived in Ulsan, we were immediately met by a city official and taken to city hall. We had known that there was a meeting with the mayor on the schedule, but we had no idea how big of a deal it would be. Since Ulsan is a heavy industrial center, it gets few tourists, and even less official foreign delegations; as a result, they "rolled out the red carpet," so to speak. Our meeting with the mayor was attended by no less than three professional photographers and was publicized in the newspapers, and the rest of our visit consisted of being given expensive gifts and shuttled around the city in a beautiful bus. This hospitality continued when we visited Hyundai; the 10 year-old boy in me was very excited to receive a model car at their factory, and to see the massive ships that they are building. Needless to say, I intend on going back to Ulsan as soon as I can.
Once we got back to Seoul from our foray to Ulsan, it was time for the "homestay" portion of the trip. This consisted of staying with a family for the weekend, and seeing daily life in Korea up close. The Kim family in Seoul hosted my homestay, and I can easily say that it was my favorite weekend in the whole program. We ate traditional Korean food (Mrs. Kim is an excellent cook who made a large spread for us), played baseball, went to a movie, and even tried norebang (Korean karaoke). I had a great time, and I miss them already!
Needless to say, I have had a great week here in Korea. Up next: more meetings, a visit to a undisclosed government facility, and (hopefully) a step across the line into North Korea. I'll keep you posted!
Until next time UMaine,
Jesse Clark
University of Maine '16