Xander LaComb: Binding books and tending to fish tanks
At the University of Maine Machias, Xander LaComb unlocked many hidden talents, from book arts to aquaponics. Between his major program and his summer internship developing science programs for Wabanaki youth, LaComb is a shining example of how UMaine students can explore interdisciplinary interests and discover new passions.
LaComb, now a rising junior, grew up in Norway, Maine. He chose to attend UMaine Machias for its creative arts program, specifically its focus on book arts.
"It's a pretty unique program," LaComb says. "We're doing a lot of things. We physically put together books, take papermaking classes, do creative writing, printmaking and have some traditional art courses like painting and drawing."
LaComb is very involved on UMaine Machias's campus, including through the Residence Hall Association, 100% Society LGBTQ+ outreach club and the Student Health Initiative, Education, Leadership and Diversity (SHIELD) club, which promotes student health on campus, provides services such as free contraception and menstruation products and hosts events like Health Fair and Prom. LaComb is also a member of the Penobscot Tribe and is a member of the Kinap Mentorship Program, where he works with other Native students to promote Native culture on campus as well as conducting outreach with Native high schoolers in the local community.
LaComb says that the support of Jennifer Isherwood, assistant coordinator of Native American student outreach and development, was essential to finding his place and passions at UMaine Machias. Isherwood also says that she has watched LaComb blossom during his time at college.
"[Xander] is a talented artist and has a clear love for the natural world," Isherwood says. "Xander takes initiative and dives into projects with enthusiasm and focus. He has led the growing efforts to nurture the Wabanaki student community at UMaine Machias, bringing in new students and being a proactive, creative and steadfast Kinap Mentor."
On top of that, Isherwood notes that LaComb has "killer style" and a "refined taste in '80s new wave music."
"He is a wonderful human," she laughs.
Isherwood connected LaComb to tish carr of the Wabanaki Youth in Science (WaYS) Program, which eventually put him in touch with M. Scarlett Tudor, education and outreach coordinator at the Aquaculture Research Institute (ARI). Tudor and her colleagues at ARI and WaYS earned a grant from the U.S. Department of Agriculture to develop programs for Wabanaki youth that integrate aquaponics into UMaine Cooperative Extension 4-H programs. Tudor was looking for a student to assist with the project through ARI's Research and Extension Experience for Undergraduates program, also known as the Aquaculture Experiential Opportunities for Undergraduate Students (AquEOUS) fellowship. LaComb's background and experience made him the perfect fit to assist with the daily tasks of the project, such as creating learning materials for CCAR's Mobile Touch Tank program or helping students in the programs put their fish tanks together, while making sure Indigenous perspectives remained at the forefront of their work.
"Working with Xander has been amazing," Tudor says. "Xander's clear love of the natural world and aquatic organisms makes him a perfect teacher to engage younger generations and show them career pathways that align with their own interests."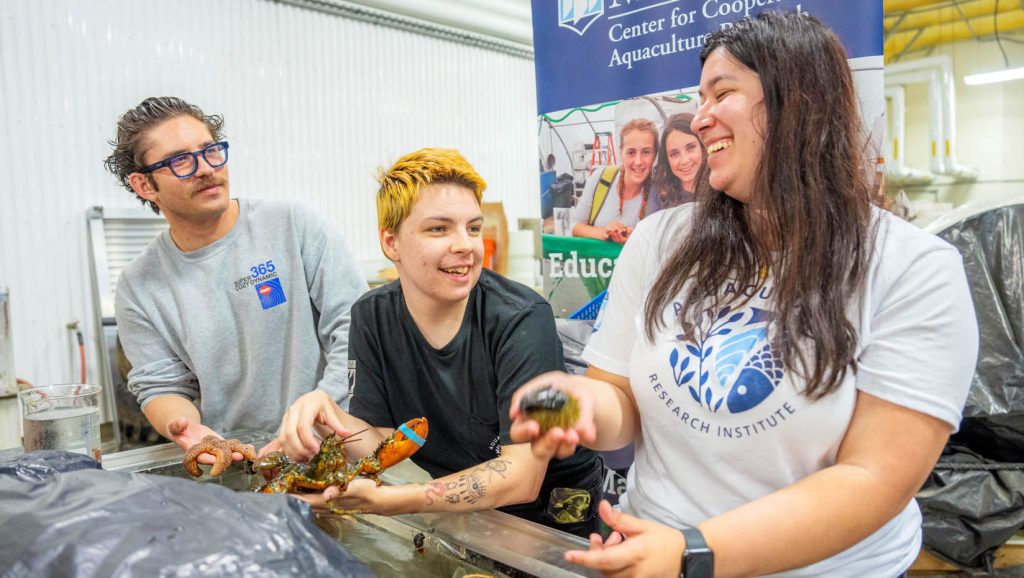 LaComb says the days vary greatly in his internship. Sometimes he is helping with youth programs at the various tribes around the state (he says seeing what young people pick out for their own fish tanks is the part he most enjoys), working on projects at Libby Hall in Orono or conducting outreach in Bar Harbor with the Center of Cooperative Aquaculture Research (CCAR) and its mobile touch tank.
LaComb says he has always been interested in science, but couldn't see himself pursuing research. Working with Wabanaki youth and other outreach projects throughout the state gave him an opportunity to engage with science and community in a way that was remarkably fulfilling — and utilizes the book arts skills he's learned, too.
"There's a lot of clashing of worlds here, not just in what I'm working on but the projects I'm helping with. The touch tank information is building on what I'm learning in book arts. I'm putting together information cards for each of the species in CCAR's touch tank."
LaComb is hoping to continue this work through next semester — and maybe help set up a new marine aquaponics system on UMaine Machias's campus, too.
"I've really come into my own doing this," LaComb says. "I found that it's something I really do enjoy."
Contact: Sam Schipani, samantha.schipani@maine.edu