Katarina Minas: Teaching with aquaponics
For Katarina Minas, aquaponics is more than an innovative system to produce food — it is a tool for teaching. Minas has spent her time at the University of Maine figuring out how to integrate her love of marine sciences and teaching through aquaponics, culminating in a project this summer to create a virtual tour of UMaine's aquaculture facilities for Wabanaki students throughout the state.
Aquaponic systems, in which waste produced by farmed fish supplies nutrients for plants grown hydroponically in the water, brings together a variety of skill sets. Setting up tanks and equipment takes engineering skills, raising the fish brings in marine sciences and growing plants requires an understanding of plant biology and food systems.
When Minas was in high school in Cranston, Rhode Island, she participated in a technical program with a focus on aquaculture. Minas likes the balance in aquaculture of learning about fishes' physiology while also developing practical skills to take care of them.
"My middle school was right next to the high school, and we often did tours to the high school," Minas says. "When we looked at the aquaculture program, I was like, 'I want to be here so bad.' It was like being in an aquarium, but in a high school setting."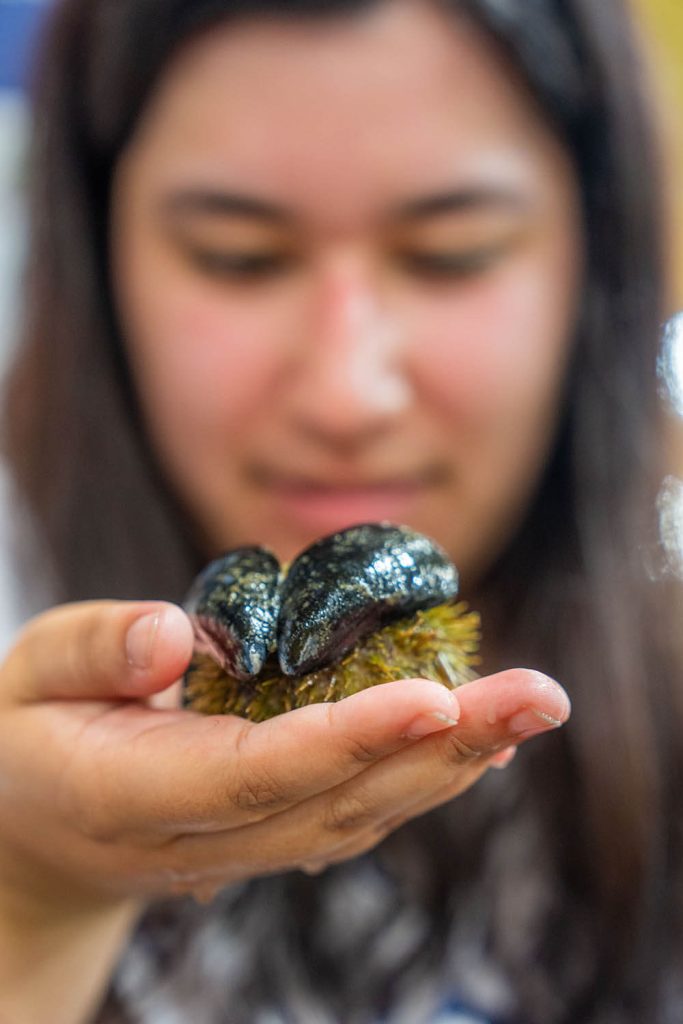 Minas decided to attend UMaine after learning about the prestigious marine sciences program, and now studies marine science with a concentration in marine biology and aquaculture. She met M. Scarlett Tudor, education and outreach coordinator of the Aquaculture Research Institute (ARI), through a professor of one of her aquaculture classes. Tudor's work in science education intrigued Minas, so she asked if there were projects through ARI that she could take on. Tudor happily accepted the help.
Minas' first project was to create useful graphics about aquaculture that are suitable for kids on basic skills, like how to acclimate a fish to a tank, run a water quality test or quarantine a sick fish. Minas says she watched "a lot of YouTube videos" to learn how to create simple graphics that would resonate with young minds.
"I like to play around and see what's best," Minas says. "For me I like to see it all colorful and see all the pictures and everything. I think it's important to learn that way."
Tudor was impressed with Minas' ingenuity and creativity, in addition to her science knowledge and skills.
"This work that we do is in this intersection between science and education," Tudor says. "She can make some of these concepts more tangible to kids. She has shown an aptitude and even more important for me an interest in doing this sort of work."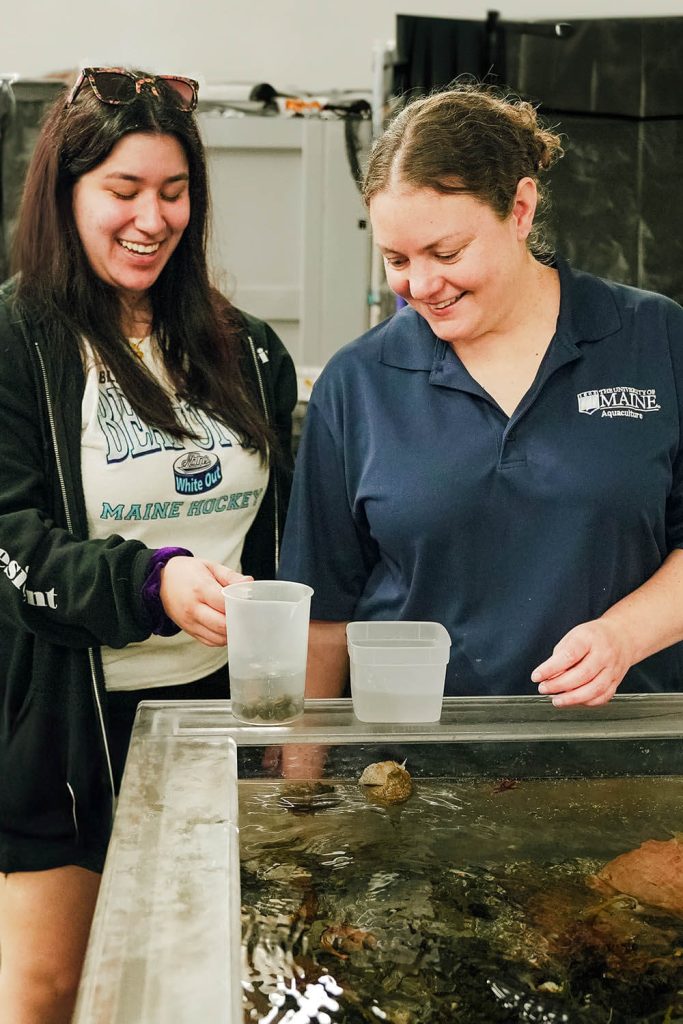 Tudor and her colleagues earned a grant from the U.S. Department of Agriculture for a new project integrating aquaponics into UMaine Cooperative Extension 4-H programs (which is personally resonant with Tudor, as a former 4-Her herself) and bring the project to Wabanaki youth.
"We spent the last four years having conversations with tribal groups to understand where their needs were and how UMaine could support those things. We had clear interest from the tribes around this and we do a lot of work with kids in aquaponics. The way we think about aquaculture is broad, including habitat restoration and fisheries, so there is already this context in which it is culturally relevant and is of interest to the tribes."
When it was time to start implementing the project, Tudor knew she wanted Minas on the job.
"She's passionate about doing this," Minas says. "It takes a long time to form these relationships and having one student that isn't fit for the program can be detrimental. Having students that I know are vested in Indigenous perspectives and how we can really co-create research is really critical for a student to be successful. Kat was an easy choice."
Minas is spending the summer working with ARI and the Wabanaki Youth in Science (WaYS) program to design lessons about aquaponics fisheries and habitat restoration. She is also creating a virtual field trip for UMaine's Center for Cooperative Aquaculture (CCAR) in Franklin so that even kids from the furthest northern reaches of Maine will be able to connect with this coastal facility and the work that it does.
For the tour, Minas uses special equipment to take 360-degree photos of the various rooms at the facility, like the urchin room, water quality room and — of course — the aquaponics room.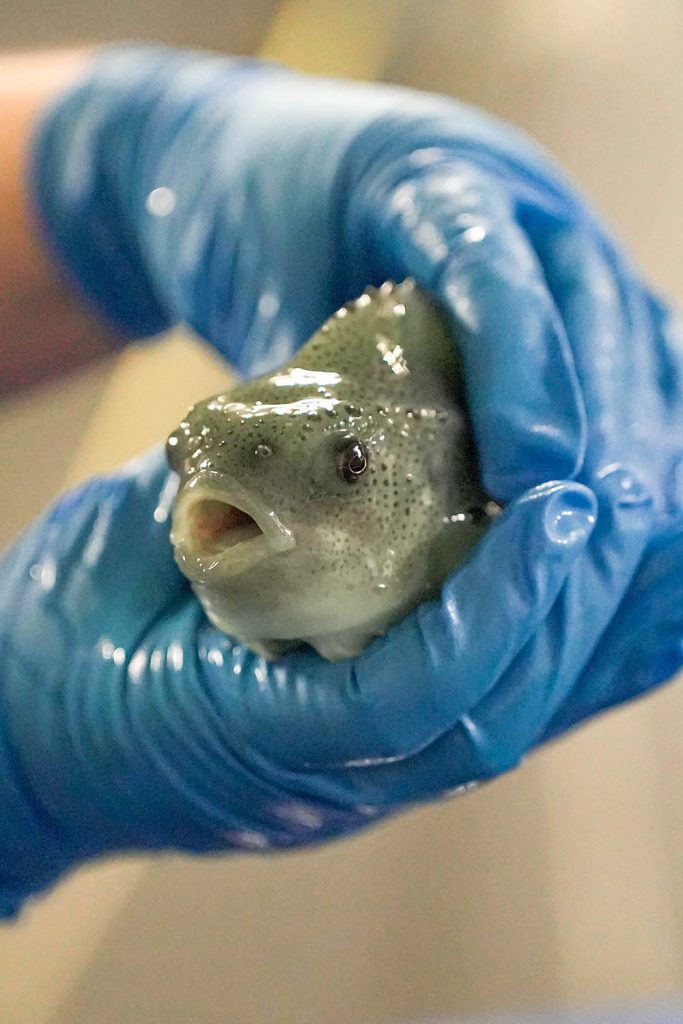 Minas says her personal favorite, though, is the lumpfish room.
"They are so cute," Minas says. "They're a globe-shaped fish and they have these pelvic fins underneath and they can suck onto the wall. Everyone loves them."
Once Minas collects the images, she uses a program called Thinglink to tag the organisms. She also plans to record interviews with workers at the facility so virtual field trippers can learn more about the experience of working at CCAR.
"We hope to spread it to teachers so they can show it to their students that this is a possible career pathway that you can do," Minas says.
Minas has also been meeting with tribal leaders and schools to make sure that the program is culturally relevant to the students who are using it.
"Every week with this internship, I am relearning," Minas says. "For example, we had these weekly seminars, and we had one about climate change and incorporating Indigenous knowledge. We have been traveling to different tribes around Maine. It helps me see a new perspective of it."
Minas will incorporate everything she learns this summer into her capstone project this upcoming semester, which she will complete before she graduates in December 2023. After graduating, she hopes to continue teaching youth about science by attending graduate school for a masters degree in science education.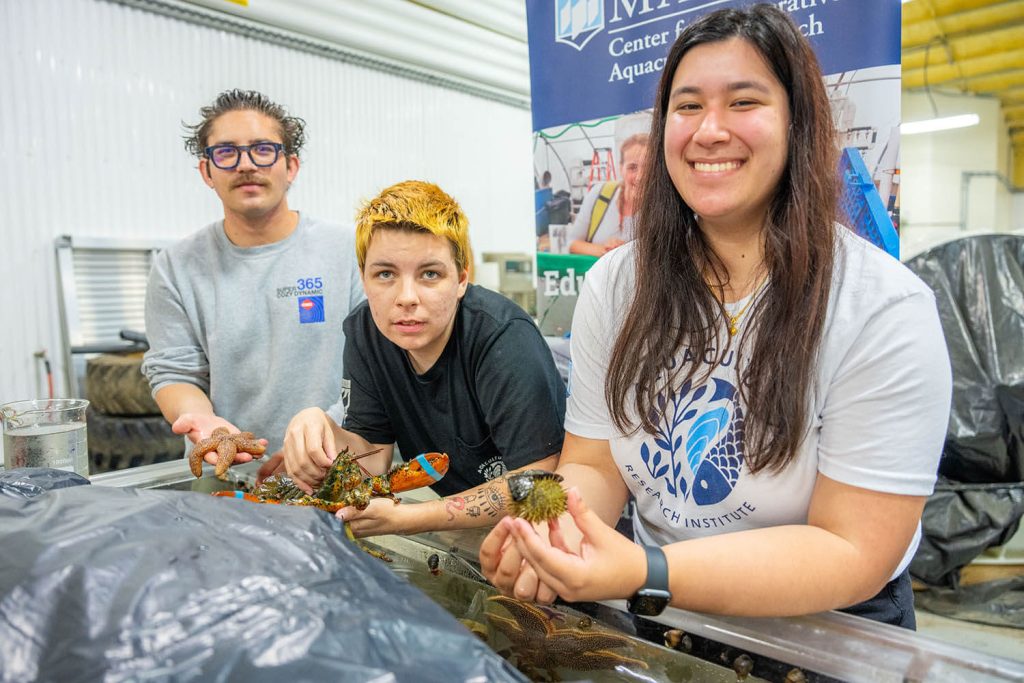 "I learned marine science, and now I want to learn how to teach people science," Minas says. "I hope to create more awareness that marine science doesn't have to be just research. You can do so many other things, like make your own aquaponics tank and grow your own tomatoes and fruits and vegetables and stuff like that."
Contact: Sam Schipani, samantha.schipani@maine.edu